Veteran Actor Jide Kosoko Full Biography
|
FULL NAME: Jide Kosoko
DATE OF BIRTH: 12 January 1954
OCCUPATION: Actor,Producer&Producer
MARITAL STATUS: Married
INTRODUCTION
Prince Jide Kosoko also known as Jide Babs is a veteran and popular Nollywood actor, and producer, He started his career as far back as 1964. He his a father to many star actors in the Nigerian movie industry at the moment.
EARLY LIFE AND CAREER
Prince Jide Kosoko is a veteran Nigerian actor. He Was Born on January 12, 1954 in Lagos to the Kosoko royal family of Lagos Island, Kosoko studied business administration at Yaba College of Technology.
Speaking on the things that grew his passion for acting:
"I lived in the same vicinity with Papa Hubert Ogunde on the Island and had some of his children as friends. I used to admire how people shouted his name whenever he drove round the street and I prayed to be like him. So, when the opportunity came, even as a child, I grabbed it with both hands."
He started acting professionally in 1964 at age 10. But he starred in a professional production which was even before film production. His parents were not happy with his choice of career just like other parents.
But he was rascally as a child. He engaged in things that many of his mates never could dare. His parents felt he was to be entertained as a royal prince and not the other way round.
Nollywood actor Prince Jide Kosoko who is popular for saying things as they are finally spoken up on his two wives.
The actor who lost his first and second wife to untimely death few years back has revealed the names of his 2 living wives and they are Alhaja Kareemat Kosoko and Nollywood actress Henrietta Kosoko.
One of his daughters, Sola Kosoko who married last year recently blamed his dad for marrying two women instead of one after the death of her mother and step-mum.
Hear what Sola Kosoko said on her father's mistake of marrying more than one woman after losing two.
SPEAKING ON HIS LIFE MARITAL MARRIAGE IN AN INTERVIEW:
Some of your children and fans were not happy when you took two wives. What's your comment?
I never envisaged being a polygamist though I am a product of one. My parents didn't support it too. My first wife was a business woman. I craved for somebody who was in the same field with me. In those days, the best advice you got was from your better half and that was how the second woman came to be. Along the line, I lost the two to childbirths within 11months interval. I had seven children as at that time, so I didn't plan remarrying or having more children again. But after much persuasion from my doctor and relatives, I decided to have a woman with the agreement of not having more children but a complete African woman will not agree to that. One thing led to the other and I got two women again. So being a polygamist was not intentional but God's design over which I do not have power.
And how has your work affected your life?
It has robbed me of my privacy. The moment you become a public figure, your life becomes other people's business. You have to pretend to be a gentleman even when you are a rascal. We learn to stage-manage our lives even when we are not on set. Many of us have learnt to live a fake life to suit and keep our fans, people who see us as role models.
There have been arguments over when Nollywood came into existence. In your own view, when did the film industry emerge in Nigeria?
Nollywood is more than 20 years old as against what people think. They make reference to Living in Bondage (1992) which was not the pioneer film in Nigeria. I produced Asiri nla that same year. Film production in Nigeria started in the 60s but most of the films were documentaries.
Some of the popular movies he has acted in includes:
The Department (2015) Gidi Up (2014) Doctor Bello (2013) The Meeting (2012) Last Flight to Abuja (2012) I'll Take My Chances (2011) The Figurine (2009) Jenifa.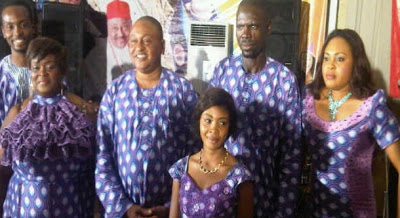 Jide kosoko and family
SOURCES: wikipedia.org,dailymail.com.ng,vanguardngr.com