Singer DAMMY KRANE Full Biography,Life And News
|
FULL NAME: Oyindamola Johnson Emmanuel
DATE OF BIRTH: 10 of Dec. 1993.
OCCUPATION: SINGER: Fuji Pop, Afro Pop
RELATIONSHIP STATUS: NOT MARRIED
EARLY LIFE AND BACKGROUND
Dammy Krane was born to an Oluwakemi Osodi (who was a
manager in the fuji music industry at the time). The apple
doesn't fall far from the tree as Dammy began cultivating
his knack for musical expression at an early age of six,
singing in his church's children's choir. Dammy grew up
listening to the likes of legendary Fela and Femi Kuti,
Lagbaja, King Sunny Ade . He is also influenced by the
sounds of modern greats like 2Face , And D'Banj.
Starting music at age 6, joined the children's choir
and ministered in various churches.
He started singing when he was six, joined the toddlers' choir in
church when he was only eight. He was doing back up songs
and dancing for other artistes at the age of 11.
His parent were not supportive of his choice of choosing music over academics; besides, he had not seen his mum
for 10 years until 2013.
She lives in the United States of America
where she is an event manager and manager to some Fuji
artistes. He is from a polygamous family, the only child of
his mum but he was brought up by his grandmother.
When he was in Redeemers University, he
was a local champion there. He used to do a lot of free styling
and collabos. He had a song 'Uni Girls' that was popular in a
lot of universities. It was a Fuji pop song. The buzz created
by the music got him a job as the face of Dynamix
magazine.
His university Redeemers uni don't support entertainment and that was why he left school. He
had to leave so that he won't be rusticated. Everybody in
school loved him and he was in his first year studying
microbiology. He even ran away from home, though he came
back. He was then living and working in different studios which is
what you would classify as a studio rat. Leaving school was
a risk he had to take and he hope to go back someday to study
business management this time around.
CAREER AND LIFE
In his first days in university in 2010, Dammy decided to
take his "hobby" a little more serious and surprise the
industry with his ability to merge all genres of music.
Dammy's efforts have not gone unnoticed by industry
watchers. He was nominated for Dynamix Awards
2010-Rookie of The Year, Encomium Top-Ten Most
Promising Acts and Peak Awards 2011-Next Rated Artiste back then.
In 2012, there was a party at a
hotel in Victoria Island where a number of artistes were
invited. One of his friends Iyad, a white guy was also invited
so he took him along. Iyad later invited him over to a corner
where he sat with Tuface. And Tuface mentioned that he had
listened to some of the collabos he did with other artistes and
also watched one of his performances. He then asked if he
was signed on to any label. And Of course he was not and Tuface
signed me unto Hypertek Records.
His first song, 'My dear. brought him to limelight in 2012 That song was
inspired by the fact that he had been doing a lot of collabos
and people were asking for a single and he actually released released a bangs for then after getting on hypertek records.
He calls his type of music the 21st century music and it's a fusion of Fuji, hip hop
and R&B. Some people call it concoction music but je don't
mind.
The singer does not believe in competition in the industry so he doesnt even think about it. He
believes that once you are in the industry, your focus should
be how to make yourself relevant. His success in a short
while can only be attributed to God, His family and his fans.(according to him).
Dammy continued releasing a lot of club bangers since his major break in the industry which has increased his fan base a lot making him a well loved artist.
Dammy have been involved in music with bigger stars in the industry Wizkid, Davido And Many more others.
He released his debut album in 2014 an album which features one of his most loved songs ever "Amin" the song was quite well accepted in 2014/2015.
Dammy krane also mentioned never in his life will he get a tattoo and even revealed he doesn't drink nor smoke a revelation which amazed a lot of fans
Dammy krane might have been confirmed to be involved in a romance relationship with co singer Cynthia Morgan after they shared a compromising picture of themselves online in 2014
AWARDS AND ENDORSEMENTS
Rookie of the year awards by headies 2012
Nomination for next rated award at headies and also won many more awards.
ENDORSEMENTs
Dammy Krane became Digifon's 1st African Brand
Evangelizer, the pioneer wireless technology solution
provider deal said to be worth millions of naira.
RUMORS AND SCANDALS
Dammy Krane was rumored to have been dating Ghanaian star actress Yvonne Nelson which they later debunked the rumor.
Except from those dammy krane has no public scandal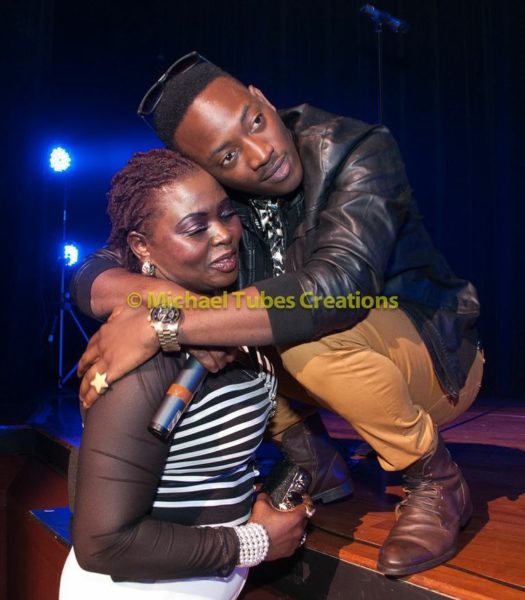 Dammy and mother


Dammy and 2face

SOURCES: Bellanaija.com Punching.com, Wikipedia. org Takemetonaija.com