Ntel 4G/LTE, Data Plans, Bundles See How To Subscribe
|
Ntel
(0804) is one of Nigeria's advanced 4G Long Term Evolution (LTE)
network providers which offers an exciting range of price bundles
with high-quality mobile experiences to improve productivity.
Ntel
is the product of a liquidation process by NatCom Development &
Investment Ltd (NatCom) which acquired the core telecom
assets previously owned by defunct NITEL/Mtel (Nigeria's national fixed
and mobile operators) in 2015.
NATCOM acquired assets and licences
of NITEL and Mtel, percentage interests held in South-Atlantic 3
(SAT-3) consortium, and other assets for $252.251 million.
Between
May 2015 and April 2016, Ntel which is the first telecommunications
company in Nigeria to roll out the 4G LTE network prepared its business
for market launch and in April 2016, had its first commercial rollout.
However, the 4G Service is available in just 3 states namely: Lagos, Port Harcourt & Abuja even though there are promises to expand to other states soonest.
The
company made its first on-net test data call in Lagos on Monday,
January 18, 2016, and this was followed by its first Voice-over-LTE
(VoLTE) call in Lagos on Thursday, February 25, 2016.
In
March 2016, the company launched a number reservation campaign which
offered prospective subscribers the opportunity to become eligible Ntel
pioneers and a chance to pick and reserve up to 5 numbers of their
choice, provided they register in time.
Ntel also
offers superfast internet access that enables high-definition voice,
data and video services. The network is built on the 900/1800 Mhz
frequency bands which are the best propagation frequencies for the
deployment of 4G/LTE technology.
The network's bouquet of services
includes National Bandwidth; International Voice termination,
International Bandwidth; Mobile and Fixed Communications services.
Ntel Data Bundles And Prices
Ntel data plans can be gotten for prices as low as ₦1,000 and as high as ₦9,000.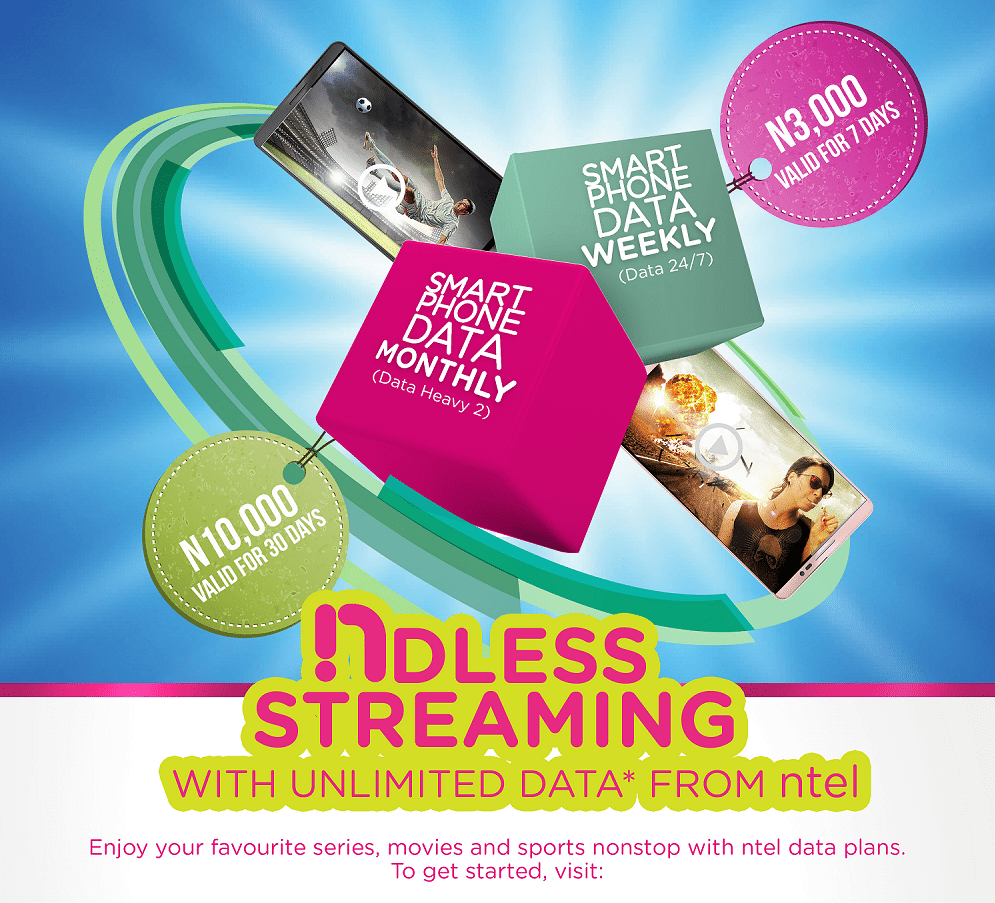 Smart Phone Starter Plan – ₦1,000 – Unlimited Data, 30 minutes voice call, SMS – VALID FOR 3 DAYS
Standard Plan – ₦2,400 – Unlimited Data, 70 minutes voice call, SMS – VALID FOR 7 DAYS
Monthly Plans – ₦9,000 – Unlimited Data, 300 minutes voice call, SMS – VALID FOR 30 DAYS
Although Ntel promises up to 230 mbps and unlimited connectivity
and downloads, certain terms and conditions apply. The company's Fair
Usage Policy states that at peak periods each day, any customer who has
used a total volume of 3gb will be slowed down to 512bps.
Ntel NOVA Phone
In
July 2017, Ntel launched a bespoke 4G/LTE device called the 'Ntel NOVA'
which is an exciting ergonomically designed, low priced, dual-SIM
device defined by characteristics of both a feature phone and a smart
phone. The phone was launched in Lagos on July 6, 2017 and in Abuja on
July 11, 2017.
The company says its investment in Ntel NOVA
further underscores its firm commitment to changing the game in the
4G/LTE broadband segment and to support the actualisation of the
penetration targets outlined in the National Broadband Plan of 2013.
Features:
Available in three distinct colours – rose gold, gold and grey
Runs on the Android 6.0 operating system
8GB+1GB RAM capacity
Front 5 mega pixels and rear 2 mega pixel cameras
Bluetooth and WiFi hotspot capabilities
Provides for a 2.0 micro USB
Earphone jack and two micro SIM card slots
1800mAh battery capacity with Standby time of 7 days and talk time of 9 hours
High-quality 3.8-inch capacity touch screen
Traditional keyboard for quick dialing
Four dedicated Quick Launch keys for internet apps – Facebook, Internet Browser, Twitter, and WhatsApp.
The device is expected to retail at about ₦25,000, includes a
free bundle of 25gb data, and 250 voice minutes to call any network,
valid for one month.
Despite the growth of the telecoms sector in
Nigeria which has seen voice subscriptions rise from less than 60,000 in
2001 to over 147 million as at 2015, Ntel's Chief Executive Officer,
Mr. Kamar Abass, expressed fears that broadband usage has only grown by
20 percent.
The company says it is positioning itself to be a
leading provider of high-speed data, high-definition voice, and video
services to its customers. According to CEO Abass, Ntel has come to fill
the gap by bringing Nigerians unfettered access to full mobile
broadband both on voice and data services.


Ntel's
4G/LTE-Advanced technology built on the 900/1800MHz spectrum will
deliver an unbeatable and game-changing customer experience of
high-speed Internet Access up to 230mbps, the fastest available in
Nigeria, thus enabling a world of full mobile broadband experiences that
will transform both lives and livelihoods.