Actresses Aneke Twins Full Biography
|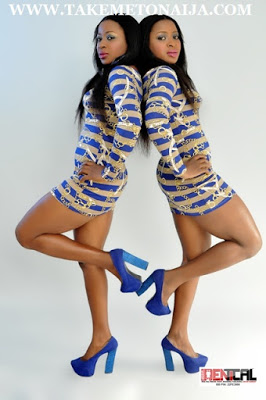 BIRTH NAME: Chidinma and Chidiebere Aneke
DATE OF BIRTH: (unknown)
OCCUPATION: Actresses
MARITAL STATUS: Not Married
INTRODUCTION
Born in Enugu-Nigeria, Chidinma and Chidiebere Aneke are identical twins who started making a name for themselves in the Nigerian movie industry (Nollywood) as far back as 2004.
EARLY LIFE AND BACKGROUND
We had that your childhood was not rosy, how did you cope?
That online gist wasn't true! Our childhood was rosy, our dad was very wealthy. He was a philantropist. Although he was married to three wives, the three wives cooked inside one pot. We lived like princes and princesses. My father was indeed wealthy. The problem we had after our dad's death was that our uncles took everything from us and we started life all over again. But when our father was alive, we lived in a very big house when we were growing up and dad didn't forget to spoil us with twin clothings all the time. He is the reason we still wear the same kind of dress till date.
What happened after your father's death?
Life became very difficult when dad died. We went into petty trading; we sold pure water, bread and 'akara'. We hawked on the streets to survive.
CAREER AND LIFE
The twins who became popular in 2004 and have been waxing stronger and stronger since then, have talked about themselves in a new interview with SunNews. The twins who have starred in movies like Desperate Twins, Jealous Friends and Revenge of The Gods and many more had so many things to say. Read more: https://entertainment.naij.com/315780-aneke-twins-reveal-truth-about-themselves.html
Two of you came into limelight in 1999, after your first movie Ebuka'"and laterdisappeared into the thin air. What happen?
We left the industry that same year because we had to go back to school to complete our educational pursuit. We came back in 2003 and are here to stay. Actually, my mum found out that all we do is to go to movie locations and we were neglecting our studies. So she forced us to go back to school first before allowing us go back to acting. Our dad also died that same year. So we were left with our mum and our other siblings.
You said you stage a comeback to the industry in 2003.You fans haven't actually felt you people's impact like before?
Actually, we went to Bible school for two months. It was a Winners' Chapel discipleship project known as WOFB. We did the first lap and are through with the second phase already. Meanwhile, we have been doing movies but it's either some of them are not out yet or that some came out lately. Sometimes, we stay at the home front to be domesticated because fame and wealth are not the only ingredients a woman needs to make her life beautiful. We are preparing ourselves for the challenges of becoming complete women.
Tell us about your new production. We learnt you produce movies too We have started our own production.
We both prayed about it and we were directed into it. The finance would have been a major problem,but God took charge after WOFB. What happened was that during a special church programme, my sister and I miraculously picked 'financial favour from a stranger' in our church's Miracle basket program and God proved Himself in our lives. He provided the money through a stranger. How much was the gift from that stranger? I cannot actually remember, but it was up to five million naira (5,000,000,00) and we kicked off with it. We are growing by the day.
Aneke cute
SOURCES: vanguardngr.com,naija.com,www.takemetonaija.com