Remembrance: Ten Brave Nigerians Who Died in The Service of Fatherland
|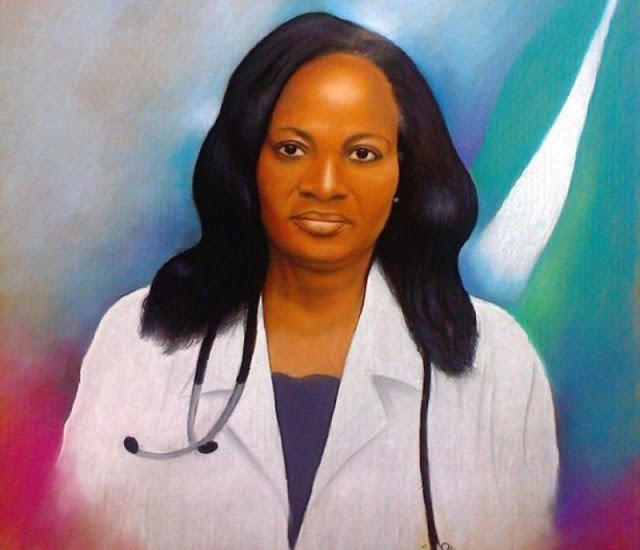 We remember Nigerians who did more than wearing uniforms; we remember
Nigerians who gave their lives for Nigeria; , Nigerians who came, saw
and practically wore the flag to the grave.
There are thousands of
Nigerians who died in the course of serving Nigerians, from law
enforcement agents to journalists to citizens directly or indirectly
killed by the incompetence, negligence and greed of the handlers of the
nation. It is not possible to mention all of them.
We look at the
ten of them, hoping that their combined story and tragedy would stir
something in you, if not to make you want to die for Nigeria but to make
you want to live for Nigeria and live honourably.
1. Stella Adadevoh
Nigerian much-acclaimed victory over Ebola
in 2014 is synonymous with the name Stella Adadevoh. She was the
physician who treated Patrick Sawyer, the infamous Liberian who brought
Ebola into Nigeria. She diagnosed him with Ebola and isolated him, a
move that is credited to have saved Nigeria from the scourge.
Mr
Sawyer fought to be discharged from the First Consultant Hospital. Dr
Adadevoh stood her ground and overcame pressure to release him from the
Liberian government headed by the Liberian Ambassador to Nigeria. The
BBC reports that Sawyer desired to leave the hospital for his pastor's
church where he hoped for a 'miracle cure'.
In the process of
restraining the rogue patient, Adadevoh was infected with the deadly
disease. She died on August 19th, 2014 and was mourned and honoured by
the whole nation. In late October, 2014 the World Health Organisation
declared Nigeria Ebola-free and Dr Adadevoh's profile as a martyr was
engraved in the minds of Nigerians.
Born
Ameyo Stella Shade Adadevoh on 27th October 1958, the physician got her
degrees from the universities of Lagos (MBBS) and London
(endocrinology). She is a posthumous recipient of more than twenty
awards including the Number One Humanitarian Everyone Should Know About
(2014) by the international Medical Corps.
The story of Adadevoh echoes that of many Nigerians who came, lived and quietly died for their motherland.
2. Lt-Colonel Muhammed Abu Ali
Lieutenant Colonel Muhammed Abu Ali died fighting Boko Haram in November 2016. He was the commanding officer of 272 Tank Battalion. Regarded as the bravest officer in Nigeria's ten years fight against Boko Haram, the officer was, alongside four of his men, killed in an insurgent ambush in Mallam Fatori, Borno State.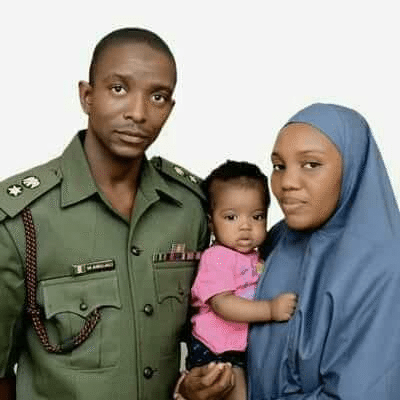 Abu Ali, wife and childBefore
his death, Lieutenant Colonel Abu Ali was recognised by the Chief of
Army Staff for 'courage, bravery and exceptional performance' in 2015.
At death, the army described him as a 'hero of our time' and gave him a
burial with full military rites at the National Cemetery Abuja.
Born
on August 15, 1980, in Lagos of Kogi parents, Abu Ali was commissioned
from the Nigerian Defence Academy in 2003. Mourning him are his
wife, kids and 170 million Nigerians. The army ably captured the stature
of his efforts in their statement declaring that the colonel paid 'the
ultimate price so that millions can sleep on their beds in peace'.
3. Ken Saro Wiwa
Ken Saro-Wiwa was born Kenule Beeson Tsaro-Wiwa on the 10th
of October 1941 in Bori. He graduated from the University of Ibadan
where he studied English. He was a playwright, a TV producer and
novelist (he published Soza Boy: A Novel in Rotten English in
1985). He had short stints lecturing in the universities of Nsukka and
Lagos. Wiwa also held various offices under the military administration
of Old Rivers State.
In 1990, Saro-Wiwa became a vocal voice for
his native Ogoni people, decrying years of negligence in Ogoniland that
left their community in environmental ruin. Saro-Wiwa was an influential
member of the Movement for the Survival of Ogoni People (MOSOP) which
fought to limit oil exploration in the area, repair the destruction
caused by oil exploration and give the host community a substantial
amount of oil proceeds.


In 1993, Shell
suspended operations in Ogoni which infuriated the Nigeria junta led by
Dictator Sani Abacha. Saro-Wiwa was arrested variously for his
campaigns. In 1995 he was, along with eight other leaders of MOSOP,
arrested for the last time. They were tried for the murder of four Ogoni
chiefs sympathetic to Shell.
In a tribunal trial believed to be a
travesty of judicial process which saw the defence counsel resigning in
protest of the overt bias of the tribunal and the admittance of
witnesses believed to have been bribed to testify falsely, the Ogoni
Nine as Saro-Wiwa and his eight co-accused were tagged, were found
guilty and sentenced to death.
Saro-Wiwa was hanged in Port
Harcourt by executioners imported from Sokoto. 'Lord take my soul, but
the struggle continues' were his last words. The resultant international
outcry cost Nigeria her Commonwealth seat and energised the opponents
of the regime, both within and outside Nigeria.
Nearly twenty-two years after his death, the issues Saro-Wiwa fought for have defiled conclusion.
4. Sam Okwaraji
A
popular myth told among little children, but surprisingly still mouthed
by adults, narrates that Sam Okwaraji died while playing against India
after scoring the sole goal for Nigeria to win the match Nigeria lost
99-1. People resort to myths when the comprehension of reality fails
them. This myth, at least, confirms the legendary status of Okparaji.
Samuel
Sochukwuma Okwaraji was born on May 9, 1964, in Imo Sate. He was an
intellectual footballer, something rare, if not impossible today. He was
a lawyer with a Master's degree from the University of Rome. He won
silver in the 1988 nations cup in Morocco and was part of the squad at
the 1988 Olympic in South Korea.
It is believed that while playing for Green Eagles (now Super Eagles)
he paid his flight tickets to and from without asking for refunds from
the football authority. There is also a record of a famous outburst with
his club manager in which he says: 'You or your club cannot stop me
from representing my country… I am going to represent my country whether
you like it or not'.
He died playing in Italy 1990 World Cup
Qualifier against Angola on August 12, 1989. Tests revealed he died of
cardiac failure. Twenty-two years after his death, Okwaraji was honoured
with his bust built in front of the now neglected national stadium
Surulere, Lagos.

5. Fela Anikulapo Kuti
A surprise appearance here.
Fela
Kuti was not actually killed in the line of duty to Fatherland. He died
of aids. But by the time of this death, he had been on the painful end
of clashes with the brutal military governments of Nigeria of the
previous two decades.
Born on 15 October, 1938 as Olufela Olusegun
Olutodun Ransome-Kuti. His mother Mrs Funmilayo Ransome-Kuti was one of
the earliest female activists in Nigeria. Fela went to London in 1958
to study medicine which he abandoned for music. he returned to Nigeria in 1963 having participated in numerous jazz and highlife bands.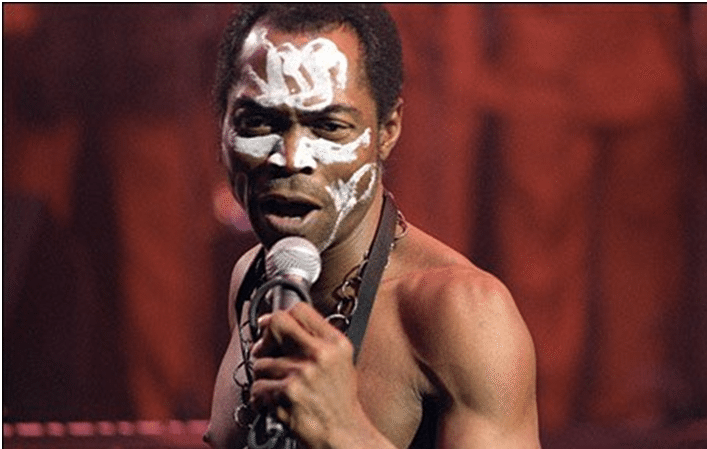 He
founded the Kalatuta Republic a community that includes his home and
studio. In 1977, Fela released the Album Zombie which mocked the
military government headed by Obasanjo. The military retaliated. More
than a thousand soldiers raided Kalatuta Republic, beat up Fela and
molested his mother who was his neigbour. They destroyed his studio and
built down the republic. A few days later, Fela's mother died.
To
protest his mother's death, Fela sent her coffin to Dodan Barrack,
headquarters of the military rulers. He wrote the song 'Coffin for head
of state'. Fela moved to Ghana where he was banned for instigating an
uprising during a live performance.
Fela formed a political party
Movement of the People (MOP) to 'mop clean' Nigeria. He presented
himself for president in the 1979 elections. His party was not
registered and his candidacy disallowed.
He continued his crusade
via his songs against the ruling establishment under President Shagari.
He was arrested and jailed in 1984 by the government of Buhari.
He was released after Babangida overthrew Buhari. Fela continued his
activism, into the 1990s broadening it to include fight against
apartheid and the politics of bias in what he termed the disunited
United Nations.
The government of Abacha arrested him, charged him with murder and imprisoned him.
When
Fela left prison, he seemed to have been drained of his will to fight
for justice. His public appearances waned and he stopped singing. Fela
was battling HIV. He had outlived four military rulers and a civilian
oligarchy but in 1997, Fela fell to aids.
Fela's unflattering
personal lifestyle does not detract from the fact that he lived most of
his life fighting for the good of Nigerians, facing powerful forces
knowing that death was not the worst they can do to him. They might kill
him, but they couldn't stiffen his voice which echoes to this date.
6. Kudirat Abiola
Alhaja Kudirat Abiola was born Kudirat Adeyemi in Zaria in 1951. She was assassinated on June 9th, 1995
under the brutal regime of Sani Abacha. Married to the winner of the
annulled June 12, 1993 election, MKO Abiola, Kudirat has been addressed
as the first lady Nigeria never had.
Sergeant Rogers has confessed
to leading her murder gang, working on the orders of Major Hamza
Al-Mustapha who acted for Abacha. In 2012, after fourteen years in the
dock, Al-Mustapha, and co-accused Shofolayan, was found guilty and
sentenced to death for his role in the killing. He was however released
in 2013 in what many believe was part of Jonathan's tactics to appease
the north restless over his governance.


Kudirat left seven children behind.
The
courage, and the tenacity, with which Mrs Abiola fought for democracy
and justice in Nigeria's darkest period since the civil war is arguably
unmatched. When, on that sad day, her Mercedes Benz was overtaken along
Ibadan-Lagos Expressway and six men with machine guns opened fire on
her, they thought they have ended her life.
Kudirat lives on. She
remains a giant reminder of a history of holding government accountable
in the face of grave consequences. A history this generation follows
half-heartily.
7. Enenche Akogwu
Akogwu was killed on the 20th of January, 2012 while covering the aftermath of a series of bombings and killings by Boko Haram in the city that left nearly 200 people dead. Enenche was born on 30th March 1980 in Benue State. He graduated from Benue State University in 2004. He was an award-winning cameraman and journalist for Channels TV.
Enenche
was described by Kayode Akintemi, Channels general manager of
operations, as a 'hardworking journalist who travelled to some of the
most dangerous places in Northern Nigeria to get stories.'


Nigerian
democracy is hampered by ethno-religious sentiments, misinformation and
a stark lack of education. Journalists like Eneche, who risk their
lives to hold the light of information against the darkness hovering
around our democracy and eventually lose their lives, deserve more
approbation than we have paid them.
8. Murtala Muhammed
Murtala
was assassinated on 13th February 1976 six months after assuming the
head of state of Nigeria. He was a popular leader having overthrown the
rudderless government of Gowon whose only claim to achievement was
keeping Nigeria one, a task he accomplished with more than a million
deaths from the secessionist side.
Murtala put Nigeria on the path
of modernism. He created 7 more states bringing the states to 19,
abolished 'north' 'south' etc attached to the names of states (eg North
Central State), picked Abuja as the site of the new capital city,
generally restored the confidence of the people to governance and made a
strong commitment to restore civilian rule in 1979.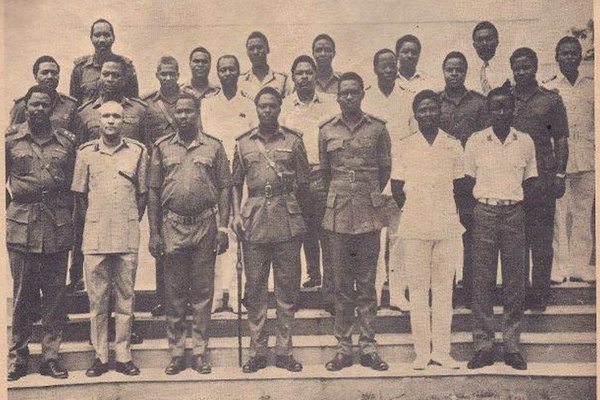 Murtala with the staff of office, flanked by members of the Supreme Military CouncilMurtala
Ramat Muhammed was born on November 8, 1938, in Kano. He was
commissioned in the army in 1961 and fought in Congo. Murtala humble
posture meant he moved around without a convoy of bodyguards something
improbable for commissioners and impossible for governors today. He was
easily assassinated by Lt-Col. Dimka in a counter-coup.
One dent
on Murtala's profile is his role in the Asaba Massacre during the Civil
War. But he was a hero who, even his detractors cannot deny, died for
Nigeria.
9. Dora Akunyili
Dora Akunyili is
synonyms with NAFDAG's fight against drug counterfeit in Nigeria. She
was the director of the National Agency for Food Drug Administration and
control between 2001 and 2008, spearheading the battle against fake
drug and unsafe food in Nigeria with little regards to her personal
safety. Before heading NAFDAC Nigerians took chalk for tablets and
companies packaged food with Stone Age caution.
Dora Akunyili's home is laden with scores of awards, given both in Nigeria and abroad.
In
2008, Dora Akunyili became minister of Information and communication.
She laughed the rebrand Nigeria project of which the slogan 'Good
People, Great Nation' is used to this day. In late 2009, Nigeria passed
through a period of dire political crisis. Yar'adua was ill in foreign
hospital but the vice Goodluck Jonathan was denied power because of the
failure of Yar'adua to hand over power via the national assembly.
Dora
Akunyili moved for the resolution in the cabinet, breaking a silence
thick with political peril. Nigerians keyed into the resolution and
eventually, the National assembly triggered a doctrine of necessity and
Jonathan became acting president.
While Professor Akunyili fought
for Nigeria, she was having a private battle with cancer. In 2014,
heavily emaciated and bony from her illness, Dora Akunyili joined other
Nigerians as a delegate in the Nigerian National Conference seeking to
dialogue a way forward in a country burdened by insecurity and
ethno-religious sentiments not seen since the return of democracy in
1999.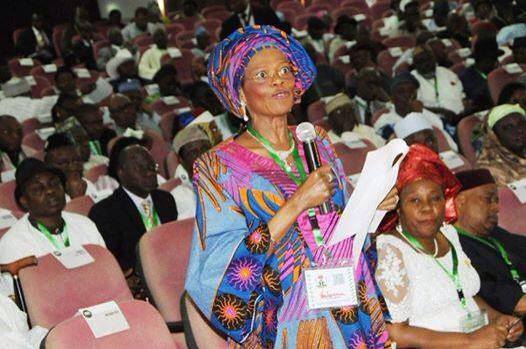 Dora at the National ConferenceDora Akunyili did not survive the end of the conference; she died on the 7th
of June 2014. Born in 14 July, 1954 in Markurdi, Benue State, Professor
Akunyili is from Nanka in Anambra. Married to JC Akunyili, they have
six children together. But she left behind millions of other children
whom her courage and integrity mothered.
10. Dele Giwa
Every 19th
of October, since 1986, a section of the media publishes articles
lauding the life of Dele Giwa. They usually end with the question: Who
killed Dele Giwa?
Dele Giwa was born Sumonu Ayodele Giwa in March
16, 1947 in Ile-Ife. Dele giwa studied in Obafemi Awolowo University Ife
in Nigeria, Brooklyn College and Fordham University in the United
States. A worked for four years in the New York Times newspaper. He
returned to Nigeria and teamed up with Ray Ekpu, Yakubu Mohammed and Dan
Agbese to found Newswatch Magazine.
Through this Magazine, Dele
Giwa and his colleagues wrote articles that the governments of Buhari
and later Babangida were uncomfortable with. The State Security Service
questioned Dele Giwa in the few days leading to his death and accused
him of various treasonable offences including abetting the overthrow of
the government.
On Sunday 19 October 1986, Giwa received a letter
reportedly titled 'From the C-in-C'. Giwa is widely quoted saying 'This
must be from the president'. The 'president' being Babangida. Colonel
Halilu Akilu, director of the Military intelligence and Lt-Col Ajibiola
Tunde Togun, deputy director of the SSS are accused of his death.
The
legendary lawyer Gani Fawehinmi, convinced that Babangida got Dele Giwa
killed, fought to bring Akilu and Togun to justice, as a private
prosecutor. His efforts were frustrated by both the police and the
judiciary.


The
last flash of hope that justice might be served for Dele Giwa came
during the Oputa Panel Judicial commission but Babangida, Akilu and
Togun all got injunctions barring them from appearing before the panel.
'In the interest of peace', Justice Oputa declined to challenge the
injunctions.
No one is certain why Dele Giwa was killed. Some have
pointed to Dele Giwa having information to Grace Okon a supposed drug
pusher with connections to Mrs Babangida; others believe he was a voice
against Babangida's desire to remain in power for life; others,
still, theorise that Giwa was the symbol of military intimidation of the
press.
The motive for the assassination of Dele Giwa might
outlive this century, but it is clear that whatever he was killed for,
he was doing for Nigeria. Dele Giwa was a martyr.
Other notable names: MKO Abiola, Tunde Oladepo, Shehu Yar'adua, Bayo Ohu, Christopher Okigbo, Bola Ige etc