History: Get To Know Adunni Olorisha (Susanne Wenger)The White Priestess Of Osun(pics)
|
Like most of you our readers know, we at T.I.N Magazine care about histories a lot, its why we have a section for history on this platform and this week we are presenting to you the story of Susanne Wenger once a priestess of osun. Enjoy the piece and keep visiting…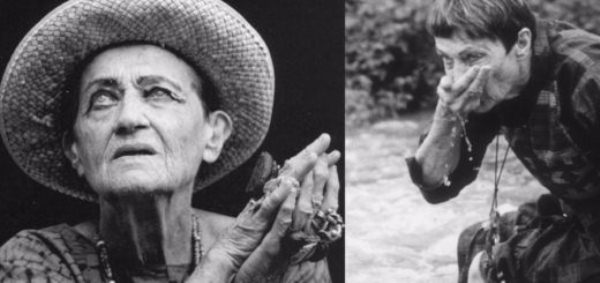 Birth And Early Days In Europe
Born in the middle of the First World War (4th July, 1915) in Graz, southern Austria to Christian Swiss-Austrian parents, she had always been strongly attracted to nature. Even as a child, she spent a great deal of time in the mountains and forests (she was particularly fond of trees) around the small town. She once suffered a serious fall inside a lift shaft in 1945 when the Second World War was about to end.
Thereafter, she went to Italy, touring Sicily and Rome in 1948. Thereafter, she proceeded to Zurich in Switzerland and finally to Paris where she fell in love with the high intellectual society and gladly started to really express herself with her paintbrush. Risking her life during the Second World War, she supported the masses and opposed the Nazis who had occupied her country of Austria and pounded her nation with bombs. She even went as far as hiding Jewish friends and others branded as enemies by the Nazis.
For four harrowing years and under constant Nazi threats, she was at the Academy of Art in Vienna. The Nazi regime banned her works, describing her art as 'degenerate' and she was forbidden to paint (what is it with dictators and expression of creative thinking gan sef?). Then, she turned to reading books about Oriental religions and faiths in other places of the world. Today, the works of art she made during those dark periods have been acclaimed as 'the first surreal works of art by an Austrian painter.' She started out as an artist at the College for Arts and Crafts in Graz, Austria.
It was there she learnt and practiced with pencil, ink and crayon drawing, alongside ceramics and clay sculptures. She was one of the artists who struggled against Hitler and his cohorts (never mind the fact that he himself was born in Austria…lol!) In 2001, she was specially honoured in Graz, Austria for her efforts during the war days with exhibitions titled Moderne in dunkler Zeit (Modern art in dark times).
Coming To Africa And Devoting Her Life To The Deities
In 1949, she came down to Africa with her then-husband, Ulli Beier. In 1950, they moved to Ede, now in Osun State to have a change from the 'unnatural' compound of the university. They wanted a more natural surrounding. While he continued as a lecturer at the University of Ibadan, she proceeded as an artist. It was at Ede that she met the powerful Ajagemo, one of the very last priests of Obatala worship, an ancient orisha-based religion which had almost gone extinct. Then she became friends with him and took great interest in all the rituals and activities even though she understood not even a single word of Yoruba at that time. She said to a French documentary maker in 2005:"He took me by the hand and led me into the spirit world.. "I did not speak Yoruba and he did not speak English. Our only intercourse was the language of the trees.'
They later moved to Osogbo but over time, she and Beier would separate. While he left for Europe, she remained in Osogbo and while Beier was training a group of local artists (he also founded the Mbari Mbayo Cultural Movement which has been described as the precursor of modern Nigerian art and literature), Susanne got even deeper in her training as a priestess of an ancient religion. The real turning point came in 1950 when she was seriously ill with tuberculosis. As at that time, Nigeria was under British colonialism and there was no doctor on ground to help her from the disease that was slowly killing her from the inside.
After various attempts to cure her tuberculosis, they gave up on her and expected her to die until help came from an unlikely source: from the Yorubas. She was given herbal mixtures provided by Yoruba medicinemen and in no time, she was well. She recovered and decided to 'give her life' to the Yoruba orishas who saved her from the gripping jaws of death. And until she died, she never looked back. The only time she visited her country was for short visits, her real home was in the heart of southwestern Nigeria, surrounded by warm and hospitable Yorubas.
Susanne The Writer, Artist And Environmentalist
While in Yorubaland, she also displayed her artistic skills, making countless murals and a series of sculptures and carvings. She took her time to understand the deepest mysteries of Yoruba traditional beliefs and tried to interpret them through art. From the mid-80s, her works were exhibited in Europe with the premiere in 1985 when she turned 70. That same year, she took her art to Vienna, Austria for the first time in 30 years. As an artist, she distinguished herself, making use of various media, such as oil painting on plywood panels from old tea chests.
It is important to mention that she was one of the most influential Austrian artists, with some of those inspired by her being an entire generation of Vienne artists like Bertoni, Brauer, Lehmden and Fuchs. Some of the themes of her artworks spanned various areas: global literature, Yoruba mythology, Christianity, history of man, nature and the rest. She described her artistic representations like cloth paintings (see picture below) of Yoruba mythologies as representing 'a sort of metaphysical snapshot.' An ingenious artist, she later created a method which fused wax batik, textile painting and indigo dye. With this style, she was able to make paintings of immense proportions, some measuring up to 7 by 3.5 metres.
In the period between 1952 and 1970, she made illustrations for and designed Yoruba books. She also wrote children books in Yoruba and English and was a regular contributor to the popular Black Orpheus founded by her then-husband, Ulli Beier. In addition to this, she also ensured that the pristine rainforest was preserved. She had to cross paths with loggers and farmers who wanted to cut down the trees for other uses and destroy the environment in the process. Over her over fifty years of living among the Yorubas, she also teamed up with the locals to restore numerous shrines, many of which were already falling into disuse and lack of repairs before she came.
Love, Romance And Marriage
Her first husband was the world-renowned Ulli Beier, a German researcher and linguist whom she met in Paris while he was working with handicapped children in 1949. At that time, Beier had just accepted a post at the University of Ibadan to teach Phonetics. The pair got married using two curtain rings for wedding rings. While doing the wedding at a London registry office and presented the curtain rings, the registrar looked at them and said: 'A wedding is not a silly joke.' And they responded: 'How do you know?'.
After the marriage (which was quickly done so she could follow him), they set off to Nigeria. No, wait. They did not fly to Nigeria. They actually drove all the way across North Africa, past the Atlas Mountains in Morocco, through the stifling heat and chilly cold of the Sahara Desert. Finally, they reached in early 1950.
After separating with Beier, she would later fall in love with a local drummer, the late Chief Ayansola Oniru Alarape and they got married in 1959. They would later separate when he was maltreating her and remained single for the rest of her life, married only to the deities. She says of the experience in the book, Susanne Wenger: Artist and Priestess by Paola Caboara Luzatto:
She adopted over 12 Yoruba kids and one of them is the well-known Yinka Davies-Okundaye, who is now one of the most renowned contemporary painters in Nigeria.She adopted Nike at the age of six when she became an orphan. Susanne Wenger then formed a cooperative society for the benefit of the community and to raise her many kids.
With time, she became an inspiration for an entire generation of artists and the focal point of the Osun Grove, especially when people congregate there every August for the annual Osun Osogbo festival.
Religious Orientation.
It is imperative to clarify that Susanne Wenger (Adunni Olorisha) was a very religious and spiritual person. But talking of religion, she did not follow any specific doctrine or text. Rather, she accepted and tolerated the concept of a 'different, mystical dimension that is inherent in all that exists.' She said: 'creative thinking and art are not measurable since they are testimony of the truth, and this truth, the only truth has many faces. Who can count the faces of truth? All religions are ultimately "the religion of mankind". Art is ritual.' Based on that, I will regard her as a pantheist.
As expected, Adunni Olorisha became the focus of criticism, with her most vociferous critics being some Christians and Muslims who felt all she was doing was reviving paganism, heathen faiths and idol worship. Well, she disagreed with her opponents and never wasted time in firing back her own salvos. She always rejected their arguments by insisting that there was a lot in common with all the religions, including Islam and Christianity, the two principal religions in Nigeria. She said: 'Orisha (spirit or deity) is merely a name which represents the supernatural forces which are basic expressions of life. It does not matter what you call it. It is a sacred force that represents the experience of life that informs human beingness. As with all religions, there is no true way to explain it along rational lines without leeching it of its meaning and intensely personal quality. You are a part of it and it is a part of you. You may, as so many have done, push it aside, but it remains in you, in all of us." ' Until she died, she tried her best to make people understand this.
Her last day on earth was a Monday. On the 12th of January, 2009, she died at the Our Lady of Fatima Catholic Hospital in Osogbo. On her deathbed, she was surrounded by some of the 15 children she adopted and asked them: 'What day of the week is it.? What time of the day is it.?' When they answered her, she said: 'It is time to go. It is good. It is ok.' And those were to be her very last words. By her side was her first adopted son, Chief Sangodare Gbadegesin Ajala and Chief Doyin Faniyi, an adopted daughter. After her demise, one of her fellow olorishas and artists, Chief Muraina Oyelami, released a statement saying: 'Our beloved colleague, mentor and Adunni Olorisha, responded to the call of Olodumare (God) some hours ago'. One of her followers said: "She is not dead. She lives through her works. She only has become an Orisha. She only slept, she didn't die." Before her death, she left standing instructions to be buried the same day she died without being kept in the mortuary or any elaborate fanfare.
According to her adopted daughter, no part of her body was removed and the burial rites were performed in one of the sacred shrines in the forest grove that night by worshippers of Oro and Osun.
Her adopted daughter would later add: 'She doesn't want any tomb to be erected for her. She doesn't want anyone to know where she is buried (so that it will not be turned into a tourist site). She just wants to be buried without fanfare. But we are going on with all rites which will be in segments. We are starting with a seven-day ritual and this will be followed by a 16-day ritual and another 21-day ritual.'