Ten Most Popular Governors In Nigeria 2016
Takemetonaija.com
Hello readers, we at T.I.N Magazine have come up with an interesting list of the most popular governors in Nigeria, the list was compiled up based on these criteria; their popularity(love and acceptance) nationwide, and how famous they are just this year.
The no.1 person on this list is the most popular governor in Nigeria 2016. Gently scroll down to check them out.
TEN MOST POPULAR GOVERNORS IN NIGERIA 2016
10. Henry Dickson – Bayelsa State
imostateblog.com
He assumed his role as the Governor of Bayelsa State in southern Nigeria on 14 February 2012. He was a member of the House of Representatives from 2007 until 2012.
The Independent National Electoral Commission reported that Henry Dickson won over 90% of the votes.
They went on to say that this helped in "further strengthening the PDP's stranglehold on power there since Jonathan became president."
That percentage of votes above already tells everyone the kind of love the governor gets from his state citizens and as far we known he is till getting it. Not very famous nationwide though but his popularity in the South-South region is serious.
He's been ranked 10th on this list.
9. Olusegun Mimiko – Ondo State
media.premiumtimesng.com
Even though he is nearing the end of his second term and has done quite well in the area of
health, infrastructure and education which has uplifted the state. He has also done well in the area of
security as the state has been largely peaceful as against the problem of bunkering and kidnapping in
the area.
As far as ratings go he's been rated as one of the best governors Ondo state ever had.
Mimiko's popularity in his state is very much high he is well loved by many citizens of the state. as for fame the two term governor is not widely known nationwide though.
8. Aminu Tambuwal – Sokoto State
media.premiumtimesng.com
He is the Governor of Sokoto State. He was elected as Governor after the April 11th General Elections. He is also the former Speaker of the House of Representatives of Nigeria. He is an All Progressives Congress (APC) member and represented the Tambuwal/Kebbe Federal Constituency of Sokoto State.
The public offices he's held made him quite famous nationwide most especially being the former speaker of House of rep.
We've noticed he's done well by the citizen of his state, he is loved by many of them which makes his popularity in the North much more strong. As for this year he is ranked number 8.
7. Nasir Ahmad El-Rufai – Kaduna State
media.premiumtimesng.com
The incumbent Governor of Kaduna State and former Director General of The Bureau of Public Enterprises, the head privatisation agency in Nigeria and also the former Minister of the Federal Capital Territory, Abuja from 16 July 2003 to 29 May 2007. When it comes to fame the governor is quite known by many across the country for the public offices he's held in the past, and we've learnt he is quite loved by his state men since assuming the gubernatorial office in 2015.
We've ranked him number 7 on this list.
6. Rochas Okorocha – Imo State
www.imostateblog.com
He won the 6 May 2011 gubernatorial election in Imo State and was reelected for his second term on April 11, 2015. He is the founder of Rochas Foundation, a charity comprising a number of special schools that are spread all over Nigeria that gives scholarship to the less privileged children in the Nigerian society.
The very popular governor has done well for the state since assuming office even though he's had quite a few criticisms and not very good ratings of recent.
When it comes to being loved by his state men he is quite loved. He is also quite famous nationwide.
5. Willie Obiano – Anambra
cdn.thenigerianvoice.com
Governor Chief Willie Obiano is a Nigerian banker, technocrat, politician and the fourth Democratic Governor of Anambra State. Obiano has always been popular in his state and the entire south-east region. Obiano makes headline for all the right reasons, he is the kind of governor every every citizen wants. As per popularity in Nigeria 2016 he's been ranked 6th on this list.
4. Nyesom Wike – Rivers State
wiketracker.blogspot.com
Assumed office in year 2015 and withing a year the governor has shown quite a lot of performance.
Following Governor Wike's performance; the governor has showcased varieties of developmental projects such as housing, health care, security of life and property, operation zero pot holes, employment, empowerment, completion of projects that were abandoned by previous governments."
Other achievements include prompt payments of civil servant salaries and pensions, clearing of school fees of Rivers State indigene studying abroad that were abandoned by his predecessor in office.
All these definitely makes the state citizens love him more. Even though year 2016 has been a busy year for the governor dealing with his tribunal issues.
Governor Wike is quite famous nationwide and quite popular in the South-South.
3. Adams Oshiomhole – Edo State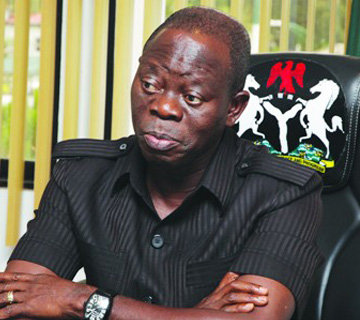 www.channelstv.com
The former labor leader, turned politician who 2012 was elected for a second term as the Governor of Edo State in Nigeria on the platform of the Action Congress .
Even though he his at the end of his 2nd term the Governor Oshiomohole has shown his administration was irrevocably committed to extending development to rural areas as a way of enhancing economic growth of the state. He started many projects in which most can be considered done.
He's always been controversial which makes him really famous nationwide.
He is loved many citizens of his state.
2. Akinwunmi Ambode – Lagos State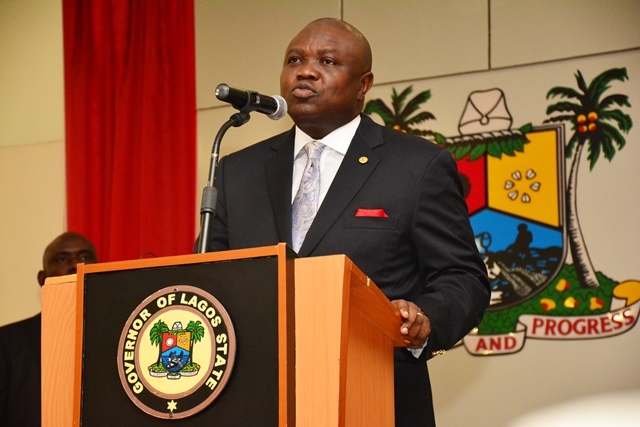 akinwunmiambode.com
Won CGPI governor of the year award earlier this year with awesome ratings. Ambode assumed office not long ago but the governor has done much in a litlle time.
The governor proved of critics wrong at the moment he is still rated at the top of the perfrtoming governors in Nigeria.
Being the governor of Lagos state makes you famous nationwide even though he's not been a governor for long it is obvious he well known by many Nigerians, and when it comes to popularity the Lagosians are starting to show support for the governor.
He is no.2 on this list.
1. Ayodele Fayose – Ekiti State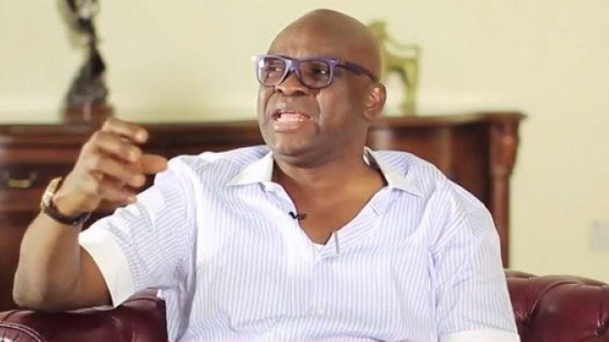 newswirengr.com
Peter Ayodele Fayose is the current governor of Ekiti State. He was governor from 29 May 2003 to 16 October 2006.
He is nicknamed by many Nigerians as the; "People's Governor".
It is obvious the governor is at the top of the list of the most controversial politicians in Nigeria even though they are for mostly for the wrong reasons, and obviously he is the most famous governor in Nigeria, that just doesn't make him no.1 on this list but his popularity in the southwest and nationwide, the governor his loved by many Nigerians because of the relationship he keeps with the masses even though he is quite disliked by many too but many of his actions in 2016 has made him the people's favorite.
Governor Fayose is man who speaks his mind and make headlines all the time in the media.
He is been concluded the most popular governor in Nigeria 2016.
NOTE: This list is basically for year 2016. Rankings may change next year.
[WARNING: DO NOT COPY THIS ARTICLE WITHOUT PUTTING A LINK BACK TO US]
About The Author
Akinola