Bishop DAVID OYEDEPO Full Biography,Life And News.
|
FULL NAME: David Olaniyi Oyedepo
DATE OF BIRTH: September 27, 1954
OCCUPATION: Pastor, Author, Educationist, Minister
MARITAL STATUS: Married
EARLY LIFE AND BACKGROUND
On September 27, 1954 David Olaniyi Oyedepo was born in Osogbo, Nigeria, but is a native of Omu-Aran, Kwara State, Nigeria. He was raised in a mixed religious family His father, Ibrahim, was a Muslim healer. His mother, Dorcas, was a member of the Eternal Order of the Cherubim and Seraphim Movement (C&S), a branch of the Aladura movement in Nigeria. He was raised by his grandmother in Osogbo, who introduced him to the virtues of Christian life via early morning prayers which she attended with him. She also taught him the importance of tithing.
Oyedepo was born again in 1969, through the influence of his teacher, Betty Lasher, who took special interest in him during his high school days. He studied architecture at the former Kwara State Polytechnic, now Kwara State University and worked briefly with the Federal Ministry of Housing in Ilorin before resigning to concentrate on missionary work. Oyedepo received a Ph.D. in Human Development from Honolulu University, Hawaii, United States, In 1982 he married Florence Abiola Akano (now known as Faith). They have four children together (David Jr, Isaac, Love and Joyce). David Jr and Isaac Oyedepo were ordained as Pastors in May 2007 by Kenneth Copeland. David Jr pastors the London Branch of the Church with His wife, Kemi while Isaac Oyedepo is the present Resident Pastor of Winners' Chapel International, South Africa.
Oyedepo claimed to have received a mandate from God through an 18-hour vision in May 1981, to liberate the world from all oppression of the devil through the preaching of the word of faith. This is the inaugural vision that led to the founding of the Living Faith Church World Wide (LFCWW), first called Liberation Faith Hour Ministries, in 1981. Two years later, on September 17, 1983, Pastor Enoch Adeboye, General Overseer of the Redeemed Christian Church of God, ordained David and his wife, Florence Abiola Akano (known as Faith Abiola Oyedepo) to become pastors and officially commissioned the new church. Five years later, Oyedepo was ordained as Bishop.
Living Faith Church (AKA Winners Chapel) started in Kaduna but moved to Lagos, the former capital of Nigeria in July 1989, to start a new branch of the church after Oyedepo claimed to have received instructions from God to reach out to the people of Lagos.
Oyedepo is the wealthiest preacher in Nigeria with a net worth of over USD $150 million. The church owns four private jets and several buildings around the world, including London and the United States. Oyedepo is an author and publisher who has written over 70 titles apart from periodicals. He is the Chairman/Publisher of Dominion Publishing House (DPH), a publishing arm of the ministry. DPH has over 4 million prints in circulation to date. Through Oyedepo Covenant University, Faith Academy and Kingdom Heritage Schools have been established to equip the youth for global impact. The construction of a third university named Crown University is already underway, located in Calabar, Cross Rivers, Nigeria.
CAREER AND LIFE
Bishop Oyedepo claims that in 1998 he was instructed by God to build a new base for the Commission to accommodate the increasing number of worshippers. This resulted in Bishop Oyedepo's church's acquisition of the initial 530-acre (2.1 km2) facility, known as Canaanland, which serves as the headquarters. It is the home of the 50,000-seat capacity auditorium, the 'Faith Tabernacle', which is reputed to be the largest church auditorium in the world. This was a feat also recorded by the Guinness Book of Records.
Faith Tabernacle was reported as the Worlds' Largest Church Auditorium in December 2005 Construction was completed within 12 months. Reports also claimed that this building was built debt free. This 50,000-seat edifice was dedicated on September 18, 1999 under the administration of former President Olusegun Obasanjo.
Canaanland is in Ota, Ogun state and is the 5,000-acre (20 km2) estate and campus, that houses The 50,000 church building, the church secretariat, the church's youth chapel, a primary school called Kingdom heritage model school, a full boarding mission secondary school called Faith Academy, with over 1,500 students and the Covenant University facilities, which accommodates over 7,000 students, fully resident in ultra-modern hostel facilities, with fully equipped faculty buildings and numerous staff housing facilities. Canaanland campus also has for profit establishments operated by the church such as a bakery, a bottled water processing plant, a petrol station, various restaurants and shopping stores, several residential houses that provide for the over 2,000 church employees, and guest houses. Four banks are also present on this Estate, three of which are branches of external commercial banks and one which is a community and micro-finance Bank and operated by the Church. The whole of Canaanland which includes a proposed 15,000 housing estate known as Canaan City had increased to 17,000 acres as at 2012.
The teachings of Oyedepo has put him in the category of what is commonly called the Word of Faith Movement. He has referred to principal exponents of the Faith Movement such as Kenneth Copeland, Gloria Copeland, the late Kenneth Hagin, E. W. Kenyon, T. L. Osborn, Smith Wigglesworth as well as renowned Nigerian preachers Enoch Adeboye and the late Benson Idahosa as mentors.
His Winners Chapel operates a Bible training programme known as Word of Faith Bible Institute for members and non-members alike to develop knowledge of Christian principles and to develop leaders and future pastors. This institute is run in major branches of the Church.
Oyedepo is the President of David Oyedepo Ministries International (DOMI). DOMI is the umbrella organisation comprising Living Faith Church World Wide (a global network of churches), World Mission Agency (WMA); the global missionary arm of the church's operations, Dominion Publishing House; the publishing arm of the church, Covenant University, and the Social Development Missions projects (made up of hospitals, maternity homes, schools, etc.
Oyedepo has criticised corruption in Africa as a whole and poor leadership in government.
CHECKOUT 40 THINGS YOU MAY NOT KNOW ABOUT DAVID OYEDEPO
1. He was born to a Muslim father and Cherubim and Seraphim mother.
2. He is a PhD holder in Human Development from the University of Honolulu in the United States of America.
3. He has set up three universities without government assistance; Covenant University, Ota, Landmark University at Omu Aran and Crown University at Calabar.
4. Betty Lasher a missionary teacher facilitated his becoming a born-again Christian in 1969.
5. Living Faith Tabernacle, Ota, which he heads, seats 50,000. It is reported to be the largest church auditorium in the world, benchmarked in the Guinness Book of Records in 2008 and 2009.
6. He met his wife when he was 22.
7. He was born on September 27, 1954.
8. He was named in 2011 by Forbes Magazine as the richest pastor in Nigeria, worth over $150 million.
9. His middle name is Olaniyi.
10. He is a native of Omu Aran, Kwara state, but was born in Oshogbo, Osun state.
11. Five years after his ordination as a pastor, he was ordained a bishop in 1988.
12. His mentors include; Enoch Adeboye, Late Benson Idahosa, Kenneth and Gloria Copeland and Late Kenneth Hagin
13. He has four children, two boys; David Jnr and Isaac and two girls; Love and Joyce.
14. He got married in 1982.
15. His sons were ordained as pastors by Kenneth Copeland in May 2007.
16. His grandmother was a devout Anglican.
17. His clan, Odo-oro (place of wealth) and family lineage believes in hardwork.
18. Having rejected a charm his father gave him, he developed whitlow on a finger on his right hand. He wrote three exams the next day and came out with a second class division in secondary school.
19. He once challenged God to heal him of tuberculosis as a secondary school student, after his fellow mates shifted their beds away from him, and he was healed.
20. He studied Architecture at Kwara State Polytechnic, and worked briefly with the Federal Ministry of Housing in Ilorin.
21. He has written over 70 Christian, inspirational and motivational books.
22. He received a mandate from God through an 18 hour vision in May 1981.
23. Oyedepo Ministries International include; four private jets, estates, restaurants, shopping stores, bakery, processing plants, commercial properties and educational institutions etc.
24. Dominion Publishing House was established on December 5, 1992, and has over 4 million prints in circulation to date.
25. He built Faith Tabernacle within 12 months, debt free.
26. Faith Tabernacle was dedicated on September 18, 1999, under Olusegun Obasanjo's administration.
27. He is a strong critic of corruption in Africa as a whole and poor leadership in government.
28. He is the president of World Mission Agency Incorporated (WMA), a Christian Ministry Organisation with mission stations in over 40 African nations, also in Europe, Jamaica and America.
29. His hobbies include; reading, reasoning, planning and writing.
30. His awards include; International Who is Who of Intellectuals, 13th Edition of International Biographical Centre, Cambridge, England and Inscribed in the Jerusalem 3000 Scroll #102268 among others.
31. He married Florence Abiola Akano, now Faith Abiola Oyedepo.
32. He is affectionately called 'Papa' by members of his congregation.
33. Bishop Oyedepo and his wife were ordained by Pastor Enoch Adeboye, the G.O of RCCG on 17th September 1983.
34. Some of his Best Selling books include; Pillars of Faith, Born to Win, Possessing your Possession amongst others.
35. His son, David Jnr pastors the London branch of the church, with his wife, Kemi.
Isaac Oyedepo is the present resident pastor of Winners' Chapel International, South Africa.
36. His association with Pastor Enoch Adeboye dates back to the 80s.
37. He organises a yearly programme called Shiloh at Canaanland, Ota, Ogun state.
38. He first shared the gospel in March 1970.
39. He met his wife at a motor park.
40. He has empowered over 2,000 of church members.
AWARDS AND ENDORSEMENTS
Many credits to his name and ministry.
RUMORS AND SCANDALS
The popular man of God has been rumored by many to have used charms occult to make his ministry bigger.
He was banned in the U.K over fraud claims in 2014, he later debunked it.
Pastor was abused by many in during the 2015 elections as he was said to have been involved in the politics more than he should
He also was involved in a slapping mess in 2012, it was revealed the pastor slapped a member of the congregation right in the church which led to a lot of controversies.

Oyedepo And Family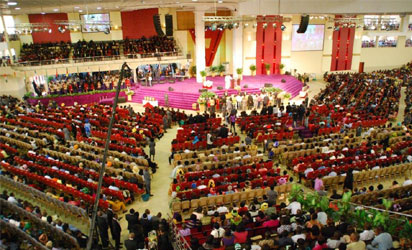 Inside his church


Inside His Private jet
SOURCES: wikipedia.org,https://thenationonlineng.net,www.takemetonaija.com