MTN Budgets N50 Million For Potential Customers In MTNYanfunYanfun Christmas Promo
|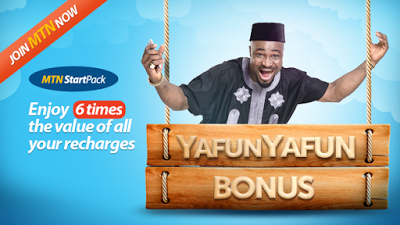 MTN Nigeria has announced the launch of the MTN YafunYafun promo to
make the Christmas festive season an exciting one for subscribers
according to the Punch.
MTN YafunYafun promo is an SMS subscription-based service that
allows MTN's existing and potential customers to earn points for every
recharge they make on the network.
The General Manager, Consumer Marketing, MTN Nigeria, Richard
Iweanoge, said that the promo was conceived to make this year's yuletide
season a memorable one for MTN customers.
He said, "MTN as a brand always has the interest of its teeming
customers at heart. With that in mind, we decided to come up with the
MTN YafunYafun Recharge and Win promo to end the year on a high note of
celebrations through their winnings.
"We appreciate them for their support and this promo is our way of saying thank you to them."
While stating that the promo was in four categories – Free Zone,
Premium Trivia promotion, Loop and the Fitness clue – Iweanoge added
that participants were expected to recharge their phones and send
special short codes to designated numbers, which would automatically
migrate them to the category of their choice where they would be
required to answer trivia questions to win points.
"These points accumulate over time and it increases their chances of winning," he said.