The Three Kings Of The Nigeria Music Industry. [Pics/Details]
|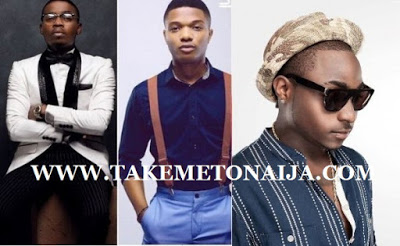 3kings
The Midas touch is one of the most used metaphors of modern language to describe success. The Midas touch, or the gift of profiting from whatever one undertakes, is named for a legendary king of Phrygia. Midas was granted the power to transmute whatever he touched into gold.
In Nigerian music, the Midas touch is used to describe at any given time, any artiste who is at the top of his game. An artiste at the top of his game means that that musician is currently enjoying the best form of his life, getting hits after hits, performing at the best of concerts, reaching the widest of crowds, influencing the ends of his country and continent, and raking in the most money via different music/entertainment-related streams.
Each point in time, there exists a certain number of standout acts who are at their prime. They rule the charts, command the most fees, possess the greatest influences and sell the most records. A good Western example of this was Lil Wayne at his prime, just before he released the album "Carter III". He was the greatest rapper alive at that point.
Nigeria currently has three of these superstar magicians whose very breath on the mic transmutes it into gold. They are Wizkid, Olamide, and Davido.
Wiz
Wizkid is the first of these. The 25 year old singer is regarded as the best in Nigeria at the moment. From his Nigerian classic album "Superstar" to his second LP, "Ayo" (Joy), the singer has had a career worthy of legend. Wizkid has a long discography of hit songs. In 2015 alone, Hit single 'Expensive shit', and the more recent 'Baba Nla (final)' has ensured that his musical brilliance is intact. Also, his good work internationally has been a revelation. Wizkid worked with Grammy winner Angelique Kidjo, recorded a hook with Coldplay's Chris Martin for pop star Rihanna. A performance with Chris Brown was in the works also in South Africa at the 'X Tour', so was another recording with UK star Tinie Tempah, and Norwegian pop icons Nico & Vinz.
But the bread and butter of the entire affair came with the blessing of arguably the hottest rapper in the world, Drake, who rolled off a verse to remix 'Ojuelegba' with Skepta. That move added extra spice to his year.
A failure to release his third studio album last year put a dampener on his shine, but that hasn't derailed his numerous performances and concerts which has been steady and sold-out. Wizkid also made a strong financial move with his porting from MTN to GLO in a deal that was reportedly worth N120 Million. Also he renewed his Pepsi deal which according to reports brought in a staggering $350,000.
Baddo
Olamide, the boy from Bariga is currently a leader of Nigeria. Olamide's consistent hard work has been the underlying reason for his success. With 5 solo albums in 5 years and a joint-album with Phyno, the YBNL boss has kept his brand relevant as ever.
The singles from the album have given him some of the biggest songs with 'Bobo', 'Melo melo', and 'Lagos Boys' dominating. This year, he has come forward with a single 'Abule sowo', and has a rap contest currently ongoing. Also, Olamide has had a good run in label management, helping his protégés Lil Kesh and Adekunle Gold hit the ground running. Last year has seen him carry out major work for the brands Guinness and Etisalat. Olamide also signed up a new deal with sports gambling brand Surebet 24/7.
Concerts for Olamide has been sold out with a highly lucrative tour of the UK and other venues. To wrap up the year, successfully held the second edition of his conceptual concert 'Olamide Live In Concert' (OLIC 2).
Davido
Davido's possession of the Midas touch is bordering on genetic. Son to a business mogul and god-son to the richest man in Africa, Davido has found his own path to wealth via the making of hit songs. With an album under his belt, and an international deal in place for the production and release of the second LP, the HKN superstar is having the time of his life.
2014 ended with Davido's 'Owo ni koko' creating a storm in pop culture that ran through into 2015. That storm gave him the perfect launching pad for his work this year. This year started with the single 'The Sound' ft Uhuru, followed by 'Izzue' with Dammy Krane that he failed to promote, and then came the Meek Mill collaboration on the smash single 'Fans mi', which has led up to the recent jam 'The Money' with Olamide. Also he put in admirable work on DJ Xclusive's 'Wole'.
Davido has been covered by FADER magazine, and performed at the FADER Fort during the annual SXSW concert.
Although the possession of the Midas touch is a good thing, it sure has its curses. Most artistes who are blessed in this regard are most likely to wear themselves out with work, play and unrealistic. Being at the top of the game comes with many challenges, most of which are overwhelming.
Also, Wizkid, Olamide and Davido possess a certain trait. Now at the height of their fame, they have become less creative with the music. The three acts are currently going through the motions, introducing no new element, or pushing through their current ceiling. Although Olamide is getting joy from the success of Adekunle Gold and Lil Kesh. Wizkid is pushing for international collaboration, and Davido, well, Davido has got Sony Music.