DJ Jimmy Jatt Full Biography,Life And News
|
FULL NAME: Jimmi Adewale Amu
DATE OF BIRTH: (undisclosed)
OCCUPATION: Deejay, Musician, Producer
MARITAL STATUS: Married
INTRODUCTION
Jimmy Jat is one of the most popular Nigerian Deejays if not the most popular, the ace Dj is also a musician and a producer, he came into the industry in the 90's and has remained consistent since starting his career as he's been featured in many big gigs and associated with big acts. He also runs Nigeria's biggest DJ show called "Jimmy Jump Off'
He is often considered as one of the the builders of the Nigeria music industry.
EARLY LIFE AND BACKGROUND
Jimmy Adewale Amu, popularly known as DJ Jimmy Jatt, one of Nigerian's hottest DJs, was born in Lagos Island. He grew up listening to a lot of blues, soul, jazz and indigenous genres, like juju, apala, fuji, highlife, funk, R&B, pop, disco and hip pop. He happened to collect a lot of early rap albums from the 70′s and 80′s, and developed an interest in hip-hop and rapping.
Jimmy Jatt started his entertainment career as a rapper, known as Master J. He made a lot of demos and after a fruitless search getting a record label to support him, he started work of a DJ, with the support of his brothers. They helped him establish a studio (JATT studio) and he eventually changed his stage name to DJ Jimmy Jatt, in honour of his brothers, who were called Jimmy, Amu, Tunde, and Tayo. The studio was located on strategic Odo street, which helped him reach an eager audience who took to his "deejaying" skills and hip-hop in general.
After school, He decided to take deejaying seriously, more as a profession. Apart from the fact that his brothers were in the business already, they got someone to teach him the art; back then in Obalende, a guy named Kachi was the one that eventually gave him adequate schooling on deejaying and he started developing himself from there….
As for his immediate family, he didn't have to convince anybody; they had always seen him grow into a music person but maybe not a deejay but he always tell people that his family was very responsible for the way he became, they loved and supported him so he didn't have any problem with his family. But on the outside, he had to face a lot of people looking down on him; judging from what they see and not know, but that was really where he got the energy to forge ahead, knowing these people didn't expect so much from him, he was determined to prove them wrong. "You must keep doing what you are doing with the determination that you must make something out of it" , and these people eventually were like 'wow, we were wrong about this guy" He says.

CAREER AND LIFE
DJ Jimmy Jatt is revered for his role in setting the pace for hip hop music across his country; Nigeria, dating back from the early 90′s when he jumped on the scene in Lagos up on till this moment. Dj Jimmy Jatt rocked and bopped heads at a lot of nite clubs and gigs dropping the latest hit on vinyl. At a point in Nigeria the only accepted forum for hip hop artistes to have themselves groomed, whilst engaging in lyrical battle was the ROAD BLOCK street Canival pioneered by Dj Jimmy Jatt. Setting up speakers, turntables, amplifiers and microphones, young lads swarmed his studio like bees unto nectar begging for a life-line. The likes of Junior and Pretty, Daddy Fresh, Daddy Showkey, DJ Abdullah, El Cream, Ruff, Rugged and Raw and Aladin (Formerly known as Chuck Da Bone), all grabbed the microphones, lighting up the stage, entertaining the crowd and basically having fun. No one had the slightest idea that Rap music was just on the brink of blowing up in Nigeria.
Hip hop gigs would later grew bigger in '93 when Dj Jimmy Jatt, started hooking up DJ Raves in major university campuses across Nigeria, appealing to kids of the elites and hip hop disciples, Jimmy Jatt's events became the Mecca of hip-hop, where heads all over the country converged. Two notable annual events were, The Tupac and Biggie (Notorious B.I.G) remembrance concerts, which virtually featured all the big names in the game. Weird, Trybesmen, Def 'o' clan, Dr Fresh, Remedies, El Dee, F.B.I and Plantashun Boiz (Tuface & Blackface) were the favourites way back… Dj Jimmy Jatt had already become a giant; he couldn't help being noticed by big time events outfits. Getting drafted by the likes of: Cosse, Tequila, Marathon events, Vigeo, STB McCann, Contact Marketing, Kent and Summerset saw him becoming a traveling man, too busy on tour with either Coca Cola, Rothmans, St Moritz, Benson and Hedges, Nigeria Breweries, MTN, Globacom, Guiness, etc.
Dj Jimmy Jatt has also graced the same stages with Usher Raymond, Shaggy, Eve, K-CI and Jojo, Naughty by Nature, Caron Wheeler, Magic System and David Lynden Hall, Sean Paul etc. He is also the official DJ for the play safe national campus tour in Nigeria, poised at warring against unprotected sex.
He has played at gigs in African Countries, such as: Republic of Benin, Togo, Cote'd' voire,Ghana,south Africa and Europe.
His debut album, "The Definition", is a mix tape featuring over 50 of Nigeria's best artists. The first single "Stylee" featuring Tuface Idibia, Mode 9, and Elajoe was heavily successful, enjoying heavy airplay and the music video staying on the MTV Africa countdown for weeks, while earning him a Channel O Africa music video award nomination. Some of his songs are "Thank you Mr. DJ, Jump off, Proceed, No duplicatin, No Contest, Everybody wan rap" etc.
DJ Nigeria Jatt Studio
His big shows includes; Akon show in Nigeria, 50cent Concert,MTV BASE Lunch with 2Face & Lebo in Lagos,Globacom Campus Storm Tour,MTN Friendship is Beautiful Tour,Wyclef Concert,Sean Paul Concert,Beanie Man Concert,Gordon Spark Concert,Shaggy star megajam,LL cool J/Akon star mega jam,Rothmans o Mega Groove and many more..
In 2014 he celebrated his 25years annivasary of being in the industry, he made a tour to 6cities accross Nigeria a tour whuch said to be huge and well accepted by fans there was also an event for the anniversary the star-studded event was attended by A-list celebrities like 2face Idibia, Kate Henshaw, Tiwa Savage, Sound Sultan, Dr Sid, Lynxx, Praiz, Ebuka Obi- Uchendu, Vector, Titilayo Oyinsan, Basketmouth, Julius Agwu, Okey Basket, Omawunmi, Ufoma Ejenobor, Mannie, Dotun, Kaylah Oniwu, Vixen Ekwere, amongst others also launched his albulm " The Indutry".



AWARDS AND ENDORSEMENTS
So many awards have been won, big awards which includes; Headies,MTV awards,NEA, and any more..
CONTROVERSIES
The ace deejay was rumored to be Gay in 2015, he later cleared the air on that.
Jimmy's 25th anniversary with music stars
Jimmy and Family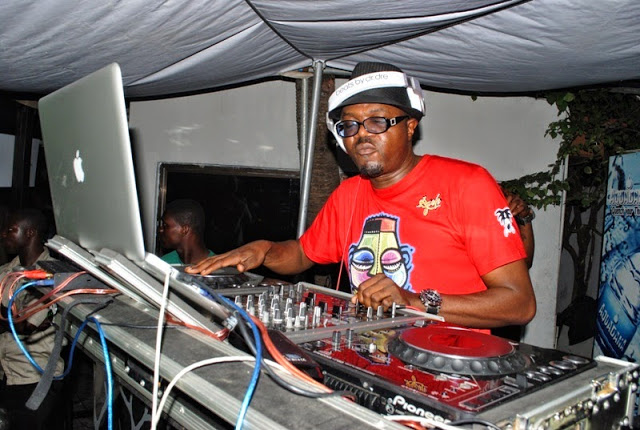 Jimmy in action


SOURCES: thenet.ng, biographyhome.com, www.takemetonaija.com