Rapper EVA ALORDIAH Full Biography, Life And News
|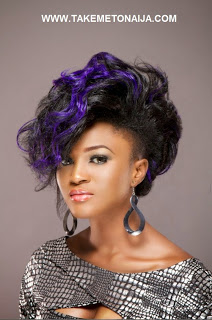 FULL NAME: Elohor Eva Alordiah
DATE OF BIRTH: 13 August 1989
OCCUPATION: Rapper,entertainer make-up artist fashion designer
MARITAL STATUS:Not Married
INTRODUCTION
Eva is a popular female Nigerian rapper who has a lot of singles to her name, she is said to be among the top female rappers in Nigeria.
EARLY LIFE AND BACKGROUND
Eva Alordiah was born to Nigerian parents from Delta State. She got introduced to music by her mother who listened to musical recordings from the 70's and 80's. Eva has cited Michael Jackson, Bob Marley, Sade Adu, The Carpenters, John Lennon and Don Williams as her musical influences. Eminem's "Cleanin' Out My Closet" inspired Eva to pursue a professional rap career. When she was 7 years old, she partook in several forms of art while in her adolescence. She sang in her church's choir, and joined the drama club while in secondary school. Growing up, Eva was fond of drawing and reading books.
At age 10, she wrote a short story in her notebook, and dreamt of being an author. After learning of Eminem, she began to write rap verses. Eva's love for words and rhyming pulled her deeper into the Hip hop genre. At age 16, Eva found herself balancing school and business. With an ambition to make money and become independent, she started auditioning for acting and modelling roles. Eva sold second-hand clothing in school as a means to an end. Eva began her career as a photography model. She took pictures and auditioned for several jobs. She graduated with a degree in Computer Science from Bowen University.
In 2009, Eva released "I Dey Play" as her first ever studio recording. The song features Tha Suspect and was recorded over Lil Wayne's "A Milli" instrumental. Eva was featured on "Make 'em Say", a song from one of Strbuttah's mixtapes. The music video for the song, released in January 2011, was created by Rcube of Strbuttah. Eva made her TV debut in the music video. She later appeared on the female version of Tha Suspect's song "I No Send You". The video for "I No Send You" was released in March 2011.
CAREER AND LIFE
Eva started working on her debut EP, The GIGO E.P, as an independent artist. On 20 November 2011, she released the EP which is an acronym for Garbage in Garbage Out. The EP was released under 3UD management. It consists of 9 songs and was released for free digital download. The EP was supported by the singles "I Done Did It", "Down Low", "Garbage Out (Your Fada)" and "High". The EP's production was handled by Sossick, Tintin and Gray Jon'z. "I Done Did it" was released as the EP's lead single; it was produced by Sossick. In a 2012 interview with Halley Bondy of MTV Iggy, Eva said she was honored to have worked with the aforementioned producers. She also said she had fun recording the EP.
Eva released the second single "High" in 2012. The music video for the single, directed by Mex, was released on 24 May 2012. It was uploaded onto YouTube at a total length of 4 minutes and 37 seconds. The video premiered on MTV Base in May 2012. When the video was released, many people misconstrued the meaning of the song and thought that it alluded to drug use. In the aforementioned interview with Bondy of MTV Iggy, Eva said that the song is about overcoming the struggles and hardships of life.
It was reported in May 2012 that Eva signed a record deal with Da Trybe 2.0, a record label owned by record producer and recording artist eLDee. In November 2013, Ariya Today reported that Eva was dropped from Trybe Records. According to the press release signed by the management of the recording outfit, Eva's ideas and foresight didn't align with the label's plans. In an interview with Bellanaija, Eva denied reports about being signed to Trybe Records despite the press release statements from the label. After the Trybe Records saga in 2012, she took a break from the music scene and spent time reflecting on her craft.
In February 2013, she worked with producer Sossick to release "Mercy", a song that was made available for download on her blogsite. The song was produced and co-written by the aforementioned producer. In December 2013, UK producer Drox featured her in the music video for "Mercy". He released several official remixes of the song, including a "Summer Mix" and a "Jackin Storm" mix.
In August 2013, Eva signed a management deal with Radioactiiv. Also in August 2013, Nokia Nigeria enlisted her as one of the judges for its annual Don't Break Da Beat competition.
On 29 July 2013, Eva released the promotional single "Lights Out". The song was produced by Gray Jon'z. The music video for the song was directed by Patrick Elis. In an interview with the Leadership newspaper, Eva said she recorded the song to showcase her versatility as an artist.
Work on Eva's debut studio album started as early as 2012. The album is being produced by Tintin and Gray Jon'z. On 24 January 2014, Eva released "Deaf" as the album's lead single. The song, which was produced by Gray Jon'z, premiered three months after the premiere of the "Lights Out" video. The music video for "Deaf" was shot and directed by Patrick Elis. The song has been remixed by rapper Boogey. Eva stated in an interview that she loves creating visual content, and has successfully co-directed all of her music videos to date. To promote the single, Eva organised a rap competition exclusively for girls.
Eva was featured in the Lagos edition of BBC Radio 1xtra's Live Lounge alongside M.I, 2face Idibia, Wizkid and Iyanya. As part of the feature, artists were asked to freestyle. Eva collaborated with Burna Boy, Endia, Yung L, and Sarkodie on a song that was initially intended to be a theme song for the third season of MTV Base's Shuga. Instead of using the Chopstix produced song, MTV Base chose Del B's "Sweet Like Shuga" track which features vocals from Flavour N'abania, Sound Sultan, Chidinma, Kcee and Professor. The unreleased theme song was leaked online and made available on NotjustOk. On 11 March 2014, she released her version of the unreleased theme song titled "Shuga".
On 31 August 2014, Thisday reported that Eva became an ambassador of Guinness Nigeria's Made of Black campaign alongside Olamide and Phyno. Eva performed at the campaign's launch and was featured in the campaign's television commercial.
On 25 September 2014, "War Coming" was released as the upcoming album's second single. The song was produced by Tintin and features guest vocals from Sir Dauda. On 6 November 2014, 1960 was announced as the title of Eva's debut studio album which was slated for a January 2015 release. The album will feature guest collaborators such as Darey Art Alade, Femi Kuti, Yemi Alade, Olamide, Sarkodie and Sir Dauda. On 20 November 2014, Eva released a self-titled second EP for free digital download.[45] On 6 March 2015, Eva premiered the music video for "War Coming" which was directed by MEX.
Eva dated Ice Prince when he first relocated to Lagos from Jos. Ice Prince told the Nigerian Tribune that the relationship ended due to numerous arguments
AWARDS AND ENDORSEMENTS
Nigeria Entertainment Awards won Most Promising Act to Watch 2012
Eloy Awards 2011 won Female Rap Artiste of the Year
YEM Awards 2011 won Best Rap Single (Female)
NO POPULAR ENDORSEMENT YET.
RUMORS AND CONTROVERSIES


Was rumored to have left Eldee's record label because he wants her which she later debunked.
Alleged scandal of her trended online in 2014 of she being the industry most passed around female musician, she was labeled promiscuous by different blogs online.. Which we take as a rumor
SOURCES: wikipedia.org, www.takemetonaija.com