Remembering Dagrin 6 Years After: Checkout Touching Facts You Definitely Don't Know About His Life/Career/Death
|
We are gonna sharing you a couple facts about the hip-hop sensation
we are celebrating and remembering today, DAGRIN today makes it 6years
since he's passed on. We are gonna be sharing you facts on how the
rapper died things that happened before and after his death.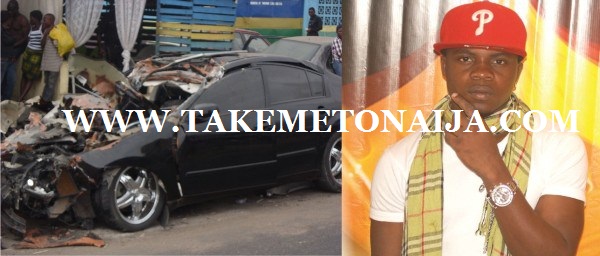 The
unfortunate incident happened exactly 6 years ago, we bring to you a
NET report published in the aftermath of the death of the late
unforgettable rapper…
Dagrin died at 6:00pm on
Thursday, April 22, 2010, exactly eight days after he was involved in a
ghastly motor accident in front of Alakara Police Station, off Agege
Motor Road, Mushin, Lagos. He survived a serious head injury as a result
of the crash. He was initially admitted at Tai Solarin Hospital, Mushin
before being transferred to the Lagos University Teaching Hospital,
(LUTH) Idi Araba, where doctors made serious efforts to save his life.


The
late rapper was admitted at the Intensive Care Unit and operated upon,
and later moved to the private wing of the hospital. Eight days of
nationwide panic, the media didn't have to play anything up; the
pictures from the accident (exclusively obtained by NET), were enough to
send shivers down our spine, the photos from the hospital; of a
lifeless, looking Dagrin, a sharp contrast from the animated artiste,
stamped sadness on many faces.
THINGS YOU DON'T KNOW ABOUT DAGRIN'S LIFE,DEATH AND CAREER.
He was brought into the cemetery for burial in a black Ebony Escalade Cadillac ESV 2007 model.
Candle
light procession in honour of the late rapper started from his former
home at Emmanuel Dada Street, off Bello Road, to Ojez, National Stadium,
Surulere at about 6pm on Thursday, April 29, 2010.
His body was
left for Twenty Four hours before embalmment. The late rapper was buried
at the Ebony Millennium Private Vault, Atan cemetery.
He had 129 pictures in his four photo albums on Facebook.
The
late rapper was buried, wearing white hand gloves, white belt and a
white T-shirt; black waist coat, black bandana around his neck, a black
trouser and a black fez cap.
The slabs on his tomb were four in number. His body was brought into the cemetery at 9.00am on Friday, April 30, 2010.
He was finally interned at about 10.45 am on Friday, April 30, 2010.
The late rapper's car ran into a stationary lorry in front of Alakara Police station, Mushin on Wednesday, April 24, 2010.
He was 22 years old. His ill-fated Nissan Maxima was a 2008 model.
His
father lives at 43, Kola Oretuga Street, off Meiran Road, Iyana Meiran
bus stop, Agbado Oke-Odo LCDA. He was the fourth child in a family of
nine.
Dagrin was signed to his own label, 'Missofunyin Entertainment' but managed by Edlyne Records.
He
attended Meiran Community Primary School, Roseille Nursery and Primary
School, Meiran Community High School and Egbado College.
The
bandana on the late rapper's neck for burial was the same as the one on
his Manager, Tunde Peters, Zeez, YQ and his close friends.
His father's nickname is Nelly.
He has a music store, 'House of Nelly Sounds', located at Meiran bus stop, where he used to stay before moving to Surulere.
His father's speech at the candle light ceremony was the rap he did to the song he was featured in by YQ, titled: 'Efimile'.
His casket was coloured brown, with a touch of gold.
He
died eight days after the accident. Doctors at the Lagos State Teaching
Hospital, LUTH said he survived nine attacks before he finally gave up
the ghost during the 10th.
He died 6.00 pm on Thursday, April 22, 2010, eight days after his car crashed, and was buried eight days after his death.
Desperate
fans almost tore down the Ebony gate at Atan, when they were initially
prevented from getting in; and refused to leave after his burial.
The
burial was originally designed to have only 150 people in attendance,
but thousands stormed the cemetery to pay their last respect.
The late rapper was born Olaitan Olaonipekun, to Mr. and Mrs. Olaniyi Abolaji Olaonipekun
He got the nickname, Barack O'Grin from the remix song he did with General Pype 'Champion.'
Touts were seen at the burial, smoking Indian hemp and selling Dagrin T-shirts.
Julius
Agwu and Omo Baba anchored his Candle Light ceremony, held at Ojez,
National Stadium, Surulere on Thursday, April 29, 2010.
His ill-fated car carried the number plate, DAGRIN 03.
He planned to buy two other cars, to be numbered Dagrin 02 and Dagrin 01.
The accident that claimed his life happened 2.00am on April 14.
He was initially admitted at Tai Sholarin Private Hospital, Mushin, Baba Olosa bus stop.
He had three videos to his credit, titled: Kilowale –ft PK, Rap rules and Ponponpon.
He had two albums to his credit, titled: Still on the matter and Chief Executive Omoita.
Dagrin's mother, Mrs. Olaonipekun was the second of his father's three wives.
He
was a Yoruba lyricist; just like the older but less popular, Lord of
Ajasa. The last time he logged on to Twitter was on Thursday, April 8,
2010.
He died of severe head injury.
The slab where the late rapper's body was kept at the mortuary is tagged: Number 8.
The late rapper had three nominations at the coming Hip Hop World Awards. His parents were expectedly both absent at his burial.
His
Twitter ID was Dagrinfimile. Two months before his death, Dagrin moved
into Block 10, Flat 3, at the Sunshine Estate, Oko Oba in Lagos.
Sources at Ebony Casket says his casket cost N150,000. His Facebook name was Dagrin fimilejo.
His
email address was [email protected] Striking doctors at the Lagos
State University Teaching Hospital, LUTH resumed work the same day he
was buried.
Websites like www.thenetng.com and questionmarkmag.com jammed because of huge traffic, following news of the rapper's death.
The late rapper had 4,930 friends on Facebook.
There
were underground speculations that Dagrin had a baby outside wedlock
which he refused to accept responsibility of before he became a rap
star.
Artiste manager, Sunday Are and comedian, Tee A were part of logistics support team.
At
the time of his entombment, there was still a vacant tomb, opened
beside his vault. Apart from mortuary expenses, the total bill incurred
during his stay at LUTH was about N800,000.
MORE FACTS:
1
Dagrin's album, CEO, was the most successful rap album of 2009, and one
of the most successful hip-hop CDS of all time in the history of Nigeria
music industry
2 His gimmick laughter on song according to him, means is mocking the beat and no beat he get to listen to that he cant flow on.
3
Dagrin recorded a track for Kennis music some years back, but was
played for the first time on radio edition of their programme prime time
Africa, after he passed away.
4 The tragically prophetic song
titled "If I die" was recorded on February 5th 2010 and was the last
song he recorded before he passed away.
5 His first international show was billed to hold at Indigo, 02 in London April 30th 2010, but he passed away before the date.
6 His Nissan maxima was just two weeks old at the time of the crash
7 Dagrin preferred spirits to wine
8 He received more airplay on radio, television and gain more popularity after his death.
9
He featured on over 30 songs for different Nigerian artiste that turn
out hit i.e Y-Q, Kenny Saint Brown, Jazzman Olofin, 9ice, Dipp, Ajuju,
e.t.c
10 His close friends are Y-Q, Sossick and DJ Zeez
11 He was admitted at Luth on Thursday April 15th 2010 and the resident doctors went on strike at 12am that same day.
Ghetto Dreamz – Filming the accident scene with Dagrin's car. Pictures
Location
shots as the cast and crew shoot the accident scene for late Dagin's
biopic, Ghetto Dreams. Trybson Dudukoko plays Dagrin, while the director
of the movie is Daniel Ademinokan.
SOURCES: Thenet.ng, Nigerianfilms.com