Iroko TV Founder And Owner JASON NJOKU Full Biography, Life And Net Worth
|
FULL NAME: Jason Njoku
DATE OF BIRTH: 1982
OCCUPATION: Business Man;
Internet Entrepreneur
NET WORTH: $30 million (2012).
MARITAL STATUS:
Married
INTRODUCTION
Jason Njoku , is a Nigerian internet entrepreneur, and is CEO and
founder of Iroko partners, the largest distributor of Nigerian music and
movies online. Jason studied at the University of Manchester and grew
up in the UK, He is presently one of the most successful internet entrepreneurs in Africa.
EARLY LIFE AND BACKGROUND
Grew up in the U.K studied chemistry at University of Manchester.
While he was studying chemistry at the University of Manchester, he
was also pursuing entrepreneurial activities. He used to run club
nights, trying to earn extra cash to pay for his student life, standing
outside bars until 3 a.m. handing out fliers to students, urging them to
come to his nights. Sometimes people came in their droves, other times
it would be just him, one or two mates and the bar staff and he came home broke,
wondering what went wrong.
See What He Said About Being A Hustler In An Interview:
I'm a hustler at heart and it wasn't a conscious decision to be an
entrepreneur. It was just something I had always done and expected to
continue doing after my degree. I knew I didn't want to work for "the
man." In fact, in all honesty, I genuinely don't think I could keep down
a regular job. I'm brutally honest about the sort of person I am—curt,
belligerent, intense, egotistical—I could go on. But I'm also astute,
hard working (stupidly so), creative and have no fear of failure. Add up
my personality traits and business skills and they don't lead to a 9-5
job, they lead to a life as an entrepreneur.
As an Igbo boy entrepreneurship was always going to be part of what he does. He has been fired from most jobs he's had, so working for himself
and building a sustainable company that held his interest was an absolute
necessity. And he had no wish to work for 'the man'. Never.
Being an entrepreneur is awesome in every sense – even the challenges he
face every day gives him a massive buzz and what he's been able to build
in iROKO Partners over the past years is incredible. He knew that he
wanted to be an entrepreneur, he knew that it would be to do with media /
the Internet but he never knew it would be in the realm of african
entertainment.
CAREER AND LIFE
When Jason Njoku graduated from his UK-based university in 2005, he was filled with high hopes of entrepreneurial success.
But
after his business endeavors failed to take off for years, Njoku had no
option but to move back to his mother's house in London.
The whole genesis of iROKO was at 29, almost 30, that was itself a harrowing experience but the interesting thing
was that for the first time in eight years since he'd moved out he was
actually able to see the viewing patterns of his mom has changed…She'd gone
from watching western films to watching African films– he
realized there's a growing appetite for Nollywood
films after noticing how his mother and other relatives had
difficulties getting their hands on their beloved movies from Nigeria's
booming film industry.
iROKO's online distribution started off on the video sharing site in
October 2010 after jason launched a channel called Nollywood Love. Back in 2005, According to Jason, for the 2011 financial year, his YouTube channels
generated $1.3 million in advertising revenue, from a monthly record of
six to eight million views; an average of $108,500 monthly. Bastian Gotter, his friend and partner, discloses that YouTube pays iROKO TV
half of the ad revenue generated on Nollywood Love. "They give us 50% to
cover our distribution license cost while they keep 50% to cover their
infrastructure cost," he says.
In 2010, Jason moved to Lagos and set-up iROKO Partners.

Nollywood Love was the company's first platform, streamed on YouTube.
To-date, iROKO Partners is YouTube's largest partner in Africa. In
2011, the company launched iROKOtv, a platform to stream Nollywood
movies. The site has recorded over 800,000 registered users as of 2013, 14 million hours of movies have been watched in 178 countries around the world.
iROKO Partners was also one of the first companies in the Nigerian
digital music scene, launching iROKING in 2011. The platform has almost
100,000 registered users who have access to over 35,000 tracks by 400+
artists. As of 2013
Across all the iROKO Partners' platforms, 193,000,000 minutes of entertainment are consumed every month.
When iROKOtv launched in December 2011, users could access all content
for free—all they had to do was register with them. In July 2012, they
shifted to a freemium model, iROKOtv PLUS, where they started
charging $5 a month for fans to access the more expensive, brand new
Nollywood movies. 95% of his site remained free [supported by ads] and they also removed the registration process, The introduction of the
subscription service brutalized their traffic and growth by roughly 50%,
but increased their revenue prospects considerably. The sharp decline in
user numbers was tough to take at the time and he agonized over whether
or not he'd made the right decision to start charging for the top
quality content. It turns out that it definitely was the right decision
to make, in order to continue monetizing their site and providing the best
possible service to their viewers around the world. It took around 8
months but they were back to the same level of users they were before
iROKOtv PLUS was launched this was beginning of a huge success for him and the platform.
In 2012 Iroko TV raised $8 million in venture capital from Tiger Global
Management, a New York-based private equity and hedge fund run by
billionaire Chase Coleman. IrokoTV enjoys lucrative content distribution
deals with Dailymotion, iTunes, Amazon and Vimeo.
In 2012, Forbes Africa named Jason as one of Africa's Top Young Millionaires to watch. He has also been named as one of London's Top Black Men of Power in Black Enterprise Magazine.
iROKO Partners has over 110 employees in offices in Lagos, London and New York.
His company has been said to be worth over $30milllion in 2012.
In 2013 Jason started a program called SPARK, a program meant to help young internet entrepreneurs build the platforms they want on the internet.
Iroko partners and Jason's influence in the internet industry of Nigeria at the moment is at its peak, in 2015 a program was also launched to discover young internet engineers(programmers), there is a contest organized for this young programmers (mostly students) every month in which the winner of the contest goes home with 1million naira cash reward.
He got married to popular actress Marry Remmy in 2012 and had a child in 2013.
Jason has a blog that he writes his mind and share his personal ideas to his fans, url: https://www.jason.com.ng/
His advice for young entrepreneurs in the making:
"Don't wait around – the sector is in its infancy but that doesn't mean
it's not going to move quickly. There are a lot of people out there who
are smarter than me, who have an Ivy-league education and who have great
ideas to start up a business, but something is holding them back and
they are voyeurs rather than entrepreneurs. My advice to young
entrepreneurs is this: don't wait for the day when you're reading about
YOUR idea in the business pages. Do it now. Break free from the shackles
that hold you back and start your business today."
AWARDS AND ENDORSEMENTS
YM awards: Best Use of Social Media
Future Awards Africa: (Entrepreneur of the Year)
And many more..
RUMORS AND CONTROVERSIES
None in particular.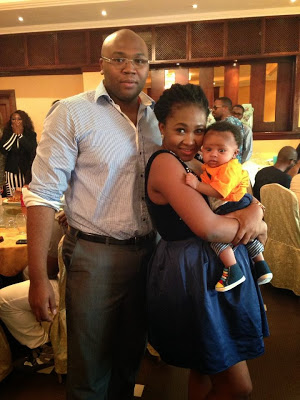 Jason And Family
Jason at Irokotv HQ
Jason And Friend Bastian Gotter
SOURCES: starafrica.com,africastrictlybusiness.com,ynaija.com,edition.cnn.com,pulse.ng