Updated: Singer DAVIDO Full Biography
|
FULL NAME: David Adedeji Adeleke
DATE OF BIRTH: 21 November 1992
OCCUPATION: Recording artist singer-songwriter record producer.
MARITAL STATUS: NOT MARRIED
INTRODUCTION
Davido, is an American-born Nigerian recording artist, performer and record producer. His 2011 single "Dami Duro" brought him to limelight. As of 2016 Davido have made himself one of the biggest artists to ever come out of Africa. Davido signed a global deal with Sony Music in 2016. Davido is an artist with several endorsements and awards.
EARLY LIFE AND BACKGROUND
Davido was born on November 21, 1992 to Mr. and Mrs. Adeleke in Atlanta, Georgia. His father, Chief Deji Adeleke, is a Nigerian business magnate while his mother, the late Dr. Vero Adeleke, was a university lecturer. He attended The British International School in Lagos. Davido studied Business Administration at Oakwood University prior to relocating to Nigeria. He studied at Babcock University Ogun State.
Davido on his decision to venture into music says; I've been doing music for like 3 years but I took it seriously in March 2011. I was formerly in a group called KB international in America. It wasn't working out so I thought I should just do this on my own that was when I moved back to Nigeria. I was around people that were musically inclined. I love music, and why not do something you love and are happy doing and making money at the same time.
FADER Magazine 2016 checkup revealed more about Davido's background. Find the bio update below:


Davido was 16 when he had arrived in Huntsville, a year earlier. His
father, Dr. Adedeji Adeleke, a well-known businessman and Seventh-day
Adventist in Nigeria with an estimated net worth of over $300 million,
dropped him off with his passport, $2,000 cash, and freshman
registration documents for Oakwood University, a historically black
Christian college. (People often attach the honorific 'Chief' to Dr.
Adeleke's name, referring to his wealth and power, largely earned
through his founding of Pacific Holdings, a company that deals in steel,
oil, gas, and more.) Davido had already spent time in the U.S.—he was
born in Atlanta, and sometimes visited in the summer—but much about life
in the States was new to him. "That was the first time I had a phone in
America. There was unlimited calling. I never saw nothing like that
before," he remembers. "In Nigeria, you gotta pay before you get what you want."
The school roomed him with another international student, a Rwandan
track athlete—"I was like, 'Okay, wow. They just put all the African
people together?'"—but he gravitated toward an upstairs neighbor named
Jaymo, an American kid whose speakers constantly rattled Davido's
ceiling. "One day, I went to go check what the noise was. I went
upstairs, opened the door, and the guy had a full studio in his room,"
he says. "I told him that I was trying to do music, too. He asked me,
'How much do you have to invest in equipment?' And I said, '$2,000.' He
was like, 'That's too much.'" They went to Guitar Center with $500.
From then on, Davido spent most of his time making beats and
recording vocal references to send to a cousin in Lagos, a fellow
musician with a trove of industry contacts. His grades slipped, and
after three semesters, he dropped out and left town without telling his
father. First he went to Atlanta, where he used his older brother's ID
to get into clubs, and funneled the money Chief Adeleke sent for school
and living expenses toward drinks and motels. Later, he threw out his
SIM card and hopped on a plane to London, where he went MIA for several
months as he shifted his focus from production to vocals. "There was no
Snapchat, no Instagram. There was barely Twitter," he says. "I just went
off the radar."
Chief Adeleke, meanwhile, had been on the hunt for his son. When
Davido finally returned to Lagos in 2011, with new tattoos and
piercings, his father had him apprehended by police officers at the
airport. Having failed to bring home the business management degree he'd
been sent to America to complete, Davido reached a compromise with his
father: he, still a teenager, would attend a private university two
hours north of the city. His music dreams would be sidelined until he
had honored his family by graduating. Davido returned to school, but
often snuck out of his dorm room to hobnob at industry parties and blew
off exams to record.
CAREER AND LIFE
Work on Davido's debut studio album, Omo Baba Olowo, began in 2011. On May 7, 2011, Davido produced and released his first musical recording "Back When".The song served as the album's lead single and received frequent airplay. The music video for the single, uploaded onto YouTube on May 9, 2011, was shot and directed in Nigeria by Clarence Peters. Davido told Factory 78 TV that he recorded "Back When" in London.
Davido co-produced "Dami Duro" with Shizzi and released it on October 30, 2011.The music video for "Dami Duro" was released on January 8, 2012. It was shot and directed in Lagos by Clarence Peters, and was released during the Occupy Nigeria protests. In an interview posted on Notjustok, Davido spoke on the release and composition of "Dami Duro". He said he recorded "Dami Duro" in August 2011. Three months later, the song got leaked after he sent it out to some friends.
On May 6, 2012, HKN Music released "Overseas" as a single off the album. The unfinished version of the song leaked prior to the official release.On September 28, 2012, HKN Music released the music video for "All of You". The song was produced by Gospelondabeat. When the song was released, it was rumored to be a "beef track". In another interview with Factory 78 TV, Davido debunked the rumors and said he recorded the song with Gospel after meeting him at a mall. To further promote the album, Davido released music videos for "Ekuro", "Gbon Gbon",and "Feel Alright".
2012 was a great year for the popular singer as his was well accepted by fans and also increased his fan base..
In early 2013, Davido began recording his second studio album. On February 25, 2013, he released "Gobe" as the upcoming album's lead single. The song was produced by Shizzi. Charles Mgbolu of Vanguard commented on the release of the single, saying: "It's a beautiful song with a tremendous video running along. In Gobe, Davido is beaten up by thugs after winning the girl. It's a song that exudes fun from start to finish."The music video for the single was shot in South Africa by Godfather Productions. The song was ranked second on Premium Times list of the Top 10 songs of 2013.
Davido announced via Twitter that the second single "One of a Kind", from the upcoming album, would be released on May 13, 2013.The song was also produced by the aforementioned in-house producer.The music video for "One of a Kind" was shot and directed in South Africa by Tebza of Godfather Productions. It visualizes a united Africa rich in culture and music.
"Skelewu", the third single from the upcoming album, was released on August 13, 2013. It was ranked 5th on the aforementioned list of the top 10 songs of 2013. The song peaked at number 1 on Afribiz's Top 100 chart. A dance competition with a cash prize of $3000 (N480,000) was announced days after the release of the song. Davido uploaded an instructional dance video onto YouTube and asked fans to upload videos of themselves dancing to "Skelewu". On October 10, 2013, Davido declared Bello Moshood Abiola the winner of the competition. A week after announcing the winner of the Skelewu dance competition, a Sesan directed music video was released to the public. Shortly after the release of the video, Davido took to Twitter to debunk the video and said that someone betrayed him by releasing it. He also said he'll re-shoot the video with Moe Musa, a UK based music video director. Sesan commented on the release of the music video and said that Davido was satisfied with his contributions to the music video. He also said that it would be immature for Davido and his management to release inaccurate statements in order to defame his brand.On October 21, 2013, the official music video for the single, shot and directed in London by Moe Musa, was uploaded onto YouTube at a total length of 3 minutes and 56 seconds.
On October 24, 2013, Pulse reported that Guinness Nigeria signed Davido to an endorsement deal As part of the deal, Davido performed at the Guinness World of More Concert alongside P-Square, D'banj, Wizkid, Ice Prince, Burna Boy, Olamide, Phyno, Chidinma, Waje and Tiwa Savage, among others.
On February 2, 2014, Davido released "Aye" as the fourth single from the upcoming album. The song was produced by T Spice.The music video for "Aye" was released on February 7, 2014; it was directed by Clarence Peters. According to the music video's synopsis, "Davido plays a poor farmer who falls in love with the prince's love interest."
On April 30, 2014, HKN Music released the upcoming album's fifth single "Tchelete (Goodlife)" featuring South African duo Mafikizolo. The song, which translates to "Money", was produced by Oskido and Shizzi. Upon its release, the song was distributed by MTN's Play and Callertunez platforms. The collaboration between Davido and Mafikizolo came about as a result of them networking at MTN Nigeria's Elite Night event in December 2013.The music video for the song was shot and directed in South Africa. It was uploaded onto YouTube on May 1, 2014. Oskido and Uhuru made cameo appearances in the video.
In June 2014, Davido collaborated with Mi Casa, Lola Rae, Sarkodie, Diamond Platnumz and Tiwa Savage on a song for DSTV's Africa Rising campaign, which was designed to inspire Africans to partake in community-based social investment projects. The music video for the song, released on June 24, 2014, was shot and directed by South African production house Callback Dream. The aforementioned artists performed the song at the Africa Rising launch ceremony in Mauritius. In July 2014, Davido told The New Age newspaper that he plans on collaborating with American rappers Rick Ross and Meek Mill ending the year the award winning singer released another smashing hit song OWO NI KOKO..
Davido really became much more famous in the industry in year 2014 after continuous release of interesting songs and also trended a lot in the social media, he became the second Nigerian to hit over a million followers on twitter.
In May 2014, Davido slandered the Nigerian Immigration Service (NIS) after missing his flight to London.
He accused them of pestering him for money. On May 11, 2014, the Public
Relations Officer for the NIS debunked Davido's allegations and said
that they didn't issue him an exit permit because he didn't have the
proper traveling documents with him at the time.
Davido set a new record in the year 2014 after winning up to 22awards just in a year, he was embarrassed by Channel O music video awards after getting 5 good nominations and winning non in which most people believes he deserves more than 1 award out of the 5 nomination but won non.
Davido and his longtime rival and frenemy Wizkid reconciled in 2014 after so much beefing of each other on the media same year.
Davido had a sexy girlfriend in 2012 from ghana whom he made public they are dating but after they broke up in 2013 davido hasn't shown any other lady since..
Davido publicly announced his new found love SIRA in 2015 taking his relationship public since 2013.
Also in 2015 Davido graduated from the department of music in Babcock university.
He also became a father in 2015
In December 2015, the Vanguard
reported that Davido and his baby's mother, Sophia Momodu, were
embroiled in a fight over the custody of their daughter Imade Adeleke.
The newspaper reported that it all started after Sophie and her family
filed a petition against Davido and his family for alleged child trafficking.
In a petition sent to the Director-General of the National Agency for
the Prohibition of Trafficking in Persons, Davido and his family were
accused of keeping Imade away from her mother since July 2015, as well
as trying to flea Nigeria with the baby. Davido has since insisted that
the allegations against him are false, but surprisingly apologized to
Dele Momodu, the uncle of Sophia Momodu.
AWARDS AND ENDORSEMENTS
Kora Awards 2012 Best Newcomer Award
2014 Himself Best International Act: Africa Won
011 Himself Promising Youth Artiste Won
"Back Best Male West Africa Won
African Muzik Magazine Awards Artist of the Year Won
When" Song of the Year Won at Dynamix All Youth Awards
MTV Africa Music Awards
Best Male Won
Artist of the Year
Artiste of the Year Won 2014
"Aye" Song of the Year Won
The Headies Next Rated Won 2012
and more..
ENDORSEMENTS
Davido signed a N30 million endorsement deal with MTN in 2012 and deal renewed again in 2013
Davido signed an endorsement deal with closeup in 2015
RUMORS AND SCANDALS
Was captured sleeping twice by ladies she slept with after they made love(pic interpretation) in 2012 said to be a sex scandals
Was said to have beaten and maltreated a taxi driver in 2012 along side his friends he later debunked it
Was rumored to have been slapped by soldiers after getting drunk and speaking unrespectful in abuja(unconfirmed)
Had a longtime beef with rival wizkid
FEW PICS
Davido performing to thousands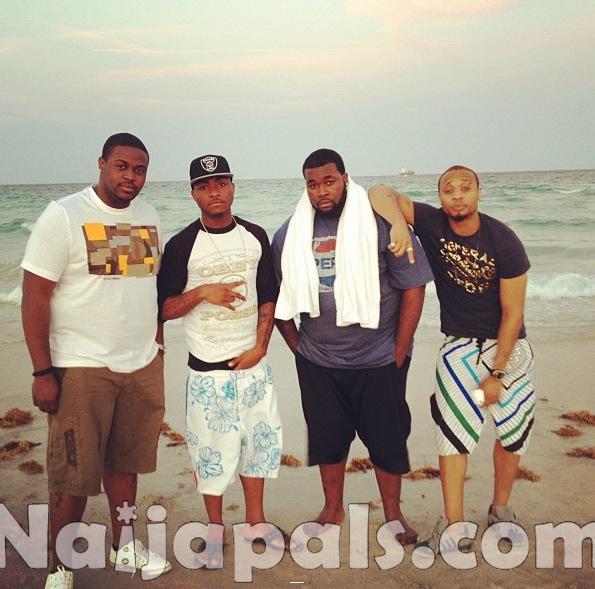 davido and crew
Davido and child
SOURCES: wikipedia.org, thefader.com, www.takemetonaija.com