DJ XCLUSIVE Full Biography,Life And Career
|
FULL NAME: Rotimi Alakija
DATE OF BIRTH: unknown
OCCUPATION: DJ, Record producer, Recording artist
MARITAL STATUS: Married
INTRODUCTION
DJ Xclusive is a popular Nigerian Deejay,Producer and Artist, He did his college time in the UK before coming back to Nigeria to lauch his career, Dj Xclusive has a lot of hit songs and album to his name and he is one of the most bankable DJs in Nigeria today.
EARLY LIFE AND BACKGROUND
Rotimi Alakija was born in the UK to Nigerian parents. At an early age, he moved back to Nigeria to pursue a high school education at King's College, Lagos. Rotimi Alakija moved back to the UK to study Physics and Computer Science at Reading University, where he earned a Bachelor's Degree. He later studied Financial Computing at Brunel University.
He came back to Nigeria with the idea that he wanted to play a major part in the Nigerian music industry which is on the rise. He also wanted to enhance the profile of the average DJ because in Nigeria everybody sings the praises of the artist whereas in London and America, DJs are given their due recognition.
Before he came back he was the DJ at one of the Cool FM parties so he already built a relationship with the organization. He liked the platform; it suited the kind of music he wanted to play. So in June 2011 he signed a contract and never looked back. And he is on radio at 3p.m. from Mondays to Thursdays on the Road Show and 8p.m. to 9pm on the Night Café. On Fridays and Saturdays, His on the Party Club Mix from 8p.m. to 1a.m. It was challenging but he loved it.
CAREER AND LIFE
DJ Xclusive started his professional disc jockey career in 2003 by performing at various night clubs, including Aura Mayfair, Penthouse, Funky Buddha and Jalouse. During the course of his career, DJ Xclusive has performed with acts like Ne-Yo, Rihanna, Mario Winans, Brick and Lace, Nas and Fat Joe.
At the 2010 edition of the Nigeria Entertainment Awards, held in the United States, DJ Xclusive won World Best DJ. He was nominated for Best DJ at the 2011 edition of the Black Entertainment Film Fashion Television Awards (BEFFTA Awards). He was also featured at the 2013 Big Brother House Party.
In 2011, DJ Xclusive became the resident DJ for CoolFM 96.9 and also joined Empire Mates Entertainment as Wizkid's official DJ. DJ Xclusive released a single "I'm Xclusive" alongside renowned UK-Nigerian artist Mo Eazy.
DJ Xclusive has release alot of hit singles namely Pangolo" (featuring Timaya) "Ibebe" (featuring Olamide) "Gal bad" (featuring D'Prince and Wizkid)
"Jeje" (featuring Wizkid)
"Fatasi" (featuring Terry G)
"Tonight" (featuring BankyW and Niyola)
"Shaba" (featuring Kcee and Shaba),"Jam it" Featuring Timaya and 2Face video directed by Adasa Squareball Cookey And the 2015 jam Featuring Davido "WOLE"
DJ XCLUSIVE SPEAKING ABOUT HIMSELF IN AN INTERVIEW:
Tell me about your growing up?
I used to be a
geek while I was little. I was into my books and computers and cartoons.
I never really started talking to girls until I was in SS2. I used to
wear big glasses like Steve in Family Matters.
A geek? That's interesting. Were you fortunate enough to have a memorable first kiss?
That is something I can't let out of the bag. Let's just say it was a
tough moment and, I don't want it to repeat itself again. There was an
air conditioner on and I was sweating like a pig!
Funny, but that was long ago. How about now? Who is the special lady in your heart?
I'm focusing on my career right now. I'd be honest with you, it's
really hard to have a relationship in this industry, you have to really
focus and with me right now, I'm really focused on my career.
What are your hobbies?
I play basket ball, I
love watching football, I love eating, I love sleeping, I love cooking, I
write poems and I read novels as well. I like table tennis and
swimming.
Can you tell us what makes you happy?
The
thrill in this business; what more can I do? What more can I achieve?
Nigeria is a special country, you see a guy driving on my own lane the
opposite way coming towards me and he's still abusing me. For me it's a
thrill. Being on radio, playing for my fans and my job as a whole, keeps
me excited.
To be a successful DJ, what quality or skill does one need?
Education!
Some people might not think it is important but it helps with the
business side of the game. And of course, you need God. I pray a lot
before most of my events. You need the passion as well. You need to
really love what you're doing. Things could really get tough but the
passion would keep you going. And you need to surround yourself a lot
with a lot of positive energy. Luck also helps a lot. You need to be
hardworking and dedicated. Practice a lot. You need to always remember
that there are other people coming up who are hungry for success. And
then humility, you need to stay grounded.
In 2015 DJ Xclusive got married to Tinuke Ogundero the wedding ceremony was star studded one
Dj Xclusive is the nephew to Nigerian billionaire businesswoman, Folorunsho Alakija.
AWARDS AND ENDORSEMENTS
Xclusive have won several awards as BEST DJ including the BEFFTA Awards, NEA Awards, TOOXCLUSIVE Awards and more…
ENDORSEMNTS
DJ Exclusive signed a multimillion naira endorsement deal with 'Miller', a US Brewing Company in 2015.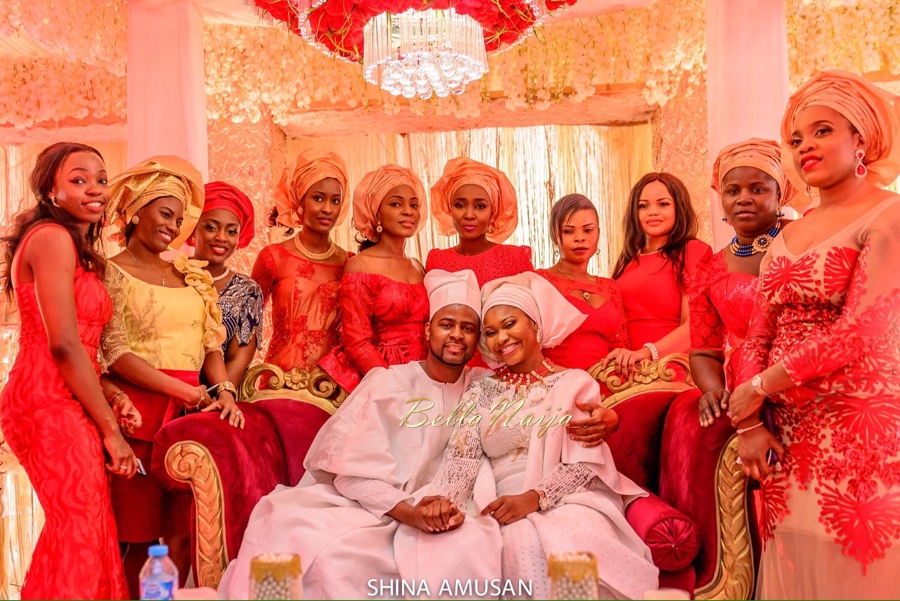 wedding
SOURCES: wikipedia.org,dailyindependentnig.com,www.takemetonaija.com