Mama Taraba Aisha Jummai Al-Hassan Inspiring Biography,Life And Career. (Nigeria's first female elected governor)
|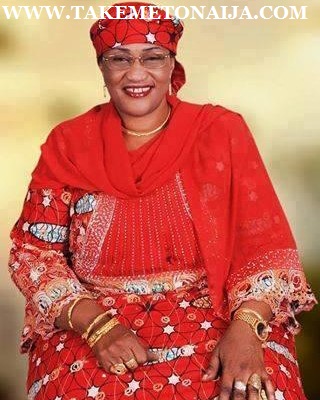 FULL NAME: Aisha Jummai Al-Hassan
DATE OF BIRTH: 16th of September, 1959
OCCUPATION: Politician: (Senator, Governor Elect)
MARITAL STATUS: Married


INTRODUCTION

Aisha Jummai is a Nigerian politician was a Senator representing Taraba North constituency of Taraba State, Nigeria. She became APC's Gubernatorial Candidate of Taraba State for the 2015 general elections. She was defeated in the election re-run held on 25th of April 2015, but on 7 November 2015 she was announced winner by tribunal.
EARLY LIFE AND BACKGROUND
Muhammed Nya Primary School, Jalingo
L E A Primary School, Tudun Wada, Kaduna
Saint Faith College (now GGSS) Kawo Kaduna Jan. 1973 – June 1977
(first set to do 4½ years in Secondary School because of the change of commencement of school year from January to September.
School of Basic Studies (SBS) A. B. U. Samaru Zaria from July 1977 to July 1979 (was a prelim Science Student).
Joined Students politics in ABU Main Campus in 1977 (end) when she was a little over 18 years.
Contested (for the first time by a non-undergraduate) for the post of Vice President of the SUG in 1978 at 18 years plus.
Note that the position of Vice President had always gone to
women un-opposed until (for the first time) in 1978 when three of them
contested for it, one female (Elizabeth (Lizzy) Wambebe then an
undergraduate studying Fine Arts and Lead Vocalist of ABU JAZZ Club) and
for the first time too, a male undergraduate. She was a prelim student
then. She won the election and became the Vice President and the only
female in the SUG Exco of that year (1978 – 1979).
The then President was Mal. Abdulhameed Imam, Secretary General was
Comrade Isa Bala Lawal while Assistant Secretary General was Comrade
AbdulRahman Black of blessed memory. All members of Exco of that year
except her were undergraduates.
During their tenure, there was a student crisis as a result of which
some of the Exco members including the President were indicted and
expelled from the University.
And then became the Acting President and completed the Tenure as such (Acting President of the ABU Main Campus SUG).
During her days as an SBS ABU Student and Vice President/Acting
President SUG Main Campus, she met her first husband and father of her three
children, Professor Ango Abdullahi who was then the Deputy Vice
Chancellor, ABU Zaria. He always represented the then Vice Chancellor
Prof. O. O. Akinkugbe at meetings with the SUG Exco. She married Prof.
Ango Abdullahi in September 1979 after completing her SBS when her husband was
still the Deputy Vice Chancellor. He became Vice Chancellor three months
after their marriage, that is, in December 1979.
Due to her new status as a wife and mother, she switched over from
being a Science Student to Arts (after her first baby (girl) in 1980)
when she enrolled to read Diploma in Law (1980) at ABU Zaria. She had to
start from Diploma because of her pure science background. She did not have
the required Arts subjects to enroll for LLB.
She proceeded to read LLB at same ABU from October 1982 to June 1985. She had her second child (son) in 1983.
She went to the Nigerian Law School Lagos 1985 – 1986
Called to the Nigerian Bar in 1986.
Did her NYSC 1986 – 1987.
Had her last child (daughter) in 1988.
Started work as a Magistrate Grade II in April 1988 in the Kaduna State Judiciary.
Went for the Technical Aid Corps Programme of the Federal
Ministry Of Foreign Affairs (on Secondment) to the Republic of Fiji from
1990 – 1992. She was admitted to the Fijian Bar and enrolled as a
Barrister and Solicitor of the High Court of Fiji in 1991.

While she was in Fiji, her services were transferred from Kaduna
State Judiciary to FCT Judiciary in 1991 as Magistrate Grade I.
She assumed duty at FCT Judiciary in 1992 when she returned from
Fiji. At the time she assumed duty she was the only female Magistrate in the
FCT.
She rose through the ranks and became the first female Chief Magistrate in the FCT in 1996.
She was then moved to Judicial Administration as the first female
Deputy Chief Registrar and Director Litigation, High Court of the FCT
Abuja in 1997.
Appointed the first female Attorney General of her State (Taraba) in 1997.
Returned to FCT Judiciary after the handing over to a
Democratically elected Government in May 1999 and continued in her office
as Director Litigation.
She was appointed the First female Secretary of the FCT Judicial Service Committee in November, 2002.
She was appointed the first female Chief Registrar of the High Court of the FCT in December 2003.
She voluntarily retired from the FCT Judiciary as Chief Registrar on the 31st of December, 2009.
Her family has always been a political family even before the time of her birth. Her father joined politics (NCNC) when he was a student in
Barewa College Zaria. He later joined NPC in the first Republic. He was one of the conveners of NPC in Muri Division and was the first
NPC Secretary of Muri Division. He contested election under NPC in 1959
for the House of Representatives in one of the 3 Muri Division
Constituencies. He was re-elected for second term after 4 years but
could not finish the term because of the coup in 1966.
CAREER AND LIFE
She joined the PDP as a member in the year 2005 while still working in the Judiciary but she was NOT politically active.
She started active politics in October 2010 and immediately went to contest for the Senatorial seat of her Zone.
She won the election and was sworn in as
Senator of the Federal Republic of Nigeria on 6th June, 2011, the day
the 7th Senate was inaugurated.
My name is now Senator Aisha Jummai Alhassan (Mrs.) after her marriage to Engr. M. S. Alhassan in 2007.
In the 9 April 2011 elections, Jummai won 114,131 votes, followed by Jolly Nyame of the Action Congress of Nigeria (ACN) with 92,004 votes. She was one of four women elected on the PDP ticket, the others being Nkechi Nwaogu (Abia Central), Helen Esuene (Akwa Ibom South) and Nenadi Usman (Kaduna South).
Following the election, she was said to have been in competition for
the Senate President seat.
After running for the gubernatorial post in her state with APC's ticket in 2015 she was decalred defeated by the opposition party in April 2015.
In November 2015, she was declared the winner
of April 2015 Taraba state gubernatorial election by tribunal. Thereby becoming the
first woman in Nigeria to become an elected Governor.
She was appointed as the minister of women affairs by president Buhari in November 2015 and she assumed office immediately. She might also assume office of the the governor of her state when the Tribunal removed governor Darius Ishaku fails in his fighting to remain incumbent.
The success story of Senator Alhassan has been nothing but
exceptional as in the January 2011 PDP primaries she defeated the
incumbent Senator, former Ambassador Manzo Anthony. It was said that she
was a protégé of former Governor Jolly Nyame, who wanted her to defeat
Manzo, thinking he could then defeat her. However, after winning the
primaries Jummai ran an energetic election campaign, managing to gain
Christian support despite the fact that she herself was a Muslim.
Soon enough, her hardwork paid off greatly when in the April 9, 2011
elections, Jummai won 114,131 votes, followed by Jolly Nyame of the
Action Congress of Nigeria (ACN),
She was one of four women elected on the PDP ticket,
the others being Nkechi Nwaogu of Abia Central, Helen Esuene from Akwa
Ibom South and Nenadi Usman from the Kaduna South senatorial
constituency.
However, Senator Alhassan ran a stronger race this
year as she faces a grim test in her quest to make history. She will
squared up against former minister of state for Niger Delta affairs,
Darius Ishaku of the PDP, and David Kente of the Social Democratic Party
(SDP), a retired director of finance from the National Assembly, in the
governorship poll.
Aisha Alhassan's victory will not see her become the first
female governor in Nigeria but the first elected female governor of
Nigeria.
Why? Because on November 3, 2006, Dame Virgy Etiaba, was sworn in as
the Governor of Anambra state, making her the first female Governor in
Nigeria following the impeachment of Governor Peter Gregory Obi.
With tribunal's judgement this victory for Senator Alhassan has supersede Dame Etiaba's record.
Senator Aisha Alhassan's success also caught the attention of the president General Muhammadu Buhari who earlier urged Taraba state natives to support the APC governorship candidate in
the state.
Buhari made the remarks in a series of tweets on his official Twitter
page to commemorate the International Women's Day marked across the
world on Sunday, March 9.
APC is committed to women's rights & empowerment, and our candidate for the Taraba governorship is one such example – GMB
— Muhammadu Buhari (@ThisIsBuhari) March 8, 2015
If successful, Sen. Aisha Jummai Alhassan will be the first elected
female governor in Nigeria. I urge you all to support her. – GMB
— Muhammadu Buhari (@ThisIsBuhari) March 8, 2015
Over the years, there have been calls for the empowerment of women in
the country and to a reasonable extent these calls seem to have been
gradually embraced by the government.
This is evident in Senator Alhassan success story which has been
quite encouraging so far.
Senator Aisha Jummai Alhassan set the pace for other women in the political arena to follow
suit. Her victory is an indication that with hard work and the
employment of fair play, women can achieve their dreams in all spheres of life.
Will the people of Taraba and Nigeria at large witness the swearing
in of the first elected female Governor in Nigeria? Time will certainly
tell.
CONTROVERSIES
No real controversy
Aisha's congratulatory poster
Aisha with the president
SOURCES: politicoscope.com,naij.com,wikipedia.org,www.takemetonaija.com