The Top Ten Nigeria Music Industry Legends Of The 20th/21st Century
After the remembrance and celebration of the popular Nigerian music legend Fela Kuti this week,
we've decided to show you there are more other legends in the music industry you may not know, that is why T.I.N MAGAZINE decided to name "The Top Ten Nigeria Music Industry Legends" for our readers to see.Firstly; Who is a legend? well, there are many definitions for the word "legend" but all depends on the circumstances at which they are being used.
The circumstances we used in naming the people on this list are; How long they've stayed on top of their profession(music), how much the public have talked about them in the past and how they are talking them presently, their contributions to the development of the music industry and their impressive works.
The Nigeria music industry has evolved a lot in many ways, you know what? some people made it happen! Nigeria music industry right now is getting bigger and bigger everyday.
We are going to list out the top ten artists that moved,pushed and promoted the Nigerian music from the past to the present.
So why don't you chill,relax and see the Legends of the Nigeria music industry.
TOP TEN NIGERIA MUSIC INDUSTRY LEGENDS
ONYEKA ONWENU
Onyeka
This woman was said to be one of the greatest female musicians of the 20th century, she inspired a lot of music lovers back then, drawing their attention more to Nigerian music. Her reputation precedes her.
Onwenu began her music career in 1981 while still working with the NTA, releasing the album "For the Love of You". Originally a secular artist, she now sings mainly gospel music, and continues to write and sing about issues such as health (HIV/AIDS), peace and mutual coexistence, respect for women rights and the plight of children. Her latest effort titled, "Inspiration for Change," focuses on the need for an attitudinal turn around in Nigeria.
She is in partnership with Paris-based La Cave Musik, headed by Nigerian cultural entrepreneur Onyeka Nwelue, and UK-based Jungle Entertainment Ventures, headed by musicologist David Evans-Uhegbu. La Cave Musik is set to release her collection titled Rebirth of a Legend in November.
In 2013, she was named as one of the three judges on the Nigerian version of The X Factor. In recognition of her contribution to music and arts in Nigeria, she has been celebrated by professionals like Mahmood Ali-Balogun, Laolu Akins, Charles O'Tudor, and former PMAN president Tony Okoroji among others in the arts industry in Nigeria.
I.K DAIRO
i.k dairo
Just in case you may not know, JUJU Music was the heart of music back then in Nigeria a lot of listeners and fans back then, it was the Hip-hop of the 20th century and this man happens to be among the biggest stars of then who boosted the morale of music in Nigeria.
I.K Dairo emergence at the end of the 1950s coincided with the rising euphoria towards independence. He was seen then as a premier musician who could capture the exciting moment preceding the nation's independence and briefly after independence. The musical taste during the period had graduated from appreciation of solemn music to much more intensified sounds. The period was also one of lavish parties with musicians as a side attraction.
I.K. Dairo musical success in the 1960s, was influenced by different factors including a resort to include traditional sounds, the political life of the 1950s, which inspired him and a focus on Rhythm, beats and tempo that reflected different ethnic sounds and in the process leading to his appeal rising beyond his primary ethnic group. His band experimented and played with musical styles originating from different Yoruba areas and also utilized the Edo, Urhobo, Itsekiri and Hausa language in some of their lyrics. The band's well organized and slick arrangement, Yoruba and Latin America influenced dance rhythm and patronizing lyrics on the entrepreneur pursuits of patrons were factors that contributed in his rise to the height of the Juju and musical arena in the country. He also employed musical syncretism, mixing the Ijebu-Ijesa choral multi-part sound with melodies and text from Christian sources.
In 1962, he released the song 'Salome' under Decca records. The song mixed traditional elements in Yoruba culture and urban life as major themes. The song was a major hit of his. Another song of his which was quite popular was Ka Sora (Let Us Be Careful), the song is sometimes described as predictive of the Nigerian civil war in its warning about the pitfalls of unreasoned governance. He also released other popular hits including one about Chief Awolowo, who was incarcerated at the time the song was released.
SIR SHINA PETERS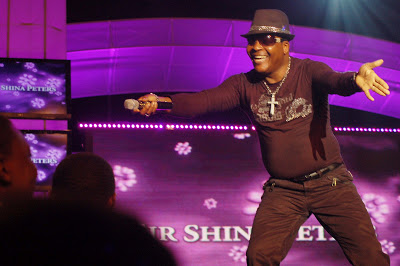 Shina peters
Shina Peters, after releasing many albums with Segun Adewale thru the 1980s, went on to form his own band "Sir Shina Peters & His International Stars". Their first album release Ace (Afro-Juju Series 1) in 1989 went double platinum and was the career breakthrough which catapulted Sir Shina Peters back into the limelight. "Ace" was a musical fusion between Juju and Afro beat; a rhythmic collaboration which pierced Ethnic, Cultural and language barriers in Nigeria. The second album release Shinamania (Afro-Juju Series 2) went on to further prove that Sir Shina Peters & His International Stars were on the verge to change and revolutionize the Juju Music scene in Africa. Sir Shina Peters is still regarded as the creator of a well-respected music genre (Afro Juju) that exists in its own class till this day. He currently has 16 album releases to his credit.
Sir Shina Peters also called "SSP" has received numerous awards and recognition for his unparalleled prowess in the art of Writing, Composition, Choreography and Musical Ability.

Sir Shina Peters & His International Stars have become a household name in the World Music genre.Sir Shina Peters has sold millions of albums worldwide & has taken his music to the shores of South Africa, Europe, Germany, United Kingdom, Italy and United States. Sir Shina Peters is currently signed to Orbit Entertainment, his USA agency based in New York.
KING SUNNY ADE
ksa
In the 1970s and 1980s Adé embarked on a tour of America and Europe where he played to mixed (both black and white) audiences. His stage act was characterised by dexterous dancing steps and mastery of the guitar. Trey Anastasio, American guitarist, composer and one of his devout followers, once said, "If you come to see Sunny Adé live, you must be prepared to groove all night."

After more than a decade of resounding success in Africa, Adé was received to great acclaim in Europe and North America in 1982. The global release of Juju Music and its accompanying tour was "almost unanimously embraced by critics (if not consumers) everywhere" Adé was described by The New York Times' as "one of the world's great band leaders". and in Trouser Press as "one of the most captivating and important musical artists anywhere in the world".
His next album, Syncro System (1983), was equally successful and earned him his first Grammy Award nomination in the folk/ethnic music category.
After the death of Bob Marley, Island Records began looking for another third world artist to put on its contract, while Fela Kuti had just been signed by Arista Records. Producer Martin Meissonnier introduced King Sunny Adé to Chris Blackwell, leading to the release of Juju Music in 1982. **Note: Robert Palmer claims to have brought King Sunny Adé to Island's attention, his familiarity being from his life on Malta in the 60s listening to African Radio and Arm Forces Radio. Many music aficionados are quick to point out that Sunny Adé's brand of music Juju could not be ignored.
Today, this seminal recording is often acclaimed as one of the most important records from Africa. Adé gained a wide following with this album and was soon billed as "the African Bob Marley".
Sunny Adé has said in the past that his refusal to allow Island to meddle with his compositions and over-Europeanise and Americanise his music were the reasons why Island then decided to look elsewhere.
In 1987, Sunny Adé returned to the international spotlight when Rykodisc released a live concert he did in Seattle and was given an astonishing embrace by fans across the globe who were eager for another international album release.
He soon employed an American manager, Andrew Frankel, negotiated another three album record deal with the Mesa record label (a Division of Paradise Group) in America. One of these albums was 1998s Odu, a collection of traditional Yoruba songs, for which he was nominated for the second Grammy Award and thus making him the first African to be nominated twice for a Grammy. Apart from being an international musician Sunny Adé is also prominent in his native Nigeria, running multiple companies in several industries, creating a non-profit organisation called the King Sunny Adé Foundation, and working with the Musical Copyright Society of Nigeria.
MAJEK FASHEK
Majek
African reggae star majek fashek ( born :majekodunmi fasheke) attracted international attention, in 1987. when his self-penned tune, "send down the rain". seemed tocoax a rain storm that ended one of the worst draughts in Nigeria's history. majek went on to become one of africa's greatest reggea-influenced performers.
In the early eighties Fashek, who at the time went by the stage name Rajesh Kanal, joined the group Jastix with McRoy Gregg, and lead singer Black Rice. They were best known as the in-house band on the show Music Panorama on NTA Benin, and toured with fellow reggae group The Mandators. Jastix were also session musicians for upcoming reggae singer Edi Rasta, who would later be known as Evi-Edna Ogholi.
In 1988, shortly after Jastix disbanded Fashek, who had now used the name Majek Fashek, signed with Tabansi Records and began a solo career by releasing the album Prisoner of Conscience and quickly became Nigeria's top reggae artist after the song "Send Down The Rain" became the most popular song of the year, and in 1989 he won four PMAN awards which included "Song of the Year", "Album of the Year", and "Reggae Artist of the Year". Fashek's next album was I&I Experience which was released in late 1989 under the Tabansi label.
FELA ANIKULAPO KUTI
Fela
Fela Anikulapo Kuti or simply Fela, was a Nigerian multi-instrumentalist, musician, composer, pioneer of the Afrobeat music genre, human rights activist, and political maverick.
After Fela and his band returned to Nigeria, the group was renamed The Afrika '70, as lyrical themes changed from love to social issues. He then formed the Kalakuta Republic, a commune, a recording studio, and a home for the many people connected to the band that he later declared independent from the Nigerian state. (According to Lindsay Barrett, the name "Kalakuta" derived from the infamous Black Hole of Calcutta dungeon in India.) Fela set up a nightclub in the Empire Hotel, first named the Afro-Spot and then the Afrika Shrine, where he both performed regularly and officiated at personalized Yoruba traditional ceremonies in honour of his nation's ancestral faith. He also changed his middle name to Anikulapo (meaning "He who carries death in his pouch", with the interpretation: "I will be the master of my own destiny and will decide when it is time for death to take me"), stating that his original middle name of Ransome was a slave name.
Fela's music was popular among the Nigerian public and Africans in general. In fact, he made the decision to sing in Pidgin English so that his music could be enjoyed by individuals all over Africa, where the local languages spoken are very diverse and numerous. As popular as Fela's music had become in Nigeria and elsewhere, it was also very unpopular with the ruling government, and raids on the Kalakuta Republic were frequent. During 1972, Ginger Baker recorded Stratavarious with Fela appearing alongside Bobby Tench. Around this time, Kuti became even more involved in the Yoruba religion.
In 1977, Fela and the Afrika '70 released the album Zombie, a scathing attack on Nigerian soldiers using the zombie metaphor to describe the methods of the Nigerian military. The album was a smash hit and infuriated the government, setting off a vicious attack against the Kalakuta Republic, during which one thousand soldiers attacked the commune. Fela was severely beaten, and his elderly mother (whose house was located opposite the commune) thrown from a window, causing fatal injuries. The Kalakuta Republic was burned, and Fela's studio, instruments, and master tapes were destroyed. Fela claimed that he would have been killed had it not been for the intervention of a commanding officer as he was being beaten. Fela's response to the attack was to deliver his mother's coffin to the Dodan Barracks in Lagos, General Olusegun Obasanjo's residence, and to write two songs, "Coffin for Head of State" and "Unknown Soldier", referencing the official inquiry that claimed the commune had been destroyed by an unknown soldier.
Fela and his band then took residence in Crossroads Hotel, as the Shrine had been destroyed along with his commune. In 1978, Fela married 27 women, many of whom were his dancers, composers, and singers to mark the anniversary of the attack on the Kalakuta Republic. Later, he was to adopt a rotation system of keeping only 12 simultaneous wives. The year was also marked by two notorious concerts, the first in Accra in which riots broke out during the song "Zombie", which led to Fela being banned from entering Ghana. The second was at the Berlin Jazz Festival after which most of Fela's musicians deserted him, due to rumours that Fela was planning to use the entire proceeds to fund his presidential campaign.
Despite the massive setbacks, Fela was determined to come back. He formed his own political party, which he called Movement of the People (MOP), in order to "clean up society like a mop" In 1979, he put himself forward for President in Nigeria's first elections for more than a decade, but his candidature was refused. At this time, Fela created a new band called Egypt '80 (reflecting his reading of pan-African literature) and continued to record albums and tour the country. He further infuriated the political establishment by dropping the names of ITT Corporation vice-president Moshood Abiola and then General Olusegun Obasanjo at the end of a hot-selling 25-minute political screed entitled "I.T.T. (International Thief-Thief)".
FAST FORWARD TO THE 21st CENTURY
DON JAZZY
Don Jazzy
Don Jazzy, is a Nigerian multi award-winning record producer, singer-songwriter, musician, former Co- Owner of Mo' Hits Records and current CEO of Mavin Records.
Don Jazzy's first full credit production work was in 2004 on Tongolo for Nigerian singer D'banj. He went on to produce D'banj's first studio album titled No Long Thing released in 2005.
He has produced tracks for Dr SID, Wande Coal, Emeka Infiniti, D'Prince, Darey, Naeto C, Olakunle Excel et Zanga, Sauce Kid, Ikechukwu & Tiwa Savage. He also collaborated with Jay-Z and Kanye West on the production of Lift Off, featuring Beyoncé on the album Watch The Throne, released on 8 August 2011.
This guy have since then shown us he is a legend in the music industry, Alongside D'BANJ they brought new shining stars to the music industry, artists who are doing too good right now.
Don Jazzy is the most famous music producer in Nigeria and even Africa in general.
Jazzy now controls another record label Mavin Records a record label which can be said to be the biggest in Nigeria as of 2015 bringing in new talents and producing hit songs for all the time.
Don Jazzy is now more than just a producer but also a song writer and performing artist.
His awards as of 2015 can be said too be numerous as he wins awards every year and stayed on top his game for years…
He was rated as the 39th "Most powerful celebrity in Africa" according to Forbes in 2015.
2FACE IDIBIA
2face
2face Idibia, is a Nigerian singer-songwriter, record producer and entrepreneur. He officially discontinued the use of the name Tuface and selected Tu-baba as his stage name. He is one of the most decorated and successful Afro pop artists in Africa. He is also one of the most bankable artists in Africa.
2Face has received one MTV Europe Music Award, one World Music Award, five Headies Awards (Hip-hop award), four Channel O Music Video Awards and one BET award for his musical work, four MTV Africa Music Awards, one MOBO award, one KORA award, and numerous additional nominations.
2face's "African Queen" 2004 song is one of the songs that took African music to another level and better recognition for the Nigerian music worldwide.
Since 2004 he has remained relevant and conssistent in the music industry, having his own record label where artists are signed and showcased to the world.
D'BANJ
Dbanj
D'banj presently known to be Africa most popular musician globally is a Nigerian singer-songwriter, harmonica player, and businessman. He has won several music awards, including the awards for Best African Act at the MTV Europe Music Awards 2007,Artist of the Year at the MTV Africa Music Awards 2009, Best International Act: Africa at the 2011 BET Awards, and Best-selling African Artist at the 2014 World Music Awards, Evolution award at the 2015 MTV Africa Music awards.
He adopted the stage name D'banj, a combination of his first name Dapo his surname Oyebanjo. D'banj is currently best known internationally for his 2012 summer hit "Oliver Twist", an uptempo dance fusion of Afrobeat and electronic dance music that topped the African charts 2011 and was a top 10 hit in the UK singles chart in 2012 reaching No. 2 on the UK R&B chart.
In December 2012 D'banj signed a mega deal with Sony,Speaking on the importance of the deal to Sony, Managing Director of Sony Music Entertainment Sean Watson said: "Partnering with D'Banj is a seminal event for us at Sony Music Entertainment Africa. We've always admired his talent and to be able to assist with bringing D'Banj's music to millions of fans, established and new, across the continent is an honour for us. We are very excited about being a part of it."
The deal is being described as a "Pan African, multi-album deal with Sony Music's RCA Records. It also involves an exclusive management deal with Sony Music and strategic partner ROCKSTAR4000 for the continent. Add to that a multi-album, worldwide exclusive contract with emerging Nigerian singer-songwriter star Kayswitch and a strategic partnership with D'Banj's Nigerian record label DB Records".
P-SQAURE
Psquare
P–Square are a Nigerian R&B duo composed of identical twin brothers Peter Okoye …. for their habit of sampling western songs and popular hits in their records. They came in to the Nigeria music industry in 2001 and ever since then have been a great inspiration to the Nigerian music industry locally and internationally.
In 2001, "P-Square" won the "Grab Da Mic" competition, and hence Benson & Hedges sponsored their debut album, titled Last Nite, which was released under Timbuk2 music label. P-Square was also nominated as "Most Promising African Group" in the Kora Awards three months after the release of their debut album. They eventually won the 2003 Amen Award for "Best R&B Group".
In 2005, they released their second album, Get Squared under their own label, Square Records. This album was marketed nationwide by TJoe Enterprises, although they were still managed by Howie T of Adrot Nigeria Limited. The video for the second album held the #1 position on the MTV Base chart for four straight weeks.
They have an ever growing fan base across South Africa with a particular stronghold of diehard fans in Cape Town.
The group has performed alongside the following international artists like Ginuwine and Sean Paul, Akon. The members of P Square are now located in Lagos.
Late in 2007, they released their best selling album so far, Game Over. It has sold 8 million copies worldwide.
In 2009, P-Square released their fourth studio album, Danger. The album features collaborations with 2 Face Idibia, J Martins and Frenzy. The first single called "Danger" is a hip hop song with cutting synths and a frog bass baseline similar to an Eminem song. The video affirms this with the presence of clowns and staggered movements in front of the camera reminiscent of comical videos by Eminem. They are also known for the close resemblance which the twins have to American R&B Superstar, Usher Raymond.
On 4 April 2010, P-Square was named the Artist of the Year at the Kora Awards in Ouagadougou, Burkina-Faso while they were in London for a Concert at the Troxy, and they will receive a sum of $1 Million Dollars as the award winners, in Ebebiyin City.
On August 29, 2014, P-Square released a single track featuring a top America Artist T.I. which P-Square titled EjeAjo, EjeAjo official video featuring T.I. was also released 29 August 2014 on both TV stations, Radio Stations and Web blogs.
On September 14, 2014 P-Square released their 6th studio album titled Double Trouble .
NOTABLE MENTIONS:
BANKY W
SOUNDSULTAN
EEDRIS ABDULKAREEM
The people listed above are the major Nigerian music industry legend of the moment. T.I.N Magazine currently watches the ace Nigerian rapper and singer Olamide as he might quite join the list anytime soon. Other artists who could possibly join in the nearest future are: Wizkid, Davido,Iyanya, Flavour, Tiwa Savage and more..
WARNING: { DO NOT COPY THIS ARTICLE TO ANOTHER WEB PAGE WITHOUT PUTTING A LINK BACK TO THIS SITE}
About The Author
Akinola