Pastor Chris Okafor Full Biography,Life And News
|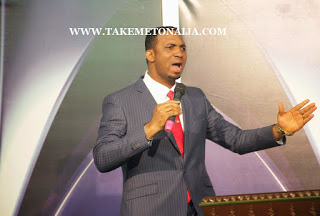 FULL NAME: Pastor Chris Okafor
DATE OF BIRTH: April 4, 1970
OCCUPATION: Prophet /Dr
MARITAL STATUS: Married
INTRODUCTION
Prophet (Dr) Chris Okafor popularly referred to as The Oracle is a dynamic prophet of God, sent from heaven
as another Elijah with an uncommon chrism to function and hold sway in
the kingdom miracle arena. He is the founder and General Overseer of
Mountain of Liberation and Miracle Ministry (aka Liberation City), with
headquarters in Lagos, Nigeria. He is also the president of the Chris
Okafor World outreach Ministries (COWON). He is a prophet with highly
amiable and pleasing personality. he was born in Benin city Nigeria.
EARLY LIFE AND BACKGROUND
Okafor was born to the family of Stephen Okafor, a family of five in
Ihite, Orumba South Local Government Area of Anambra State, and was
raised in the Anglican Communion. He did his primary education at Ohuoba
Primary school, Edo State From 1978-1983, where he attained his first
School Leaving Certificate. He also attended the Edo College from 1984
and sat for the Senior Secondary School Certificate Examination (SSCE)
in 1989 after which he gained admission into Ambrose Ali University,
Ekpoma in Edo State. Prophet (Dr) Chris Okafor holds a B.Sc in Business
Admission. In his family, both extended and immediate, he was the first
male to graduate from a university.
His birth providence was already showing forth about his coming, as it
was revealed to great men and women in the kingdom through prophecies
that he was another Elijah coming. And in no time after his birth, there
were apparent manifestations of all the revelations God gave concerning
him, which culminated in him prophesying right from his tender age. he was born in Benin city Nigeria
CAREER AND LIFE
He started prophesying evidently and effectually at the age of eight and
since then, he has tremendously been fulfilling God's purpose for him
to liberate mankind from diverse afflictions and operations of Satan,
Due to the increasing size of the congregation, a church and a portion
of land was found on Oshofisan Street where the church, now Liberation
City, was built and commissioned in August 2010. Despite the new
facilities, the church often requires canopies placed outside the
building to accommodate overflow. Today, according to the organisation,
more than 15,000 members attend its weekly Sunday service; visitors from
outside Nigeria are accommodated in the accommodation blocks
constructed at the church.
Prophet (Dr) Chris Okafor is a man raised by God and endowed with the
power to demonstrate His (God) manifest- presence for the benefit of
mankind. He is an uncompromising kingdom "prophetic General",
commissioned to pray, preach and prophesy and revival comes, and with
divine sentence in his mouth for signs and wonders. The awesomeness of Almighty God is greatly manifest in this servant of
God as translated in the high attitude of his spiritual and prophetic
prowess, reflected in the sudden and astounding congregational explosion
in the ministry, just in time. He is an agent of change and
consequently many lives have been touched and transformed. However the
church as a move and not an entity has provided the form, forum and
format to declare God's kingdom, power and glory as demonstrated
literally in our Lord's Prayer.
Presently, the great man of God
is navigating the kingdom with tens of thousands of followers across the
globe. The Chris Okafor world outreach Ministries (COWON) is an
evangelistic wing of the ministry which has cut across edges of nations
with a dynamic evangelistic team, taking the gospel of Jesus Christ to
the door-steps of all.
Many have encountered the healing power of
God through this Prophet. The lame have walked, the dead have risen,
the blind have regained sight, the deaf and dumb have been restored, and
the insane have been divinely repositioned. Today, Mountain of
Liberation And Miracle Ministries has proliferated all over Nigeria and
several countries abroad. Chris Okafor was married to Bessem Okafor until their separation in
2012. They have four children; Chinyere, Amarachi, Chris Junior, and
Chidera
AWARDS AND ENDORSEMENTS
Dr Chris Okafor, who is the General Overseer of Mountain of
Liberation and Miracle Ministry (MLMM), has been named as ambassador of
peace by a Ghanaian news tabloid in a colourful event that witnessed
movers and shakers around the world.
He was also honoured with
another Integrity Award of the year, while Newsthurb magazine, on its
own, honoured Dr Okafor as the Best Accurate Seer for the year 2012.
RUMORS AND CONTROVERSIES
The popular pastor has a few scandals and rumors attached to his name.
He was said that to have collected the land that belongs to one of his church member
He was also rumored that he do sleep with both young and old women of his congregation in early 2014.



Pastor Chris Okafor
pastor Chris Okafor with an award
SOURCES; www.liberationcity.org, www.wikipedia.org