Comedian SEYI LAW Full Biography,Life And News
|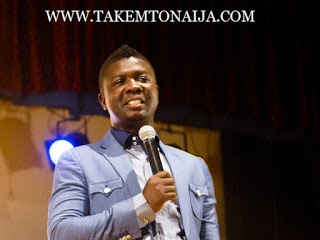 FULL NAME:                 Idileoye Oluwaseyitan
Lawrence Aletile
DATE OF BIRTH:              22nd of June 1983
OCCUPATION:                 Comedian.(mc)
MARITAL STATUS:          Married.
ABOUT
Seyi Law is a nigerian Comedian, born Idileoye Oluwaseyitan Lawrence Aletile, stage named Seyi Law, has continued to soar in comic entertainment since hitting limelight following his success at the AY Open Comedy Mic in 2006.Since then, he's been known has a top comedian in the country as he is always at most events for performance. He's also got dozens of comedy skits on Youtube. He is also the founder of "I must laugh" show.
He is married.
EARLY LIFE AND BACKGROUND
He didn't grow up with his parents as he returned to Nigeria from Gabon at age six.
He had his nursery and primary schools in Okitipupa, Ondo State, and from there, He proceeded to Ekiti State Government College, formerly Unity Secondary School, where he did his junior secondary school. That was probably where the comedy thing started; you know performing at social gathering and all that. Later, he went to Lagos to have his senior secondary school education at Methodist Boys High School, Victoria Island, Lagos. Then he had a break before later pursuing a part-time programme in Computer Studies at the Lagos State Polytechnic.
Well, Seyi Law is from his names, Oluwaseyitan Lawrence. Jedi, a famous comedian, told him to use a name that will be good for the corporate market. So, he picked 'Seyi' from Oluwaseyitan and 'Law' from Lawrence.
He was quoted saying
"When you live with people who are not your parents, the feeling will be different, there will be a lot of restrictions. Besides, I spent my childhood all through secondary school in the boarding school."
With the little money he made after stopping the work, he started selling fish with his mum. Then he would go to Makoko market, buy the fish, cross the third mainland bridge with the fish on his head, takes them home, washes them and put flour on them and fries them for sell in front of the house. Later he decided to do something else and he started working at PZ as a casual worker. After a while he moved over to Orile to join his elder brother were he started up his own business centre, making calls and selling recharge cards. It was just then he got into comedy seriously. Though right from when he was a kid, he has always been the funny one, always trying to make his friends laugh, all through his school days, but he had never had the idea of going into comedy.
CAREER AND LIFE  
He started comedy professionally in 2007 but then he was just roaming around as a comedian from December 2005 until I won the AY Open Comedy competition in September 2006. After that, I decided to be under the tutelage of AY for a year before I decided to take up comedy as a profession.
AY has been the man who is able to teach others how to fish. He came up with the idea of a comedy competition. At that time, he was looking for young talented comedians who will participate in the competition and the winner was to get a 'staggering' amount of N50,000. He was the first winner then in 2006.
After winning the competition, He went to him and told him that he would like to learn from him and he invited him to his house. So, he started staying with him and going out with him to events, studying how he does his stuffs — tricks and the secrets of the trade, that was how he got the motivation that he wanted to do this professionally. By 2007, He decided that he was going to pick up the trade.
A lot of people easily identify him with the AY brand. But apart from being recognised with AY Live brand, Opa Williams 'Nite of Thousand Laughs' is not for a particular comedian, and it happens to be one of the foremost comedy shows in Nigeria; so it became the face of Nigerian comedy and every upcoming comedian wanted to be associated with it. Fortunately, after winning the AY Show, Opa Williams invited him and he has performed in several of his shows. He has also been on the AY brand show, he has only missed two of the shows.
He started the 'I Must Laugh' brand in January 2012. He did 'Lagos Must laugh with Seyi Law.' That same year, he proceeded to the United Kingdom where they have a lot of fans. He did the 'London Must Laugh' and 'Manchester Must laugh with Seyi Law' in Manchester City.
He says in an interview in 2015 they 're going back to London and there is also the possibility that they will have 'Scotland must Laugh' and 'Instanbul Must Laugh' in Turkey. But the one that is certain is the 'London show' which is billed for Good Friday at the Discovery Centre, London and We are also proposing 'Lagos Must Laugh' billed for May 1. The two shows were done 2015 and they turned truly great and amazing for the comedian.
He revealed in an interview:
"Shows outside the country are huge; they may not command as much as 5,000 guests as they do here in Nigeria. But I think we often limit ourselves to the Nigerian audience and maybe Africa. What Nigeria is doing, right now, is building the roadmap to the bigger stage, and I know that in no distant time, we will get there; maybe in another two or three year, Nigerians will stage a comedy show in the O2 Arena.
But some comedians don't seem to handle such situation well
In the industry, we call it spontaneity. It is your ability to think on your toes, within a split second. The more you grow in the profession, the more professional you become. I have taken my time too to learn, and I tell people 'don't be ashamed to learn even from those coming behind you and the younger ones.' So, when you are able to task yourself, you learn and are able to build your spontaneity. "
He mentioned his most embarrassing moment as a comedian in an interview… see below
"My most embarrassing moment is probably my most glorious moment. It was 'Asa live in Lagos' in 2008. I was invited to be the Master of Ceremony, and I came on stage, when I saw people who were seated at the show, I was shocked because the turnout was huge; high profile people. And when I introduced myself, I heard a woman say 'Who is this? Where is Alibaba? Where is Basketmouth? Is this the person they have brought to entertain us? What sort of thing is this?' because the stage was close to the audience. I knew the position of this woman in Nigeria and it was as if they took out everything right out of inside of me! I lost my bearing.
I remember that the joke I would normally say at the end of my performances was the joke I started with, I did not get a good laugh. When I wanted to introduce the next artiste that was supposed to perform, I used the word 'young' almost seven to eight times. Eventually, when I introduced him, he came on stage, the microphone had issues and they had to work on it.
My cousin, who actually into introduced me to comedy, was at that event too. One man who sat in front of him said, 'When that idiot came out, they should have used that time to work on the microphone.' My cousin said if I had come out as at that time to meet him, he would have denied me more than Peter denied Jesus Christ. He said I should have thanked my stars that I did not come out because he would have betrayed me. I remember that I went on my knees later that day and asked for God's guidance.
The same man who spoke to my cousin that day was the same man that took me on my first international show to South Africa and he paid me N450,000 in 2008. That was a huge amount of money and that was part of the money that I used to buy my first Sports Utility Vehicle (SUV). That is to tell you that your greatest moment of disgrace could be your greatest moment of upliftment, of breakthrough. That is why I try to live my life without any form of regret. If anything happens that I do not have a solution, I move on from there, thinking of what next to do. I believe God would and has always seen me through." 
The popular comedian now married proposed to his wife Igbo wifey Ebere in the year 2009 a proposal which his girlfriend (now wife) thought was a joke. The duo got married on 28th of march 2011.
In 2015 it was a very sad thing they lost their first baby at birth. The comedian showed a sign of bravery and got his wife through the had times.
AWARDS AND ENDORSEMENTS  
Has won numerous awards few of the awards were still won by him 2015
'Most Outstanding Comedian' award by Comedy Infusion and the Down Syndrome Foundation Nigeria awarded to him on March 22, 2015….
The second award is for his 'Humanitarian Contribution to Humanity' by the Life Changers Foundation awarded to him on February 22, 2015…

ENDORSEMENTS 
Seyi Law Bagged PTV Phones Endorsement Deal in 2013, a deal worth millions of Naira.
He signed a multi million Naira deal in 2014.
It is a 2-Year endorsement deal with ARKBRIGDE INTEGRATED, Owners of ADD MORE HOMES LTD.
He was also reportedly said to have signed a deal with samsung in 2013..
CONTROVERSIES
The popular comedian has managed to stay off scandal.
Seyi Law and Wife Igbo
Seyi law with A.y
SOURCES: https://justgists.com.ng,gistmynaija.com pointblank.com.ng www.takemetonaija.com