Rapper ICE PRINCE Full Biography,Life And News
|
FULL NAME: Panshak Henry Zamani
DATE OF BIRTH: 30 October 1986
OCCUPATION: Rapper, songwriter, actor
MARITAL STATUS: Not Married
EARLY LIFE AND BACKGROUND
Ice Prince was born Panshak Henri Zamani in the city of Minna, Niger State, Nigeria. At age two, he moved with his family to the mining city of Jos, Plateau State, Nigeria. While residing in Jos, he attended St. Murumba College. He also attended the Science Tutorial College in Jos.
In 1998, he began writing rap songs and started performing them at social events held at his school. It was not until 2001 that he began going to studios to record. In 2002, he got together with a couple of friends and formed a group called the "Ecomog Squad". They had few performances as a group and split a year later.
In 2004, he connected with M.I, Jesse Jagz, Ruby, Lindsey, Eve, Taz, and together they became what is now known today as the "Loopy Crew". During an interview with Adeola Adeyemo, Ice Prince was asked to summarise his story. He said "I started out in Jos in a group called ECOMOG squad. We used to rap and sing together. The group split up after a few years and after that, I joined the choir in my church and started singing Tenor. That was about the time MI moved back to Nigeria and we became friends, we became family, we started living together, started making music together. I had a song that made it to Number 1 in Jos, that was when I started getting more attention. Then I got admitted into University of Jos to study Zoology but then I couldn't really continue because of some financial constraint at the time." Ice Prince also opened up about the passing of his parents and the challenges he faced early on. He said:
"Life was not that rosy. When my dad was alive, life was pretty much rosy but I lost my Dad in 1999 and it was my Mum that was taking care of me up until she died too. So it was kinda hard to get by, really. I dropped out of school in my 100Level to focus on my music.I moved to Abuja and started living with MI and Jesse Jagz. We were making music, doing some small small shows just to get money. Then we moved to Lagos, we got a chance to chill at Djinee's house. Djinee gave us some space in his house to sleep. Djinee is like my Jesus. He came through for us. We lived in his house and made it very uncomfortable for him but he took all the pain and accommodated us. This was in 2008. Gradually, there was steady growth. We got our own place, started making music. In 2008, I hosted Sprite Triple Slam. We did 30 shows, 15 in Lagos, 15 in the East. I got some small money off that to buy some new jeans and shoes so that girls would, you know, say hi to me when they see me."(wikipedia)
CAREER AND LIFE
In 2004, Ice Prince released his debut single "Extraordinary". "Rewind", another single he released, received radio airplay in Lagos and Abuja. It charted on Rhythm Fm's "Top 7 chart", Notjustok's "Hype", Unilag FM, Zain Central Station, Inspiration Fm, Top FM's "Top of the Morning", Cosmo FM's "Top Hits", Africa Connect Chat Show, and Kiss' "Top 20 Africa". Moreover, it charted at number 1 on Cool FM and Vision FM in Abuja.
During the aforementioned interview, Ice Prince shed some light on his record deal with Chocolate City, saying: "My record deal with Chocolate City came off of my affiliation with MI and Jesse Jagz. We are pretty much brothers, we've always lived together, always been together. But then Chocolate City signed MI first. It was like they did it in order of our age. Then they signed Jesse Jagz. Jesse was obviously more ready than I was at that time. Then they saw that I was getting ready as well and they signed me too.
In 2009, Ice Prince participated in the Hennessy Artistry competition, a competition organised by the Hennessy brand which supports urban and contemporary music. The competition featured the likes of Bez, Mo'cheddah, Blaise, and Jimmy Flames; Ice Prince came out 1st with his lead single "Badman" at the end of the competition
During the aforementioned interview, Ice Prince opened up about why he chose to name his debut album, Everybody Loves Ice Prince. He said "What made me give my album that name was when I lost my Mum, really. There was so much love, so much care from all around the world. People really showed me love and it was after that incident that I came back to record my album and I thought what better name to call my album than Everybody Loves Ice Prince because I was shown love. "Oleku", Ice Prince's first single off his debut album was met with great reception throughout Nigeria. The song was released under Chocolate City. Ice Prince's 'rap resume' has a long list of songs he's been featured on. He was featured on Taikoon's "Respect My Hustle" with Banky W, DJ Neptune's "This Gbedu Reloaded" with YQ & Shank,[10] Bez's "Super Sun (Remix)" with ELDee & Eva Alordiah, YQ's "Efimile (Remix)" with Naeto C, M.I, Banky W, & ELDee, Pherowshuz's "Korrect (remix)" with M.I & Terry Tha Rapman, Dekunle Fuji's "Funmilayo" with Jesse Jagz, Jamix's "My Party" with Wizkid & Kel, Reminisce's "2 Mussh [Remix]" with Sauce Kid, and Knighthouse's "Make it Better" with Mo'Cheddah, Funbi, & Mobie, among others.
In 2012, he began frequent collaborations with Grip Boiz City producer Chopstix, releasing "Aboki" in the summer of 2012. An accompanying music video was released alongside it. "Aboki" peaked at number 92 on Afribiz's Top 100 chart.
On 28 August 2012, Ice Prince released "More", the second single from off the album. The song was also produced by Chopstix. The music video for "More" was shot and directed in London by Moe Musa. It stars Lola Rae, a British Nigerian recording artist known for her single, "Watch My Ting Go". The video premiered at the 2012 Channel O Music Video Awards, an awards ceremony he co-hosted.
On 25 January 2013, Ice Prince released "Aboki (Remix)", a song he describes as the "biggest African collision ever". The song features Sarkodie, Mercy Johnson, Wizkid, M.I, and Khuli Chana.
On 24 April 2013, Ice Prince and Chocolate City released "Gimme Dat" and "V.I.P" simultaneously. The former made the album's final track-listing while the latter didn't. He also won one of the most prestigious music awards "BET" for best international act in 2013..
Ice Prince cited Notorious B.I.G., Rakim, Jay-Z, Common, Talib Kweli, Kanye West, Ludacris, Busta Rhymes, Lauryn Hill, M.I and Jesse Jagz as his key musical influences. Commenting on his relationship with label mate M.I, Ice Prince said: "He is my brother, he is my friend, my mentor. He is someone that if 200 people tell me no and MI tells me yes, I would do the yes. That is how loyal I am to him, that is how I respect him, how much I look up to him. He never gives me bad advice, he wishes me well and he's always happy when I succeed.(wikipedia)
Ice Prince has a son named Jamal with Bimbo Babatunde. In an interview with the Nigerian Tribune, the rapper said he dated Eva Alordiah when he first relocated to Lagos.
Ice prince do show and flaunt pictures with his cute young son on social media his name: Jamal
In 2015 Singer announced his new found lover whose name is Maima from ghana, his pretty girlfriend who is already a mother of one.
AWARDS AND ENDORSEMENTS
2014 Nigeria Entertainment Awards Best Rap Act of the Year
Nigeria Music Video Awards (NMVA) Best Hip Hop Video "V.I.P"
Nigeria Entertainment Awards Best Rap Act of the Year Won
BET Awards 2013
The Headies 2012 Album of the Year Everybody Loves Ice Prince
Ghana Music Awards African Artist of the Year Won
2011 Best Rap Single "Oleku"
(featuring Brymo) Won
Song of the Year Won
Best Collabo
AND MORE…
ENDORSEMENTS
Signed an Endorsement Deal With Hotel Booking Site – Jovago in 2014
Also signed a multi million naira endorsement deal with telecom company Etisalat in 2013
RUMORS AND CONTROVERSIES
He was said to have ABANDONED MOTHER&CHILD** AND ALSO THE BABYMAMA WAS JESSE JAGZ's GIRLFRIEND but thenet.ng later revealed he never abandoned them..
He was rumored to have made a bid of 1million dollars from telecom company GLOBACOMNG after he refused the original deal offered him but he later came out and debunked it.
POPULAR PICS ONLINE:


ICEPRINCE AND SON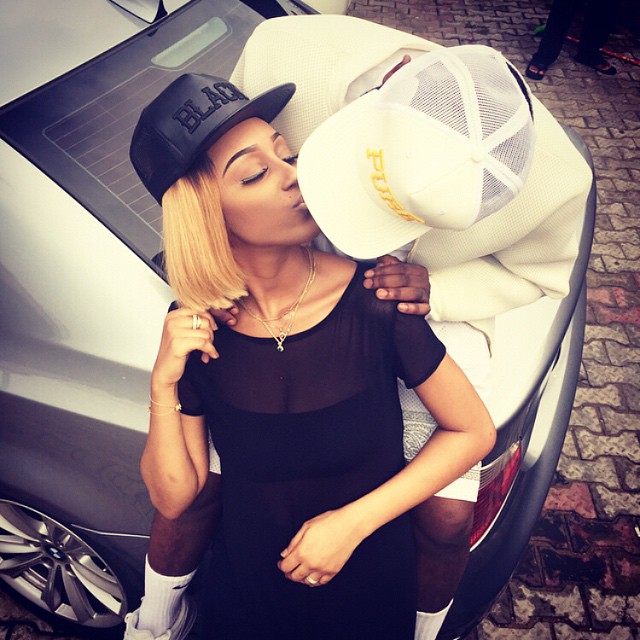 ICE PRINCE AND GIRLFRIEND MAIMA
SOURCES: Wikipedia.org, Takemetonaija.com