Throwback Thursday: Old Nollywood Movies We All Loved
|
Yay how I love Thursdays as if it's a Friday but that's just because
Thursdays are throwbacks – meaning it's the perfect time of reminiscing
on good ol' fun memories and epic blasts from the past ranging from best
trends to the finest music and so forth.
While having one of those nostalgic feelings, I remembered Nigerian
movies in the past – Oh my! Nollywood movies back in the day was just a
hit back to back, they were basically the movies that shaped the face of
Nigerian movies of today. They were hilarious, engaging, creative not
to mention crazy and very popular. There wasn't a dull moment when
watching them – please if you watched any of these movies and you're
still single go and marry oh. So, without further ado let's take a look at our favourite old Nollywood movies.
Living in Bondage
Now if you didn't watch this movie then apparently you missed the
greatest film ever from Nollywood – nope am not exaggerating. Another
great thing about this movie is the fact that it was shot in Igbo
language (with English subtitles though) yet was very popular
nationwide. The movie was shot in 1992 featuring top-notch actors like;
Kanayo O. Kanayo as Chief Omego, Francis Agu as Ichie Millionaire, Bob
Manuel Udokwo as Mike, Nnenna Nwabueze as Merit, Kenneth Okonkwo as
Andy, Rita Nzelu, Ngozi Nwosu and many others. The plot of the movie
surrounds Kenneth Okonkwo – Andy, who killed his wife for rituals to be
rich but it came with a heavy price. The part I'm sure most of us still
remember till date is when Merit came and asked Andy why he killed her,
knowing how much she loved him. Whew! Epic something.
Nneka the pretty serpent
Let me just start off with this…. Nneeeeeeeeee Nneka, Nneka m oh! Obu
Gini! Seriously though this movie it's the main thing called a thriller
movie and shot once again in 1992. It tells the story of a woman
looking to conceive and out of desperation asked the water goddess for a
child – now we know that won't end well. The movie is a Zeb Ejiro
production featuring Ndidi Obi as Nneka, Ngozi Ezeonu, Eucharia Anunobi,
Rita Nzelu and lots more. Another classic part… Tony look into my
eyes!!
Glamour Girls
Oh boy, this movie was something else as it garnered so much
controversy at the time. Way before facebook girls and blackberry babes,
this movie was one of a kind film shot in 1994 and produced by Kenneth
Nnebue. The story was about money, power, fame etc. Also featuring top
stars like Liz Benson, Eucharia Anunobi, Gloria Anozie, Dolly Unachukwu,
Zack Orji, Ernest Obi, Pat Attah, Keppy Ekpeyong Bassey, Ngozi Ezeonu,
Sandra Achums amongst others.
Rattlesnake
Such an emotional movie that doesn't leave a dry eye after being
watched. It was shot in 1994 and directed by late Amaka Igwe. It tells a
story of Ahanna, a young boy who was lured into the world of crime and
armed robbery after the death of his father. Starring Francis Duru, Nkem
Owoh, Bob Manuel, Anne Njemanze, Ebele Uzochukwu, Okey Igwe, Julius
Awgu who made his first acting debut with this movie, amongst others.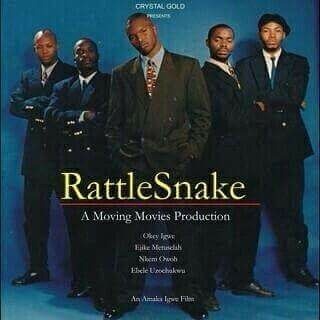 Igodo
Another legendary movie and a blockbuster. It tells the story of the
murder of the son of Amadohia (god of lightning and thunder) under wrong
charges, then places a curse on the land that ignites problems.
Directed by Andy Amenechi – it starred Pete Edochie, Nobert Young, Sam
Dede, Charles Okafor, Chidi Mokeme, Prince James Uche, Joe Layode
alongside others.
Taboo
The songs alone in this movie is epic because it's said to have paved
way for Nollywood to try hands in singing in movies. The story was
about an Osu (an outcast). The lead actor was Kenneth Okonkwo.
Scores to Settle
Produced by Sunny Collins and shot in 1998, it tells the story of a
woman – Sade who after her husband died she was rejected by her in-laws
and ended up on the streets for survival. The actors include; Liz
Benson, Richard Mofe-Damijo, Omotola Jalade-Ekeinde, Teco Benson and
Patrick Doyle.
Most Wanted
Shot in 1996 and Produced by Dozie Eriobu featured top stars like;
Regina Askia, Ibinabo Fiberisima, Liz Benson, Ayo Adesanya, Antar
Laniyan and introducing Genevieve Nnaji who made her acting debut in
this movie.
Diamond Ring
Before Sola Sobowale gave us an amazing performance in the wedding
party she's been wowing us. Her son in this movie (Teju Babyface) caused
her to go gaga when he got into trouble, it was one gripping film
featuring the likes of Richard Mofe-Damijo, Liz Benson, Sola Sobowale,
Bimbo Akintola, Bukky Wright and Teju Babyface.
Mortal Inheritance
Omotola Jalade-Ekeinde got her big break with this movie which also featured Fred Amata.
Other Unforgettable Movies Include; Issakaba, Ijele,
Domitilla, Love Without Language – which most of us waited forever for
part2, Silent Night, Out of Bounds, Full Moon, True Confession,
Violated, Blood Money, Onome, Tears in Heaven, Keeping Faith and A cry
for Help.