Monkeypox Outbreak: 8 Important Facts To Know About The Deadly Virus (graphic)
|
Residents
of Yenegoa, the Bayelsa state capital have been thrown into panic
following an outbreak of viral epidemic known as "monkeypox".
Reports
reveal that 11 persons, including a medical doctor, are already
infected while the government is tracking 49 persons alleged to have
come in contact with the infected persons.
Persons placed under
surveillance have been quarantined in an isolation centre created at the
Niger Delta University Teaching Hospital (NDUTH), Okolobiri, Yenagoa
Local Government Area.
The centre was established by Nigerian
Centre for Disease Control (NCDC) and the epidemiological team of the
state Ministry of Health to control the spread of the virus.
Confirming
the development, the State Commissioner for Health, Prof. Ebitimitula
Etebu said samples of the virus had been sent to the World Health
Organisation laboratory in Dakar, Senegal, for confirmation.
Here are quick buzz facts to note about the virus:
Monkeypox
is a rare disease that occurs primarily in remote parts of Central and
West Africa, near tropical rainforests, according to the World Health
Organisation (WHO).
The first case was noticed in the Democratic Republic of Congo and subsequent outbreaks in the West African region.
Monkeypox is a viral illness caused by a group of viruses that include chicken pox and smallpox.
WHO says the monkeypox virus can cause a fatal illness in humans
and, although it is similar to human smallpox which has been eradicated,
it is much milder.
The source of the virus is usually all animals. It was first seen in
monkeys, but can also be found in all bush animals such as rats,
squirrels and antelopes. Secretions from particularly dead animals are
highly contagious.
Monkeypox is air-borne and very infectious.
Symptoms of monkeypox are a severe headache, fever, back pains,
and rashes bigger than those caused by chicken pox which usually spreads
to the entire body of infected persons.
The disease has an incubation period and it is also self-limiting.
i.e within two to four weeks, a person can get healed and consequently
be immune for life.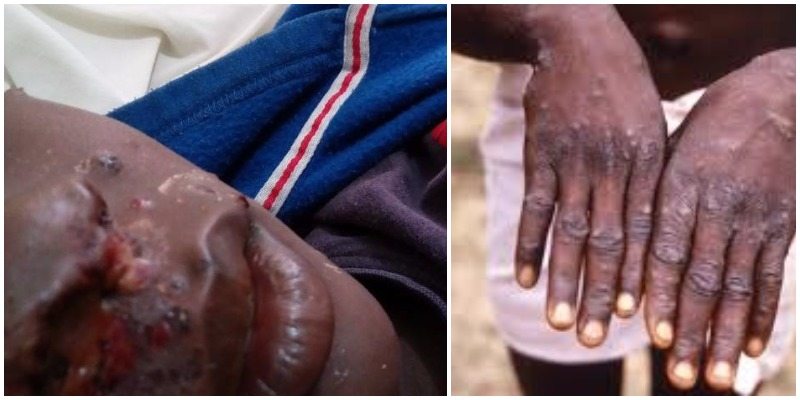 Speaking
on the outbreak in Bayelsa, commissioner Etebu explained that the virus
has the Central African and the West African types, adding that the
West African type is milder and has no records of mortality.
"Recently
in Bayelsa State, we noticed a suspected outbreak of monkeypox. It has
not been confirmed. We have sent samples to the World Health
Organisation's reference laboratory in Dakar, Senegal.
"When that comes out, we will be sure that it is confirmed. But from all indications, it points towards it…
"We
noticed the first index case from Agbura, where somebody was purported
to have killed and eaten a monkey and after that, the people who are
neighbours and families started developing the rashes.
"We have
seen cases from as far as Biseni. We invited the NCDC together with our
own epidemiological team from the Bayelsa Ministry of Health.
"We have been able to trace most of the people who have come in contact with the patients.
"So
far, we have 10 patients and we have created an isolation centre at the
NDUTH and most of them are on admission and we are following up the 49
cases that we are suspecting might come down with the illness.
"As a state, we are taking care of all the expenses of all the isolated cases," Etebu stated.


The
commissioner disclosed that the state authorities are on top of the
situation and have mobilised virtually every arsenal at its disposal in
sensitising the general public and making them aware through radio
programmes, jingles and fliers.
He, therefore, called on the
general public to observe hand hygiene and ensure they don't come in
contact with dead animals and their secretions.
"People should
wash their hands whenever they go in or come out of their houses. If
they come in touch with animals, they should ensure that they wash their
hands.
"They should be very vigilant. People should report any similar cases to the relevant authorities.
"A
lot of people have come down with the symptoms, but they are hiding in
their houses. If they hide, there is the propensity for the infection to
spread.
"It is better to quarantine them and treat them so that we can interrupt the spread of the disease.


"People
should be calm and they shouldn't get frightened. The state has
distributed personal protective equipment to workers and they are using
them," he said.