Football Legend Rashidi Yekini Full Biography,Life And Death
|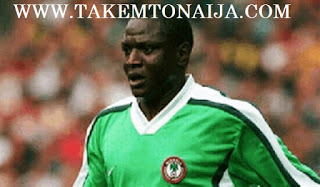 FULL NAME: Rashidi Yekini
DATE OF BIRTH: 23 October 1963
OCCUPATION: Athlete; Footballer


DECEASED
(4 May 2012)
INTRODUCTION
ashidi Yekini (23 October 1963 – 4 May 2012) was a Nigerian footballer who played as a striker.
His professional career, which spanned more than two decades, was mainly associated with Vitória de Setúbal in Portugal, but he also played in six other countries his own notwithstanding.
Yekini scored 37 goals as a Nigerian international, and represented the nation in five major tournaments, including two World Cups where he scored the country's first-ever goal in the competition. He was also named the African Footballer of the Year in 1993.
CAREER AND LIFE
Yekini was born in Kaduna, of Yoruba origin. After starting his professional career in the Nigerian league, he moved to Côte d'Ivoire to play for Africa Sports National, and from there he went to Portugal and Vitória de Setúbal where he experienced his most memorable years, eventually becoming the first division's top scorer in the 1993–94 season after scoring 21 goals; the previous campaign he had netted a career-best 34 in 32 games to help the Sadinos promote from the second level, and those performances earned him the title of African Footballer of the Year once, the first ever from the nation.
In the 1994 summer Yekini was bought by Olympiacos FC, but did not get along with teammates and left. His career never really got back on track, not even upon a return to Setúbal, which happened after another unassuming spell, in La Liga with Sporting de Gijón; he successively played with FC Zürich, Club Athlétique Bizertin and Al-Shabab Riyadh, before rejoining Africa Sports. In 2003, at 39, he returned to the Nigerian championship with Julius Berger FC.
In 2005, 41-year-old Yekini made a short comeback, moving alongside former national teammate Mobi Oparaku to Gateway United FC.
Scoring 37 goals for Nigeria in 58 appearances, Yekini was the national record goalscorer. He was part of the team that participated in the 1994 (where he netted Nigeria's first-ever goal in a World Cup, in a 3–0 win against Bulgaria, his celebration after scoring, crying while holding the goal's net, became one of the iconic images of the tournament and the 1998 FIFA World Cups.
Additionally, Yekini helped the Super Eagles win the 1994 Africa Cup of Nations where he also topped the goal charts and was named best player of the competition. He also participated at Olympic level in Seoul 1988.
PERSONAL LIFE&DEATH
Personal life and death Yekini was severally reported to be ill for an extended period of time. In 2011, the news media in Nigeria had been awash with stories of his failing health, he was said to have suffered from bipolar disorder, depression and some other undisclosed neurological defect.
Yekini, a devout Muslim, lived alone in his home, in Ibadan, southwest Nigeria, despite having three wives and three children. News of his death began to appear on several online blogs and social media sites on 4 May 2012 and were confirmed by his former teammates from the 1994 FIFA World Cup Super Eagles squad, Mutiu Adepoju and Ike Shorunmu.
He reportedly died in a private hospital in Ibadan and is to be buried in his native Kwara State a day after his passing, according to Muslim custom. Legacy Rashidi Yekini's name would forever be remembered in the history of African football for his great achievements. He will be remembered for being a "goal scorer of great technique and a calm touch in front of goal" and his performances for Nigeria's national team in the 90s. From 1993-1994, as his performances (34 goals in 32 matches) was part of what contributed to him being given the title of African Footballer of the Year in 1993, the first ever from Nigeria.
SEE WHAT HIS EX WIFE SAID ABOUT HIS DEATH:
"We were married with a daughter but we stayed away from each other after the divorce. Despite the separation, I visited him regularly each time I came to Ibadan before his death. We had arguments but it was because of the way he was living."

"I disapproved his decision to live alone in such a big house although I was not trying to come back. He was such a gentle man but people who surrounded him were his enemies. They must have noticed changes in his life but they kept quiet. He was so generous and kind but they paid him back in a poor way."

She also blamed the media for prying into his personal life.

"I was not living with him so I cannot speak about his final days. Perhaps he would have lived longer if the media had left him in peace. Your people poked into his personal life all the time and abused his modesty. Since his death, I have had so many calls but what do they expect me to say about a dead former husband. I played my part in his rehabilitation but I was practically alone in the fight. Each time I read something negative about him, I would rush to Ibadan but I was meeting a brick wall and it was disappointing and painful."

Meanwhile, his mother, Alhaja Sikiratu said that her son had been battling with mental illness since the year 2010. She added that several attempts made to take care of the former Super Eagles' striker proved abortive as the deceased claimed he was mentally sound.

"We have been on the problem since 2010 and we tried our best but my son refused to be taken care of. When he came back, we asked him why he has done what he did but he replied by burning all his belongings. I lost my husband in 1978 and Rashidi has been with me since then," she added in tears.

Dimeji Lawal, a former youth international who lives in Ibadan said he knew Yekini for many years.

"We all loved him but for reasons I can't explain he did not want to socialize with people a reason I feel had effects on him on the long run," he said.

"We would have loved to help Yekini in our little way but until his last days, he wasn't really accessible." Mr. Lawal described Yekini as a philanthropist who did all in his power to help the course of others.

After retiring from international and club football, Yekini led a low profile life in Ibadan, living in a four bedroom apartment on Ring road, away from his family who stayed in his hometown in Kwara state. Accounts from neighbours and associates paint a picture of a man who struggled with serious mental and delusional disorder after losing life savings to a bungled investment.

One neigbour, who claimed to have known the ex-international well over a decade, traced the problems to a deal between Yekini and a confidant known only as Ibraheem.

"He has always been a quiet person who does not want attention on him," the neighbour, who refused to be named, said.

"But for me, Yekini started losing his mind and began behaving erratically due to his loss of huge sum of money to the death of his only confidant and business partner, Ibraheem, who ran a bureau de change in Sabo Area of Ibadan."

Before his death, all his automobiles were in a state of disrepair and many times he was seen trekking in shorts in different parts of the city.
Many of such outings, another former neighbour, Mukaila Babalola said, led Yekini to stalls where women sold roasted plantains(bole) on Onireke road near Multichoice office in Ibadan.
"Always in short but not sport trousers," said Babalola, who claimed to have seen Yekini regularly the past two to three years. "I remember reversing my car upon sighting him soliloquizing along Golf club area last year. I greeted him but he answered reluctantly."

On his website, former teammate and defensive midfielder, Sunday Oliseh, called Yekini "one of the best African players and legends to ever walk this earth."

But Oliseh reckoned that somehow a world cup match in which Yekini featured and was booed by fans as he was nearing retirement played a devastating role in the former striker's end.

"Yekini felt betrayed and this haunted him till his death," Oliseh wrote. "How could one give so much and receive so little in return from your own kind?" he asked.

More than that possibly haunted Yekini. Oliseh recalls the Super Eagles' African nations' cup triumph of 1994 in which Yekini played a key role, and winning the vital matches for Nigeria.

"Almost 20 years after this major conquest, Yekini is yet to receive the house the Nigerian government promised him," Oliseh said. "In other words, he died not being rewarded for his efforts to make Nigeria great."
Yekini's lawyer and friend, Barrister Jubril Olanrewaju, said the late footballer lived alone till his death which was alien to our culture in Africa.
His burial attracted a large crowd of football fans and eminent personalities. They include the Kwara State Commissioner for Information and Communication, Prince Tunji Moronfoye, who pledged government's assisstance to his family; Osun state Commissioner for Sports, Mr Stephen Kola- Balogun who donated N1 million each to the family and children of the deceased on behalf of the State Government and the Oyo state Sports Commissioner, Dapo Lam-Adesina. The Kwara state Govt also promised N1.5million to Yekini's family.
Also in attendance were some ex-internationals who played alongside Yekini – Mutiu Adepoju and Ike Shorounmu.
CAREER GOALS STATISTICS FROM WIKIPEDIA
Yekini in action
Yekini in action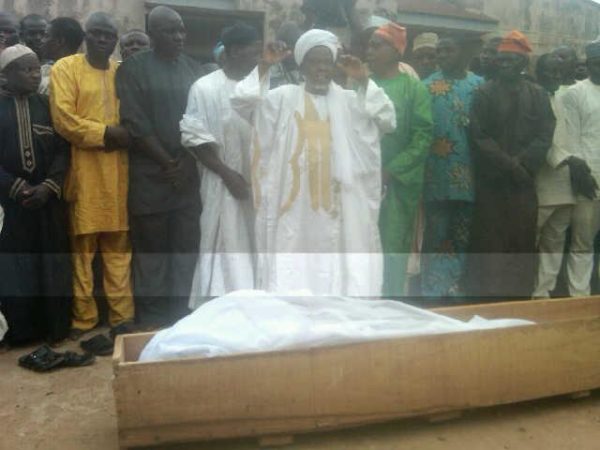 Yekini's Death
SOURCES: ashidiyekinidied.blogspot.com.ng,bellanaija.com,wikipedia.org