Actress Ebube Nwagbo Full Biography
|
BIRTH NAME: Ebube Nwagbo
DATE OF BIRTH: 24 February 1983
OCCUPATION: Actress
MARITAL STATUS:
Not Married

Oluebube Nwagbo, known simply as Ebube Nwagbo, is a Nigerian actress and
entrepreneur who has made a name for herself through her exceptional
talent in Nollywood movies, she made her debut in the year 2003.
EARLY LIFE AND BACKGROUND
Ebube Nwagbo is one of the finest Nollywood actresses that have made
name and money over the years in the entertainment industry in Nigeria.
So how much is Ebube Nwagbo net worth and what other businesses is she
into? Before we continue let get to know more about this hardworking
actress that has featured in many Nollywood movies.
Ebube was born
on 24th of February 1983 to a family of six in Anambra State but grew
up in Warri, Delta state where she had her primary and secondary
education. She proceeded to study Mass Communication at Nnamdi Azikiwe
University, Nigera.
Her
hometown is Anambra (Nigeria). When she was 20, she has started her
acting. This actress has played different roles in many Nollywood
movies. Ebube grew up in Warri, Delta state, where she had finished her
primary and secondary education. She also proceeded to study Mass
Communication at Nnamdi Azikiwe University, Nigeria. Her parents have 6
children, Ebube is the first of them.
CAREER AND LIFE
As it is known she
started her acting when she was 20. The first role in her life was
offered by her friend. She has come to a casting and she has received a
role.
Ebube's journey into movies started in 2003 at the age of 20 with movies like Arrested by Love, Eyes of the Nun and Before my Eyes becoming the first three movies that brought her to limelight.
Interestingly,
Ebube was still in school when she started shuffling between school and
work as an actress. At that time also, she took up the responsibility
of fending for her family.
Nollywood became for her the second family and the actress is very
glad that she is in this place now. She didn't say to her parents that
she has begun to act in at the film because she was afraid of their
reaction. Once, her father has told that he saw the similar girl on the
poster near a movie theater. Fortunately, she had a good role in the
movie that's why her parents are happy and very proud that they have
such a talented daughter. As every woman she also wants to find the real
love. She has always believed in love and still does. Ebube's style is
always classic and simple. She never wears bright and defiant colours.
«It is not mine», – she said once.
There are many discussions about
Ebube Nwagbo's wedding, because there are photos on the Internet where
she is in a wedding dress. That's the reason why everyone has begun to
speak about her wedding.But
actually, she acts in the movie which is called "Anniversary", produced
by Gregory Onuda and directed by Afe Olumowe. This is a romantic drama
about three persons and their lives. Ebube Nwagbo acts as a wife and
mother there. Harry (Gideon Okeke) is her husband and they have a boy,
who is five-years-old. In real life she is not married. Recently Ebube
had an interview with Star Gist. The interview was very interesting and
her thoughts concerning her marriage became clear for everyone.
The
actress said that her marriage would be in time and there is no
necessity to ask her when this time would come. She
is afraid of marriage because at present there are a lot of stains
around us. She also said that she would not hurry up with marriage
because she wants to make a correct decision. The real Ebube is not what
we see on TV or read in the papers, she is different. By the way, Ebube
Nwagbo's Instagram is conducted very actively.
Having gained much ground in the movie industry, Oluebube chose to try
something else. In 2012, the posh baby launched her own hair extension
business called PosHHair and an entertainment company called PoshWorld
production. Through these, Ebube Nwagbo has acquired for herself a
number of landed properties
The Pretty damsel said she is yet to meet her prince charming, who would love her for love's sake.
According
to her, it is very difficult to know who loves you for real, if you are
already a public figure and still single. However, rumor has it that
the actress has dated a number of famous Nigerians like Kanu Nwankwo,
Ogbonna Kanu Emmanuel Emenike and even the popular pop singer Kcee but
has in all been disappointed because according to her, it's a price for
stardom she had to pay.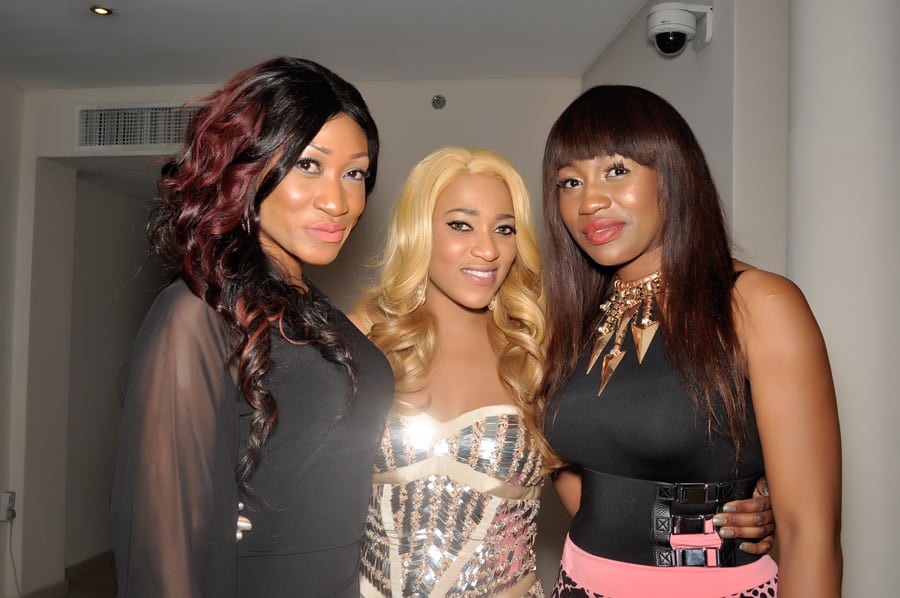 Oge Okoye, Rukky Sanda and Ebube Nwagbo
SOURCES: dailymail.com.ng,buzznigeria.com,www.takemetonaija.com