Richest And Most Successful Lawyers In Nigeria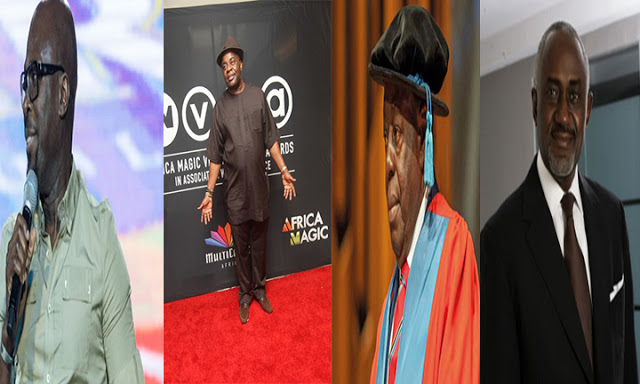 While growing up, there were usually three professions extolled by the
average Nigerian parent. They either wanted their children to be
doctors, engineers or lawyers. Sometimes this dream did not come to
pass. Why a lawyer? The favorite reasons were and still are: money,
power and the prestige that come with having a lawyer as a child.
Apparently, there is money in the law profession. we recently
gathered the names and a little background information on the wealthiest
lawyers in Nigeria.
These Are Richest And Top Lawyers In Nigeria
1. Tunde Folawiyo

Tunde Folawiyo has been featured on Forbes Magazine Mr Tijani Babatunde
Folawiyo popularly known as Tunde Folawiyo is a lawyer and a
businessman. He is the managing director of Yinka Folawiyo Group and
director of MTN Nigeria. According to Forbes, he has an estimated net
worth of $650 million.
Tunde was previously a Non-executive Director of Access Bank Plc
(formerly Access Bank Nigeria) from 11 October 2005 – January 29, 2014.
He was called to the Bar of England and Wales in 1985, where he started
his law practice in Nigeria with the firm Ogunsanya, but resigned from
law in 1989.
Since 1996, Tunde has also served as the Vice President of Nigeria
Association of Indigenous Petroleum Explorers & Productions
(NAIPEC).
2. John Olatunde Ayeni

John Olatunde Ayeni is also the chairman of Skye bank and worth millions of
dollars John Olatunde Ayeni was born on April 4, 1967. He is a Nigerian
lawyer, investor and business magnate. He holds board positions on
companies throughout Nigeria. In 2011, Ayeni became chairman of Skye
Bank, which was formed in 2005 when five commercial banks merged to
create a new entity with a balance sheet in excess of ₦1 trillion. He is
currently worth about $600 million.
3. Adewumi Ogunsanya SAN

Ogunsanya who is the chairman of Multichoice Nigeria is also on the board of
Heritage Bank Mr Ogunsanya is a managing partner in the law firm of
Ogunsanya & Ogunsanya and he is one of the newest senior advocates
in Nigeria. He is also the chairman of several companies like Smile
Nigeria, Trocadero Group of Companies, Multichoice Nigeria and a host of
others. Mr Ogunsanya who is a board member of Heritage Bank is
reportedly worth over over $250 million.
4. Barrister Jimoh Ibrahim

Jimoh Ibrahim once contested for governor of Ondo state Jimoh Ibrahim was
born on February 24, 1967, same year as Mr Ayeni. He is a lawyer,
politician, businessman, and philanthropist. He is the chairman of
Global Fleet Group, which controls such companies as Air Nigeria, NICON
Insurance, Nigeria Reinsurance Corporation, NICON Luxury Hotel, formerly
Le' Meridien Hotel and about 8 others. He is reportedly worth about
$200 million.
5. Aare Afe Babalola

Afe Babalola is the founder of one of Nigeria's most popular universities
named after him Afe Babalola SAN, OFR, CON, born 1929, is the founding
partner of Afe Babalola & Co (Emmanuel Chambers), one of the largest
law firms in Nigeria. He is also the founder of the popular Afe
Babalola University. He has an estimated net worth of $150 million.
6. Wole Olanipekun 

Wole Olanipekun was once the president of the
Nigerian Bar association Mr Wole Olanipekun SAN, is a former President
of the Nigerian Bar Association (NBA) in 2002 and the managing partner
of Wole Olanipekun & Co, a firm he founded. With litigation costs
running into several millions of dollars, Mr. Olanipekun is worth an
estimated $122 million.
 7. Gbenga Oyebode MFR

Gbenga Oyebode who holds a minority share
in MTN is a media darling Gbenga Oyebode is a founder and managing
partner of Aluko & Oyebode who also owns a minority shareholding in
MTN Nigeria, and sits on the company's board. He has an estimated net
worth of $120 million and was the former chairman of Access Bank PLC and
the current chairman of Okomu Oil and Crusade Insurance.
 8. Mr. Wale Babalakin SAN

Mr. Babalakin is a managing partner in the law firm of Babalakin and co. He is also the chairman of several Nigerian companies. His company built the famous MMA2 in Lagos and was
initially granted the contract to reconstruct the Lagos-Ibadan
expressway until it was revoked in November 2012. Mr. Babalakin is worth
an estimated $80 million and is consistently ranked as being one of the
richest Nigerians.
9. Dr. Konyinsola Ajayi SAN
Dr. Konyinsola Ajayi, SAN serves as Managing Partner of the law firm of
Olaniwun Ajayi and is a Senior Advocate of Nigeria. Dr. Ajayi has been a
legal counsel in Nigeria since 1980 and has over 25 years legal
expertise in Energy and Natural Resources, International Business
Transactions, Banking, Capital Markets, Construction and Engineering,
Privatisation as well as Litigation and Arbitration. He is a Board
member at Dangote Sugar Refinery PLC. He is worth an estimated $25
Million.

10. Chief Joe Kyari Gadzama SAN

He is a managing partner in the law firm of JK Gadzama & Partners, a firm he
founded. He contested and lost the 2016 Nigerian Bar Association
Presidential Election. He has an estimated net worth of $15 Million.
About The Author
Akinola