OAP Denrele Edun Full Biography
|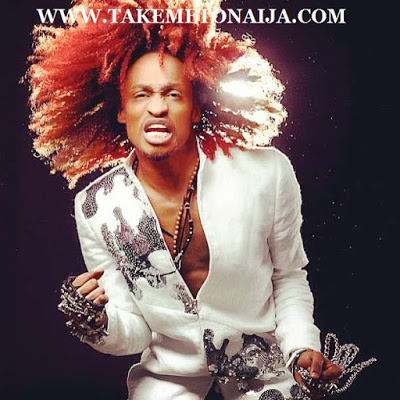 BIRTH NAME: Adenrele Oluwafemi Edun
DATE OF BIRTH: June 13, 1983
OCCUPATION: OAP; TV presenter
MARITAL STATUS: Not Married
INTRODUCTION
Denrele Edun is a popular Nigerian On Air Personality, he is a TV presenter for Chanel O. He is mostly known for his "crazy" personality, Denrele is also an influential person in the Nigerian entertainment scene.
EARLY LIFE AND BACKGROUND
Denrele was born in Germany (Hamburg) June 13, 1983. His dad is a Yoruba man from Ogun State while his mum is half Indian. He is the first and only son, he has two sisters.
He grew up in Germany for the first five years and that was where he got his first modelling job. His dad took him to a photo studio and told him to take pictures and somebody just saw the pictures and said they were lovely and the next thing was there were bill boards everywhere in Germany with his picture.
His dad was very happy, he didn't know he was supposed to collect some sort of compensation but by the time somebody told him it was too late to sue. It was a baby milk advert so they gave them about 100 cartons of milk.
He came back to Nigeria when he was five, he could not speak a word in English. He went to many primary schools just to polish his English. Later he began to speak English and Yoruba well, then he ended up at the Federal Government College, Ijanikin (the staff school) and later went to St. Gregory College, Ikoyi from there I went to the University of Lagos.
ASKED IN AN INTERVIEW TO SHARE A CHILDHOOD MEMEORY, SEE HIS RESPONSE:
When I was a lot younger I loved music a lot, but the thing is I can't sing, I have a very terrible voice. I sing off key, off tune and I used to be in the choir. My dad was a DJ in Germany not for serious business, so he had lots of records, so I used to take his headphone and then I will start singing and jumping all over the place. My mom used to overlook it because she was not a Nigerian so she just thinks I like music but my grandmother thought I was mad and she told my dad that I needed to be examined. At that stage I loved fashion. I loved to watch fashion shows and to read magazines. At the age of seven, I was a good reader of the popular Mills & Boons. I love to read. I read any thing that came my way. I loved to style my hair in different patterns, just to make people envy me and in my school I wore the longest socks which was up to my thighs and this even made my schoolmates think I was abnormal. During the period I was in the choir I was singing treble, my voice just broke down and I still don't know why till today. So, in church I would open my mouth like I was singing but no sound was coming out so people thought I could sing until I messed up when I had an individual performance. But I was a very fantastic dancer. Because of that I used to have a terrible mouth, I was rude and insolent. I felt I could just talk to anybody anyhow, but I am now more cautious. There was a time I begged my dad to buy me a story book (My Book of Bible Story) because everybody in my class had it except me, so he bought me another version that was different from everyone's own. I was angry and I threw it away. My dad beat me black and blue. Along the line, the mirror in the room broke and cut me on my leg. I refused to talk to him for a week. When he came to pick me up from school I refused to enter his car. I trekked home, which is like trekking from Berger to Ketu so you can imagine how stupid I was to have walked.
CAREER AND LIFE
Professional showbiz started for him at the age of 11. When hestarted
acting 'Kidivision 101,' his cousin told him about the audition so he went
with a couple of friends. When they got there, there were too many people
so he started making noise and abusing the other children because they
were not from his school. Then the producer came and told him to stop
making noise but he told her to go and sit down. She asked him to shut up; he told her to shut up too. Though he did not know she was the producer,
she asked him if I knew who I was talking to he told her he was important
too. Later the producer told them to give him the script so that she can see what he
can do or maybe it was only noise he could make. But when she saw how he
performed she told them to give him a role.
He learnt everybody's role in the script so
anybody that made a mistake he would just shout and correct the person.. Later on he grew
into a major character. He was the first kid they put on TV Guide so he
bought all the copies of the magazine and took them to school because he wanted to let them know that he was going to be popular. "At that time it
was good for me because even on the street when people saw me they
became excited." In his words.
As an undergraduate at the University of Lagos he went into modelling, and after graduation, he joined Sound City as a TV presenter. Denrele studied English Education at the University of Lagos.
Denrele is an entertainment personality whose style has been described as "punk and fun". In an interview with ModernGhana, he stated "I am just expressing my individuality. Most people ask me that question and I would say I just want to be me. Some people think I dress like this to attract attention, but I have always had attention from childhood".
Denrele has won 16 awards and over 30 nominations in his career. He has previously worked with SoundCity before he was forced out and he moved on to become one of Channel O's VJs.
Denrele has interviewed the likes of Akon, Beyoncé Knowles, Tyler Perry, Lil' Kim, Snoop Dogg, Cuba Gooding, Amerie, and Lloyd. Edun hosted the movie premier of Hoodrush. Denrele has been credited for being behind the success of Big Brother Amplified Winner Karen Igho.
Denrele Edun and other A-list celebrities starred in the Nollywood movie Make a Move. The movie features artistes like Omawumi, 2face Idibia etc. It was directed by Niyi Akinmolayan and premiered on 6 June 2014.
HE TALKED MORE ABOUT HIS PERSONALITY IN AN INTERVIEW BELOW:
Why the crazy dressing?
I am just expressing my individuality.
Most people ask me that question and I would say I just want to be me.
Some people think I dress like this to attract attention, but I have
always had attention from childhood. So you know when I am somewhere,
you can pick me out of the crowd and modelling is part of it because the
models I was modelling with were very tall so you can hardly notice me.
But with my crazy dressing you could single me out. So it was clothes
that started inspiring my intellect. When I see all those clothes they
wear on the run way, of course you know people don't buy those clothes, I
thought of utilising them and they weren't paying well at that time and
you have to look good. So I always redesign my clothes and if I repeat
my trousers 10 times you won't know because I will keep redesigning it.
But it was good for me because I was getting negative criticism. My
lecturers would walk me out of class. They used to bug me everyday. In
the school magazines people will write all sort of things like Denrele
is a useless boy; at times I could stand at the bus stop in front of
Education in UNILAG people will just park their cars and start insulting
me like eight times a day. But the same set of people that abused me
then are the ones now running after me. That is life.
So does this crazy dressing have any positive or negative influence on your personality?
It
is an extension of my person. It is a reflection of my individuality.
For me my look is fun, it is not too serious but it is serious to get
compliment. At least when people see me they ask like does this boy have
parents at all; because behind every form of madness or craziness,
there must be at least a certain degree of creativity. It is not easy to
sew these clothes and wear but then when you look at the dressing you
definitely know that the person who sewed the clothes is not a dullard.
So for me, there is nothing special in it because many people have
started dressing like me. When I had my birthday party last year,
everyone that came dressed like me. I am not trying to make anything out
of it; it is just me expressing myself.
So is Denrele gay?
I think people believe what they want to believe.
But a lot of people believe you are. And to prove them right, a picture of you Charley Boy went viral on the internet recently…
I don't read the news, I make the news. The thing is people tend to look
for loopholes when they see you doing well. And since people feel I'm
feminine in nature, then they think I'm gay. But the truth is I don't
really care about what people say because I'm not fashioned according to
what the society expects. And also I think for my personality, if I
were gay, the news would have grown from speculations and would have
been in people's face.
On the part of Charley Boy and me, I was not expecting the paparazzi that came with the picture.
So what was the picture about then?
I really don't want to go into details, but it could have been a
controversial agenda, it could have a been a publicity stunt, it could
have been the real deal and it could have been photoshopped, but
whatever it was, people should just go ahead and make their conclusions.
AWARDS
Denrele has won several awards
Denrele Crazy
Denrele Decent
SOURCES: modernghana.com,wikipedia.org,kemifilani.com,www.takemetonaija.com