General Yusuf Buratai Full Biography
|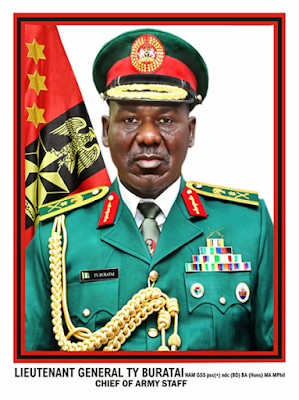 BIRTH NAME: Tukur Yusuf Buratai
DATE OF BIRTH: 24 November 1960
OCCUPATION: Military: (Incumbent Chief of Army Staff)
MARITAL STATUS: Married
INTRODUCTION
Lieutenant General Tukur Yusuf Buratai is the current and 26th Chief of Army Staff of Nigeria, appointed to the position by President Muhammadu Buhari on July 13, 2015. He was commissioned in 1983 and has had multiple command, administrative, and instructional appointments.
EARLY LIFE AND BACKGROUND
General Buratai is from Buratai town, Biu Local Government Area of Borno State. His father, Yusuf Buratai, was a non commissioned officer in the Royal West African Frontier Force and World War II veteran who fought in Burma. General Buratai had his primary education at Buratai town and thereafter gained admission to Government Teachers College Potiskum, Yobe State, where he graduated with distinction.
In January 1981, Buratai attended the Nigerian Defence Academy Kaduna as a member of the 29 Regular Combatant Course (29 RC). On successful completion of his Officer Cadet training, he was commissioned as a Second Lieutenant on 17th December 1983 into the Infantry Corps of the Nigerian Army. Buratai has a degree in History from University of Maiduguri and a degree in Philosophy from Bangladesh University of Professionals, Dhaka.
CAREER AND LIFE
He served in 26 Amphibious Battalion Elele, Port Harcourt, Military Observer at the United Nations Verification Mission II in Angola; later 26 Guards Battalion, Lagos; Lagos Garrison Command Camp. Lt Gen Buratai also served as administrative officer at the State House, Abuja; 82 Motorized Battalion; 81 Battalion, Bakassi Peninsular; Army Headquarters Garrison, Abuja before he became a Directing Staff at the Armed Forces Command and Staff College, Jaji, earning the prestigious "Pass Staff College Dagger" (psc(+)) appellation.
Subsequently, he served at AHQ Dept of Army Policy and Plans, Abuja; Assistant Chief of Staff Administrative Matters, HQ Infantry Centre Jaji. Additionally, he was again at the Armed Forces Command and Staff College as Director Dept of Land Warfare from where he was appointed Commander 2 Brigade, Port Harcourt, doubling as Commander, Sector 2 JTF Operation PULO SHIELD. Upon promotion to the rank of Major General, he was appointed Commandant, Nigerian Army School of Infantry, Jaji; thereafter he was appointed Director of Procurement DHQ before being appointed Force Commander of the newly reconstituted Multinational Joint Task Force (MJTNF) under the auspices of the Lake Chad Basin Commission and Benin Republic, an appointment he held till he became Chief of Army Staff.
His operational deployments include Military Observer at the United Nations Verification Mission II in Angola, Op HARMONY IV in the Bakassi Peninsular, OP MESA, Op PULO SHIELD, Op SAFE CONDUCT, MNJTF, Op ZAMAN LAFIYA and Op LAFIYA DOLE. He was appointed Chief of Army Staff on July 13, 2015.
HISTORIC STATEMENT AT THE CAPTURE OF GAMBORU AND HOISTING OF THE NIGERIAN FLAG
"We are here today to observe this significant and symbolic ceremony of hoisting the Nigerian national flag. If you could remember, this town of Gamboru was occupied by the Boko Haram terrorists for almost one ago. The Chadian troops came to help recapture it but could not hold the town, so they later withdrew and the Boko Haram returned again. In line with my vision which is to have a professionally responsive Nigerian Army that is abreast of its constitutional roles, one key underlying phrase in my vision is constitutional role, today, under my command we are here to discharge and redeem our territorial integrity as enshrined in the Constitution of the Federal Republic of Nigeria. coas hoist flag
Today we are hoisting our flag and we will never allow any bunch of criminals in the name of Boko Haram to come and take an inch of our territory again. I will like to commend officers and soldiers of Operation LAFIYA DOLE, especially the officers and men of 7 Division Strike Group, who have proved to be resilient, dedicated and highly patriotic. Nigerians are proud of you, Nigerian Army is proud of you and indeed, Mr President is very proud of you. We have to maintain the momentum and from now on you maintain an aggressive posture to constant patrols along this route and all other routes into this area."
Lt Gen TY Buratai, 9 September 2015.
Buratai appointed by the president
SOURCES: wikipedia.org,dailymail.com.ng