Linda Ikeji Reveals How God Took Her From Mushin To Banana Island In Exclusive Interview
|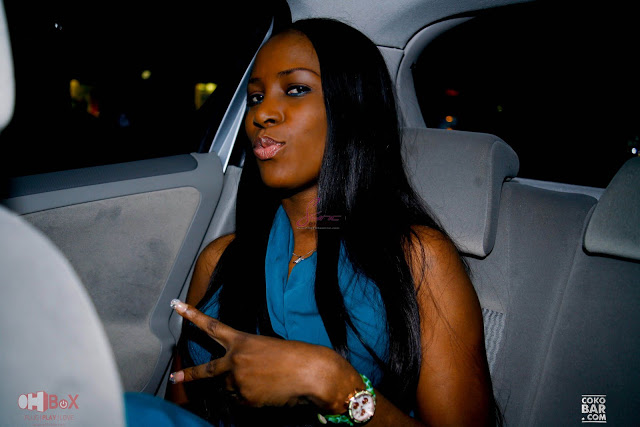 Famous blogger and businesswoman, Linda Ikeji, has opened up on her life's journey from obscurity to fame and wealth.
Linda Ikeji, the businesswoman who has over time become very
influential and wealthy with her online business, is also very
controversial.
Recently, she reflected on how God changed her status from Mushin to Banana Island in an interview with Encomium.
Below is the full interview:
How will you describe your journey, from the days of hustling for modelling jobs to blogging and now social networking?
The journey has been amazing. I didn't expect to be here today. When I
started hustling for modelling those days, blogging didn't exist. When I
started my blog in November 2006, I didn't know it would change my life
like it has.
I love to write but I didn't think that five years from now, this
would happen, it has really been an amazing journey. I am extremely
grateful for it. A lot of us are on social media but I can say it has
changed my life. I am grateful for how far I have gone. I am thankful to
God.
Blogging was not popular when you started, what actually attracted you to it?
I didn't know there was anything called blogging then, I wasn't
familiar with it. At a time, I was a model and people knew me, they
wrote about me, that was Belllanaija online. That was my first encounter
with blogging. I saw the story and I noticed it was nice. It was a good
experience for me. I went there the second day to read more stories. I
was going there constantly to read stories. At a point, I thought about
setting up my own and that was it.
When you started in the beginning, did you know you would go this far?
No, I didn't. That is why I am extremely grateful for how far I have come.
Inside her room
At what point did Linda Ikeji have her breakthrough?
When you are passionate about something, you will put your all in it.
I was blogging very passionately till 2010. That was when it occurred
to me that I had built a lot of followership. I didn't know brands were
watching me, I didn't think everything would translate to money. The
first time they came to meet me to post something for money, I was
surprised. It sounded strange to me. Niyi Tabiti was the first person to
send me an advert rate. I was surprised too but I took it.
In January 2011, I had my own advert rate and was sending it out to
people. By February, people started paying me, and that was it.
Was there a point you wanted to quit?
Yes, on my 30th birthday. I was broke, I was depressed. I was still
borrowing money to survive. I was very angry with myself. I felt like a
failure. I would open my laptop and blog, I would cry and cry. I didn't
know where God was leading me. My life practically changed afterwards.
Can you tell us your relationship with artistes, you have written a lot about them?
I have a cordial relationship with a lot of artistes. I have had
issues with some of them Wizkid and Olamide, but I haven't had issues
with anyone of those people. I do more good to them than bad.
How much does Linda make in a year?
I cannot tell you that.
How rich is Linda Ikeji?
Rich enough, whatever rich means.
A lot of people have been debating your wealth, they believe you are one of the richest bloggers?
About being the richest bloggers, I can agree with you. I talk to a
lot of clients and when they do their plan for online publicity, 98
percent put my name on the online platform. A lot of people advertise
with me. I guess that in all modesty, I probably make more money than
others. But I can't say how rich I am. I may be rich as they say or
richer than they think.
From the feedback you get, do you feel loved or hated?
A mix of both. I get a lot of hate and lots of love but I try to hold
onto the hate. A lot of people don't know me, I have not met them
before and I didn't offend them. I understand when people like Wizkid
and Olamide lashed out at me because I wrote about them. I have been
depressed and angry and my anger is usually towards those who are
successful. Some might just hate because of what they see around me,
they can vent because of depression or anger as well.
People say you write negative stories about your friends?
It is not true. I try as much as possible not to be friends with
celebrities. When you are friends with them, they would call you when
you write about their friends. I don't really write negative stories
about people. I still make a lot of money writing positive stories.
Is Linda bothered that she is still single?
Marriage will come when it comes.
Is it that you're not getting proposals from men?
I get a lot of proposals. Many people say that when you are
successful, people run. It is a lie. That is when more people come. But
unfortunately, I have what I am looking for. I keep telling people that
it is not as if men are scarce, but the type of man I am looking for is
scarce. I want a man I can look up to. Someone that will motivate me,
somebody that is successful in his own career path and someone that I
can learn from.
Can you marry a poor guy?
No, I can't. He doesn't have to be rich but he must be successful.
When I was 30, my standards were high, I wasn't focusing on marriage and
kids, it is just of recent I started thinking about it. I just need a
successful man, a good man, a God-fearing and one that like groceries.
A lot of people want to know how you got your wealth?
From blogging! A thousand percent is from blogging. I don't do any
other thing. There is so much money to be made from blogs that people do
not know.
How many staffers do you have?
I have over 30. Last month was the first time I paid a lot of people.
I was like, I could have kept this whole money for myself but it is
part of expansion and growth.
Do you think you court controversy or just misunderstood?
I don't go out of my way to look for controversy maybe I am being
misunderstood. I am a blogger and a business woman, I have to go out of
my way to look for gossip for my readers. I don't want anybody to fail. I
don't wish anybody evil.
Linda ikeji compund
How did you feel when Kemi said you took money from Dasuki?
I have never denied it. The reason I never said anything about it was
because it was overwhelming. Someone called me and said I should calm
down. The person said people have not come to terms with the fact that I
bought such a property. Before the whole stuff started, I have never
heard of the man's name. The only money I collected from any APC or PDP
was for advert. I know I am not guilty of anything. If not, EFCC would
have come for me by now.
When people say such things, I understand where they are coming from.
Those who are not into online business will not know how it works. It
is only those into online business that know I can buy two of that
house.
What will happen to your house when you get married?
My parents would live there. I live with all my family now – my parents and my sisters.
Can you tell us how you felt the day you bought your house?
I was extremely happy. I couldn't believe it. From Mushin to Surulere
to Banana Island. I think you have only one life to live. My dream was a
luxurious house and I said if I could afford it, I would get it. It was
such an amazing day for me.
Let us about your new project, Linda IkejI Social (LIS)?
LIS means Linda Ikeja Social. It is a news reporting and social
networking website. It is accessible from two separate interchangeable
page interface. The site is live now and it offers free services for
users upon registration.
People can interact, connect with friends and get important
information about products and services around the world. On LIS, users
would have a wallet which will display how much they have made on the
site and their transaction history. Subscribers can make money on LIS
through buying of exclusive stories from subscribers. We would also
advertise on the page that makes 50,000 followers and pay the owner of
the page. We would give 20 percent of the advert money to the owner of
the page. We also have freebies to give our subscribers. Subscribers can
also advertise their goods and follow major events around the world on
LIS.