PICTURES: All About The OBUDU Mountain Resort, Nigeria.(You should see!!)
|
NAME: Obudu Mountain Resort
LOCATION: Calabar, Cross-River, Nigeria.
KNOWN TO BE A: Resort
INTRODUCTION
Obudu Mountain Resort formerly known as the Obudu Cattle Ranch is a ranch and resort on the Obudu Plateau in Cross River State, Nigeria. It was developed in 1951 by Mr. McCaughley, a Scot who first explored the mountain ranges in 1949. He camped on the mountaintop of the Oshie Ridge on the Sankwala Mountains for a month before returning with Mr. Hugh Jones a fellow rancher who, in 1951, together with Dr Crawfeild developed the Obudu Cattle Ranch. Although the ranch has been through troubles since, it has very recently been rehabilitated to its former glory. A recently added cable car from the base to the top of the plateau gives visitors a scenic view while bypassing the extremely winding road to the top.
MAP

ABOUT
Nairaland.com
Obudu Mountain Resort is a nature lover's perfect paradise. It is situated in Cross River state and shares a border with Cameroon. Obudu is actually a plateau with a towering height of 1576 meters above sea level. This gives it a unique aura and charm that can totally disarm you of any worries you might go there with. The temperate climate coupled with the radiant African sun at the resort makes it a perfect comfort zone where an individual, couple or group of people can be able to bond and appreciate nature at its pristine form. Formerly called the Obudu Cattle Ranch,* the resort was discovered by a Scottish rancher *McCauleigh in 1949 and since then it has gone through several transformations.
As you step into Obudu Mountain Resort, there is always staff to ensure you have a perfect stay. Always with a perfect smile on their faces; they offer excellent, professional and courteous services in the best possible way.
The lush green vegetation supplies tones of fresh air to comfort your lungs and the site and grandeur of the vegetation nested on the mountain slope can make one do nothing but stare in awe of such an amazing greatness all day. Be it a personal getaway, a romantic honeymoon, family vacation or a company retreat; Obudu Mountain resort is the perfect place to be. The atmosphere is nothing short of majestic! And you can be rest assured of grand stay while at the resort.
When to visit
Although Obudu welcomes visitors all year round; the much best time to visit is October to February, when the flowers are in bloom, the sky is clear and the air is cool. This is ideal weather for trekking over the high ground and enjoy the extensive views that stretch out across the plateau.
This may be tropical Nigeria, but remember you are at the top of a mountain!
THINGS TO DO IN OBUDU MOUNTAIN RESORT
There are so many activities waiting for you at the resort. You can go on a nature walk/ bicycle ride to explore the spectacular view of the mountain, its vegetation and the adorable birds that dot the skies with their beauty. For those who love to hike, the terrain offers a perfect hiking terrain to challenge your endurance levels. The canopy walkway allows for visitors to view the birds, in their natural environment; their nests high up in the sky. For the #fitfam *and other gym enthusiasts, *Obudu Mountain Resort has a fully equipped and staffed gym, two tennis courts, squash court and a natural swimming pool Michael Phelps will love to take a plunge in. Golfers? There is a 9-hole golf course for you too!!
Obudu Mountain Resort's impressive cable cars
Obudu Mountain resort offers start of the art conference/retreat facilities. The perfect blend of nature ensures that conference attendees get the best value out of their conference by not only providing a serene and ambient environment; but also the availability of high tech conference facilities. The conference support staff team liaises with organizers to ensure the smooth running of conferences/retreats. The resort offers accommodation that offers comfort, provides an amazing view of the beautiful lush green vegetation and a chance to immerse yourself into nature as bird chirping ambience replaces the urban noise pollution you are used to. Accommodations come in the form of African hurts, chalets and luxurious suites. Obudu is home to exotic breeds of birds that can sing you lullabies all night. There is selection of a wide variety of local and international cuisines and beverages to suite all visitors' tastes. It is always a delight eating in the resort's comfortable atmosphere made even more comfortable by a blazing log fire; the perfect place for romantic meal.
( Hotel in Obudu Mountain Resort is N25,000 per night) (Hotels around Obudu below N5,000 per night)
hotels.ng
Access to Obudu Mountain Resort can be by air, road or by using the cool cable car (the longest in Africa, 4kilometres long) . Access by air can be done through Lagos via Aero Airlines which flies bi-weekly and it is a 35 minutes flight. Chartered flights can also be arranged either from Lagos or from Calabar. By road, Obudu Mountain Resort is 332 kilometers from calabar; then 30 more minutes from Obudu Town. Travelling by road, you will get to experience a beautifully designed road designed to allow visitors view all over the resort as they travel. The spectacular view will make you glued to your car window all through the journey! The cable car allows you view the resort from the sky and it is always an amazing scenery to view as one moves from the bottom of the mountain to the top. The fun starts before you even get to Obudu Mountain Resort! Yeah, it's that cool!!
ACCOMMODATION
cometonigeria.com
Accommodation is in form of chalets at Obudu Mountain Resort. With over 160 accommodation categories, made up of standard rooms, executive rooms, huts and chalets to a presidential apartment, amidst its extreme eco-tourism potentials, there's more than enough space for other activities.
All the rooms include complimentary toiletries, tea and coffee making facilities and a kitchenette. Other amenities featured in the rooms include a TV and a hair dryer. An internet connection is also provided.
The Helipad & Water Park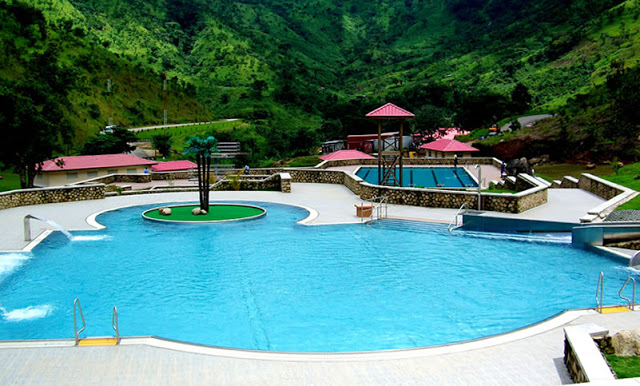 Takemetonaija.com
The resort has a helipad for access by air. At the base of the hills on which the ranch is located lies a newly built world-class water park with state-of-art swimming facilities and water slides for children, teens and adults.
Visitors can also take the advantage of the fully equipped gym and floodlit tennis courts (there is also a squash court and 9-hole golf course), before relaxing at the terrace restaurant complete with blazing log fire.
Becheve Nature & African Huts
owambe.com
This nature reserve is home to 250 different species of migratory birds that have been observed at the ranch at different times throughout the year.
Tourists can trek on the 60KM canopy walkway built in the form of a ladder tree house unhindered, for breathtaking view. Tourists be amazed at the extraordinary diversity of canopy life and breathtaking view from such height.
Also, there are 10 each with two apartments which gives the ranch the look and feel of being in the Safari.
Other facilities at Obudu Mountain Resort include: Golf Course, Hotel, Waterfall, Cattle Ranch etc
MORE EXCITING PICTURES OF OBUDU MOUNTAIN RESORT:

Takemetonaija.com
fall
SOURCES:cometonigeria.com,hotels.ng,www.takemetonaija.com