Mark Essien Full Biography. (Net worth) Hotels.ng Founder
|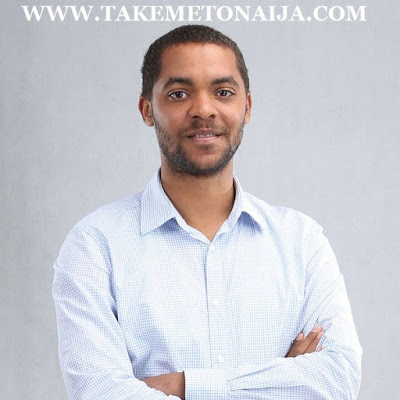 FULL NAME: Mark Essien
DATE OF BIRTH: Year 1984
OCCUPATION: Entrepreneur, (CEO Hotels.ng)
MARITAL STATUS: (Married)
NET WORTH: $200,000 (estimated 2016)
INTRODUCTION
Mark Essien is the founder and Chief Executive Officer of Nigeria-based Hotels.ng, an online hotel booking agency which is the first and largest of its kind in Nigeria. Raised over 1 million dollars from funding in 2015.
EARLY LIFE AND BACKGROUND
Mark Essien, born and grew up in the small town of Ikot Ekpene, Akwa Ibom State, Nigeria.
He did his primary school at Monika Kindergarten, and his secondary school at Federal Government, Ikot Ekpene Akwa Ibom, Nigeria.
As a kid, he was often fascinated by his father. He was always very interested in engineering, even though that's not what he studied. His father built a number of fascinating machines. He said his dad built a remember dredger from scratch with the purpose of extracting sand, and a robotic arm that was impressive in its dexterity.
He believes watching his father do these things influenced him and set him on the path that he is on today, with regards to his skill set, his approach to business and the attitude he brings to problem-solving.
When he was done with secondary school at FGC Ikot Ekpene, he wanted to study engineering, and so his parents sent him to study in Germany.
After he turned 18, he went to Germany for his Bachelors in Computer Engineering (Hardware, Robotics) at Beuth University, Berlin. Finally, he did his MSc in Computer Science at Freie University Berlin, also in Germany.
His very first job was working in the cinema as a ticket tearer. He was only there for about 1 or 2 months. After that he left and went to work night shifts taking care of a paralyzed man. That was where he learnt about programming.
According to him in German you have to do a year of something similar to A levels, before you can go to university, he also didn't pass the mandatory German language test so, he had to do an additional 6 months; in all one and a half years It was during that period that he was doing different jobs.
He learnt programming during his night shifts taking care of the paralysed man. Within 3 months, he had developed a file sharing software which was acquired by a big software company. They shut it down shortly afterwards. At the time he only knew how to write code in Visual Basic. But when he joined them, they were building the same kind of software in C++. He was given a book to learn it, 2 weeks after his boss came back saying "you must be ready now, let's start". According to him; That was basically his work experience and it gave him a lot very advanced knowledge in programming.
CAREER AND LIFE
There was a gap between his Bachelors and his Masters. It was during that period he created the first version of Hotels.ng. It was nothing more than a list of hotels at the time, but immediately he was done with that, he left Germany to come home and actually build it into a business. He said he was sure that he wanted to come back home. In his words; "I was just looking for a technological company I could build that would work in Nigeria."
SPEAKING ON WHY HE PICKED TO WORK ON HOTELS:
"I became very focused at looking at what the market wants, not what I want, and if I can go in to fulfil that. Picking hotels was basically a function of understanding that this was something that worked in many markets and could potentially work in Nigeria. After making those two assumptions, I then tested them in the real world. So I created the website, I kept it on there for many months and I could see people showing real interest in it. So I knew that it would work. And if it hadn't I would have kept trying something else till I found something that found potential to become much bigger than it was. So that's why I picked hotels. It was simply based on analysis."
His project came to life after raising a total of $250,000 in seed funding from Jason Njoku's SPARK in 2013.
The expansion process that has led to what Hotels.ng is today started when he began to put out press articles which attracted the attention of Iroko TV's founder, Jason Njoku. He contacted him on Facebook and told him that Spark.ng was interested in investing in viable startup ideas like his. Spark.ng made an initial investment of $75,000 in Hotels.ng and he moved to Lagos to set things up. The momentum had picked up significantly and shortly after Spark.ng made another investment of $150,000. With this financial buffer, they began to grow the platform's hotel listings and expand their customer base.
Read Mark speaking about how money was spent when they started:
"We did burn the money relatively fast – we spent the $250,00 in a year. I know, it seems difficult to believe. You see, one always thinks the money is so much but it's never actually that much. One thing is the salaries. Salaries are the biggest expenses by far. All the rest will be small compared to the salaries you have to pay.
We weren't spending that much but we had a few significant expenses. If you are spending $20,000 per month, in 10 months you've spend $200,000. That's roughly how we were operating. Obviously there was absolutely no revenue in the beginning (2012). So at the beginning of 2013 we then raised the first $75,000 from SPARK. We got the next round around July, 2013. By January of 2014, the money had finished and we survived. It wasn't that difficult because we made revenue. For the entire 2014, we made enough revenue to keep the 25-man team alive and working well, till we were able to secure the recent round of funding."
In 2015 Hotels.ng, has raised $1.2 million from the Omidyar Network, the investment vehicle of eBay founder Pierre Omidyar, and EchoVC Pan-Africa Fund, a seed-stage technology fund.
Accroding to him Hotels.ng Make money by getting referral fees from the hotels, they pay them commission per booking.

Hotels.ng's profitability has been established by its records since inception, and they expect to control 90% to 95% of local hotel booking in Nigeria and 50% of the African hotel booking market within the next five years.
As of 2016 Hotels.ng has over 100 staffs out there, most of them constantly searching for new hotels and updating the information about them on our platform. Every state and town in Nigeria has been visited by Hotels.ng staff.
IN AN INTERVIEW HE SPOKE ABOUT HIS UNIQUE HIRING TECHNIQUE, READ;
"When you are hiring, there are a couple of things you need to balance. You can hire for experience. Say you are looking for a digital marketer, you hire someone that has experience in the field. You can also hire for intelligence. If you hire for experience, because Nigeria has so few people that are very expert in particular fields, you'd find out that the person that is experienced would often be extremely expensive, because everybody is looking for the same scarce experience resource. Our philosophy is not to hire for experience, particularity for anything that can be learnt relatively easily. If a person is smart enough, they will probably pickup anything in a month or two. So instead of hiring for experience, we prefer to hire for intelligence and then we'll just tell the person what needs to be done. That was the first part of the theory
The second theory has been controversially debated within the company and it's that people don't really change. You have to hire the type of person you want to have right from the start. You're never going to hire somebody and then end up with another type of person. So what we devised is a series of questions designed around what we believe a person that has a certain type of ability should be able to answer properly. In our very first test where we got our current head of PR and marketing and general content, it was just a bunch of questions that were intended to show how good this person can handle very complex content and the depth of the person's thinking. The questions keep getting harder and more abstract and whoever was able to demonstrate a depth of thinking that was very sound, we were basically sure that the person is intelligent. Afterwards I talk to the person and then try and make a judgement call on if the person is going to have the necessary dedication and all the other attributes we are looking for. The good thing is that we end up with people that are even underrating themselves because having to answer all those questions, you really see the complexity of a person's thought process.
I prefer not to look at people's pictures or their CVs as a means of recruitment. I don't see the point. First of all if you look at people's picture you can bias yourself instinctively. But when we do an email Q& A, it is very open. I wish the person's name wouldn't even show but unfortunately it does. But then all you base it on is what the person is thinking and how they reason."
In 2015 Mark made a Forbes list of 30 youngest entrepreneurs in Africa.
AWARDS AND ENDORSEMENTS
Nigeria Future awards and more
techpoint.ng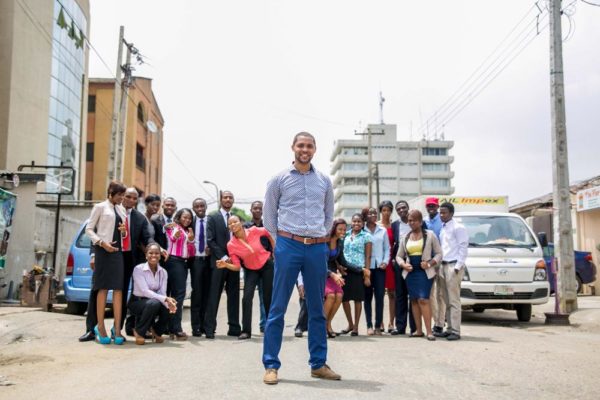 Mark and staffs
Mark in office
SOURCES: markessien.com,techpoint.ng,bellanaija.com,www.takemetonaija.com