Kwara: Nigeria's State of Harmony(Tourism) Pics And Details
|
Kwara State, dubbed the State of Harmony in Nigeria, is located in the country's north-central geopolitical region. At its centre is the calm and welcoming capital city of Ilorin. Ilorin, though predominantly occupied by the Yorubas, the Muslim community, and a significant number of Bariga, Fulani and Nupe minorities, is hospitable to everyone, irrespective of their tribe and religion, and thus proudly retaining its harmony tag.
Kwara State, bounded by River Niger to its north and Benin Republic to its west, will make a memorable experience for tourists.
Top Three Sites include:
1. Esie National Museum
Kwara soapstones.
The national museum at Esie is the oldest in Nigeria. Established in 1945, the museum prides itself with the preservation of about a thousand five hundred soapstones whose origin still remains unknown. Quite spectacular, on these stones, discovered in 1933, are carved images of men, women, children and animals.
2. Owu Falls
Waterfall in kwara
This waterfall can undeniably be termed the biggest tourist site in Kwara. The 330 ft. fall is about 112 kilometres from the state's capital.
3. Sobi Hills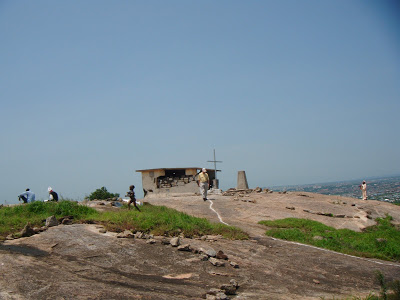 Sobi Hills
Located in the town of Sobi, the Sobi hills are about 394 metres above sea-level. An amazing site to behold, added to its green landscape are outlets through which water gushes.
Plan on touring?
It would be needless to fuss over where to stay and what to eat. The lifestyle in Ilorin is a mix of urban and rural tastes. Bookings have been made available online by hotel booking sites like Jovago. Choice accommodation offers include the Kwara Hotel, Fairyland Hotel, Princess Luxury Hotel and Sity Inn. Restaurants include Chronicles, Low Chaws, T and K and Yinkus Canteen.
There are sprawls of shops from which one can get memorable souvenirs. Other notable shops include Adisco Shopping Mall, Raymond Best and Silvertex boutiques, Kaila Ventures and Kwara Mall.
Did you know?
The 11th Emir of Ilorin is His Royal Highness, Ibrahim Sulu Gambari, who has been on the throne since 1995, making this year the 21st since he ascended the throne after his father.