Veteran Actor Pete Edochie Full Biography
|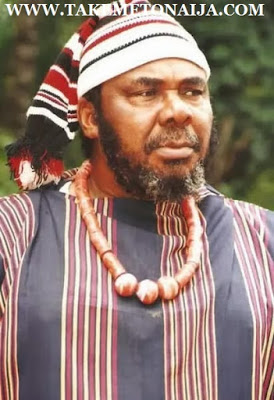 FULL NAME: Pete Edochie
DATE OF BIRTH: March 7, 1947
OCCUPATION: Actor
MARITAL STATUS: Married
INTRODUCTION
Pete Edochie is a Nigerian actor. He got into the movie industry as far back as 1980. He's shown in over 200 Nollywood movies.
He is considered one of Africa's most talented actors, by both Movie Awards and Movie Magic's Africa Magic Cable network.
EARLY LIFE AND BACKGROUND
Pete Edochie, an indigene of Anambra State Nigeria, was born on March 7, 1947 in Enugu, Enugu State, Nigeria.
Pete Edochie had his primary and secondary Education in Zaria, Kaduna State of Nigeria. After his formal education, he worked with the Nigerian Railway Cooperation. Later, he went further to study a course in Journalism and Television in the School of Journalism and television in England.
He joined broadcasting at 20, and got married after two years. He got married during the biafran war.
He said; he had always wanted to be a broadcaster back then. There were three professions that have always fascinated him. They are journalism, broadcasting and acting. He revealed he has managed to involve himself in those three professions. He did a course in journalism and television after he left left econdary school. That was before he joined his father in the Nigerian Railways. He wrote for some newspapers after that. He joined broadcasting after which he is now at the third phase which is acting. He beleieves he realized doing these 3 professions. He was influenced by a few people who sang in those days, and he thought he could also join them and do some singing. In his words: "I'd sing, but not professionally."
He was in the Voice of Biafra program back then as a broadcaster. According to him they moving from place to place and whenever the war drew nearer, they moved away from the place. At a point, he had to go to the war front to perform some professional duties which he wouldn't disclose. He survived the war, he made his own contribution and he is happy about it, he says. I am always proud of my involvement in the war years. He was born and raised in the northern part of the country. But he was chased out of the region in 1966, and by 1967, the war began. He was a broadcaster then, and because he understood and spoke Hausa fluently he had to go to the war front.

SPEAKING MORE ABOUT HIS INVOLVEMENT IN THE BIAFRAN WAR IN AN INTERVIEW:
Whenever you relive your Civil War experience, do you feel sad or happy?
"No, I can't be happy. I mean I couldn't be happy. There was so much carnage and there was no justification for it. There was little provocation for the war. So, it was a programme intended to wipe us all out from the surface of the earth. Some of us were lucky to have survived. It is not what I would wish any enemy of mine. It's an internecine experience, it's not a good one. Everybody who experienced a war wouldn't like a re-occurrence of such horrible experience. It's a traumatic experience. You present a picture of tough-talking and aggressive Biafran soldier."
Do you somehow reflect your Biafran experience in the interpretation of your roles in movies?
"Pete-Edochie1 Curiously, I was not a Biafran solider. I went to the war for a specific assignment but not as a solider. I happened to be very strict by nature. I have five sons and eleven grand children. It is because I am strict and that's why I was able to control those young men. If God gives you male children and you are soft, they will be wasted. I think it reflects in my movies because I am a very strict person. If I am playing the Igwe role, I am an Igwe through and through. My wife has a little to play when I am an Igwe. Ordinarily, in an Igbo culture your wife has little role to play in the Igwe's affairs. The Igwe has his cabinet, he addresses them and they discuss issues affecting his Kingdom. The wife has little role to play, and when I am playing the role of an Igwe, my wife does not function one day. She can come in and bring kola nuts and greet my guests. That's it. In that regard, I am not weak at all."
CAREER AND LIFE
He got into radio broadcasting in 1967 at the age of 20 as a junior programmes assistant after which he was elevated to the level of a Director. He was director of programmes, but doubling sometimes as Deputy Managing Director and occasionally acting as Managing Director. He quit ABS because the government decided to politise the affairs of their FM station, thereby resulting in the entire management being asked to move out, including him. He was to be the immediate successor to the MD but had to leave and enrol into the movie industry. Prior to that, he had featured in Things Fall Apart and had won an International Award. The BBC flew into Nigeria to interview him for his role in Things Fall Apart.
Pete Edochie came into limelight in the 1980s when he played the lead role of Okonkwo in the Nigerian Television Authority's adaptation of Chinua Achebe's all time best selling novel, "Things Fall Apart". Since then, Pete Edochie has featured in over 200 Nollywood movies and his prowess in the industry has won him many national and international awards.
In 2005 the Actors' Guild of Nigeria placed Pete Edochie and several other actors, including Genevieve Nnaji, Omotola Jalade Ekeinde, Nkem Owoh, Ramsey Noah, Stella Damasus Aboderin, Chinwe Okeke and Richard Mofe Damijo on a one-year ban from filming after they were said to have been collecting huge fees from producers due to their A-list celebrity status. The ban placed on these actors was seen as doom in the Nigerian film business, but currently, the actors are back in filming.
On August 16, 2009 Nollywood actor, Pete Edochie was kidnapped. The veteran actor was kidnapped by one Mr. James Philip currently stationed in Afghanistan on his way to an event in Anambra State. He was kidnapped at Nkpor and was released on August 17, 2009.
IN A 2015 INTERVIEW WITH VANGAURD HE SPOKE ON HIS ROLE IN THE MOVIE THE BROUGHT HIM TO LIMELIGHT; THINGS FALL APART, READ BELOW:
In your movies, there is always a reflection of the Okonkwo character, the role you played in the NTA adaptation of Chinua Achebe's classic, Things Fall Apart.
That's what a lot of people say. When I did Things Fall Apart, I was 38 years of age. That was thirty years ago. I am 68 years now. People still call me "Ebube Dike" and before Chinua Achebe died he was calling me Ebube Dike. He never called me Pete, and we were very close. Each time people visited him in America, he would ask them about me. He created the character and because he thought I interpreted it perfectly, he named me after Okonkwo- Ebube Dike. So, a lot of people still see me and refer to me as a Ebube Dike and I answer them.
When you got the script to play the lead character, what was uppermost in your mind?
When the script was handed over to me, I said to myself. This is the opportunity for me to read the script since we didn't read the book while I was in school. I was delighted to read it. Before then, I've not read the novel, Things Fall Apart. I knew nothing about it. Now, it was to be adapted into a screenplay. People were invited to come and audition for roles. Somebody who worked with me in the broadcasting House, Engr G.C Ugwu (now late) recommended me. He was the Zonal Director of NTA in Benin in those days. He had always watched me in the broadcasting house where I worked and the moment they decided to produce the play, the first name that came to his mind as Okonkwo was me. But there were other people that came for the general audition. I was invited to the audition and the venue was the main auditorium of he University of Nigeria, Enugu campus. The moment I walked into the auditorium, the white woman who was invited to handle costuming and other things saw me. She just looked at me as I was coming in, and screamed, saying: "if this man could act, that's the man we want for the role." She never met me before that day. I walked in, and was given the script. Other people were also given the script to read, and when I read mine, they shook hands with me and said, we are good to go. They said there was no point continuing with the audition; that the role is for me. As at that time, I didn't know the implications of being in that production. We went ahead and produced the play and I won an international award. I am proud to say that BBC flew into the country to interview me and Chinua Achebe too. Nigerians were phoning and congratulating me. It was a moment of crowning glory for me. I think it was a defining moment in my professional career.
SPEAKING ABOUT HIS CHILDREN IN AN INTERVIEW
The veteran actor said to motivate each of his six children, he bought them all cars upon graduation from the university. Share on Facebook Share on Twitter Photo:
"I Bought Cars For All Six Of My Children" – Actor Pete Edochie "I wanted to motivate them and keep them away from peer pressure. Parents must be able to motivate their children and set target for them. The minimum target for each of them was to graduate from higher institution; their reward upon graduation is a car. And where I come from, it is important to keep one's word; I bought the car for each of them. Share on Facebook Share on Twitter Photo: "I Bought Cars For All Six Of My Children" – Actor Pete Edochie Yul who is over 30 is the last born and he got his too." Pete Edochie tells The Nollywood Reporter The celebrated actor who has been married for over 45 years said his marriage is about the longest in the industry and he never thought of taking a new wife. "I married early and have remained married since then. What am I looking for a second wife for? I married a woman who gave me six children, what could I possibly be looking for in another woman that I didn't get from this woman? There is no reason for it"
Pete as a young actor
SOURCES:vanguardngr.com,wikipedia.org,wikipedia.org,naij.com,nigerianbiography.com,www.takemetonaija.com