Ten Evergreen Old Nollywood Movies You Definitely Should Watch Again This Year.
|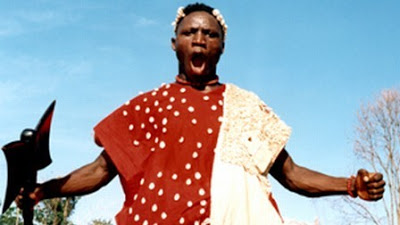 SANGO
Today T.I.N Magazine brings you some old Nigerian movies you should probably re-watch again. This movies will definitely turn you on.. Our movie industry which have been existing over 40 years now is definitely a big thing with over 2000movies released every year. So together lets take trip down memory lane.



1. Living in Bondage (1992).

Living in Bondage is a 1992 Nigerian drama thriller which tells the story of a man who kills his wife in a ritual sacrifice in order to advance in power and wealth, yet his gains are short-lived, and he is subsequently haunted by her ghost.The film was directed by Chris Obi Rapu, written by Kenneth Nnebue & Okechukwu Ogunjiofor and produced by Kenneth Nnebue.

2. Glamour Girls (1994).

This movie was described as the most daring and ambitious movie at the time. It was a deviation from the stereotypical themes of rituals, family squabbles; rather the focus was sex, power and fame.
Although certain scenes and characters were criticized for raunchiness and Unclothedness, many praised the bravery of the key actors. The movie was classy and extravagant in every sense as each location or auto-mobile convincingly illustrated a society that indulge in material things.
3. Ija Omode.



This movie is a very epic yoruba Nollywood film, quite interesting and catching. It shows kids fighting for their right and that they can't be cheated. It features actors like the very much loved late actress Funmi Martins and late actor Yomi Ogunmola.



4. Sango-The Legendary African King (1997).

To send off his troublesome wives, Alaafin Sango is so worked up that he emits fire from his mouth. And when he is to destroy his enemies at the war front, he belches fire. The rhythm of his fury has no limitation.

5. Igodo-The Land of the Living Dead (1999).

A village is in turmoil suffering from a curse laid on it and people are dying randomly. The Igwe calls a meeting of the elders and the witch doctor. One elder has a story to tell: The story of Amadioha. The secrets of the story holds the key to their misfortune.
Selected warriors from the village have to journey into the evil forest on a quest to retrieve the weapon to be used in rescuing the village.
6. Egg of Life (2006).

The movie directed by Andy Amenechi, tells the story of a king (Pete Edochie) whose only son "Ikemefuna" is an "ogbanje".
Ikemefuna makes a promise to his spiritual friends to fall sick all the time and die when he is ripe of age. But when the time came, out of the unimaginable love he has for his mother, he refuses to keep to his promise. Nevertheless, his spiritual friends, stronger than he is, takes his life.
The king is devastated and calls the Chief Priestess (Clarion Chukwura) to unravel the mystery behind his death.
7. Karashika (1996).

Can we all remember the popular chant in this classic movie "karashika! karashika! Queen of Darkness, Lucifer Lucifer King of Demons?"
This movie was directed by Ifeanyi Ikpoenyi, starring Sandra Achums, Becky Okorie, Obi Madurugwu etc. It displays how Satan eats his way into the souls of the living. To recruit new followers for his kingdom of darkness he sends out Karishika, queen of demons, to the world of the living. There she misguides and seduces a number of people, who all fall prey to her because of their own shortcomings. All but the last fall for the temptation of either the fulfilment of their desperate wishes, or money, or sex. The last, a pastor, resists all temptation and is saved from hell through divine intervention in a final showdown between a Pentacostal congregation and Karishika and her helpers.
8. Issakaba (2001).

A group of vigorous men (vigilantes) with supernatural powers are employed to rid the corruption ridden land at all cost.
The men popularly known as the Bakassi Boys (Issakaba is almost Bakassi spelt backwards), are protected by charm to enable them avoid injury from criminals' bullet and to detect innocence or guilt through the magic use of their machetes.
9. Blood Money (1997).


The movie reveals the connection between the ostentatious wealth of those in power and the exploitation and death of the poor and powerless. Human bodies, shorn of their human-ness, are needed to vomit or give birth to wealth.
The cult leader, referred to as "Lord Spiritual" by his subordinate ritualists, tells the newest member Mike that their cult, called The Vultures, operates like a bank. "They take a little risk and make plenty of money." Mike can join the cult only after "passing through" the body of a vulture for three days.


10. Madam Dearest (Aya Mi Owon)


Aya mi owon is a movie that torch my mind anytime I watch it. Made of the best work best production, best director, and actors.
A young couple have been on a 10 year baby watch and have tried everything to no avail. Falling victim to the Nigerian police and their disdain for good samaritans, the husband goes to jail for a crime he didn't commit. Family and friends concerned for their daughter/friend persuade the houseboy to initiate an affair with his oga's wife (imagine). After a brief struggle with his conscience (spurred on by a fellow houseboy) the whole thing begins to like a good idea to the houseboy. The wife eventually caves under the pressure from friends and family and succumbs to the allure of the houseboy. The birth of a baby boy ensues. The wronged husband returns from jail and of course the wife passes on the boy as his. The husband doesn't find this hard to believe since he enjoyed conjugal visits while in jail. Life returns to normal but as you can imagine the houseboy cannot really take sudden change in events. He has a run in with the husband which culuminates in him 'kidnapping' his son with the intent of taking him to Ghana (his home country).