HISTORY FLASHBACK: Gen. Sani Abacha Governance,Terror And Life
|
So it is another Monday and T.I.N Magazine brings you an interesting history and this time it is about the very famous military head of state who many would say is a notorious man. Sani Abacha was a very controversial person when he was still alive, even after his death he remains controversial. Well, in the piece you are gonna be reading below you'll read all about his career,governance,human rights abuse,corruption and death.
Take your time and check it out…
INTRODUCTION
Sani Abacha
,
Nigerian military leader, who served as head of state (1993–98).
Abacha received his formal military training at Nigerian and British military training colleges. He rose through the ranks in the
Nigerian military and by 1983 had achieved the rank of brigadier when he assisted
Ibrahim Babangida in overthrowing Shehu Shagari, who had been elected to his second presidential term in 1983. Muhammad Buhari became Nigeria's leader, but just two years later Babangida overthrew Buhari and installed himself as leader with Abacha second in command. Elections were held in 1993 and were won by Moshood Abiola, a candidate supposedly supported by Babangida, who, however, annulled the elections and set up a civilian interim government, which Abacha quickly overthrew.
HISTORY
Background
General Sani Abacha, military officer and Nigerian head of state, was born on 20th September 1943 in Kano, Kano State in Nigeria. Abacha attended school in his home state before joining the army and enrolling at the Nigerian Military Training College in Kaduna (1962-63). He obtained further military training in the United Kingdom at Mons Defense Cadet College, Aldershot in 1963 and the School of Infantry at Warminster in 1966 and 1971. Abacha fought in the Nigerian civil war that started in 1967. By 1975, he had obtained the rank of colonel. Abacha later attended the Command Staff College at Jaji (1976) and the National Institute for Policy and Strategic Studies at Kuru (1981). As brigadier, Abacha travelled to Monterrey, California, USA to take an international defense course in 1982.
CAREER&LIFE
Abacha's military career is distinguished by a string of successful coups. He is by some records the most successful coup plotter in the history of Nigeria's military. Abacha, then a 2nd Lieutenant with the 3rd Battalion in Kaduna, took part in the July 1966 Nigerian counter-coup from the conceptual stage. He may have been a participant in the Lagos or Abeokuta phases of the coup the previous January as well.
He was also a prominent figure in the 1983 Nigerian coup d'état which brought General Muhammadu Buhari to power in 1983, and the August 1985 coup which removed Buhari from power. When General Ibrahim Babangida was named President and Commander-in-Chief of the Armed Forces of the Federal Republic of Nigeria in 1985, Abacha was named Chief of Army Staff. He was appointed Minister of Defence in 1990.
Gen. Sani
In 1990, Abacha became the first Nigerian soldier to attain the rank of a full General without skipping a single rank.
On 17 November 1993, Abacha overthrew the short-lived transitional government of Chief Ernest Shonekan. In September 1994, he issued a decree that placed his government above the jurisdiction of the courts, effectively giving him absolute power. Another decree gave him the right to detain anyone for up to three months without trial.
The Abacha administration became the first to record unprecedented economic achievements: he oversaw an increase in the country's foreign exchange reserves from $494 million in 1993 to $9.6 billion by the middle of 1997, reduced the external debt of Nigeria from $36 billion in 1993 to $27 billion by 1997, brought all the controversial privatization programs of the Babangida administration to halt, reduced an inflation rate of 54% inherited from Ibrahim Badamasi Babangida to 8.5% between 1993 and 1998, all while the nation's primary commodity, oil was at an average of $15 per barrel.
Despite being repeatedly condemned by the US State Department, Abacha did have a few ties to American politics. In 1997, Senator James Inhofe (R-Oklahoma) travelled to Nigeria to meet with Abacha as a representative of the "Family", a group of evangelical Christian politicians and civic leaders. Abacha and the Family had a business and political relationship from that point until his death. Abacha also developed ties with other American political figures such as Senator Carol Mosley Braun, Rev. Jesse Jackson and Minister Louis Farrakhan. Several African American political leaders visited Nigeria during his reign and Farrakhan supported his administration.
In 1967, when mostly Ibo forces tried to wrench their region and its oil riches out of a federated Nigeria and gain independence as Biafra, the young officer fought in the civil war, and the secessionists were defeated. After the war, he continued his military training in England and then in Monterey, Calif.
Though his superiors recommended in 1971 that he never be promoted above the rank of colonel because he was "not considered stable enough for higher command," he nonetheless rose steadily. He was made a brigadier in 1980, a major general in 1984 and a lieutenant general in 1987. He was also involving himself in political affairs.
As oil, the country's main source of revenue, fell in price in the early 80's, President Shehu Shagari, who was elected in 1979, was toppled by the military on Dec. 31, 1983. It was the first of three coups in which General Abacha had a leading role, this time collaborating with Gen. Ibrahim Babangida.
The plotters installed Maj. Gen. Mohammed Buhari as leader. He was unable to reverse Nigeria's economic trials and showed little concern for human rights.
As things continued to worsen, General Babangida and General Abacha sent troops out to depose the man they had enthroned. General Babangida took over as head of state, and General Abacha became Chief of Staff of the Army.
General Babangida opened a nationwide debate on the form the government should take once democracy was restored. Local elections were held, and national elections were scheduled, but he decided that political traditions in the country were harmful and banned all 13 parties. In their place he created two factions, "one a little to the left" and the other "a little to the right," both under his control.
Protests
Elections were finally held on June 12, 1993. It appeared that Moshood K. O. Abiola, a wealthy businessman who was a member of the southern Yoruba people, had won. General Babangida annulled the election.
When widespread protests erupted, General Babangida resigned a day before he had promised to cede power to a civilian government. He gave the presidency to Ernest Shonekan, a civilian if unelected leader, who was also a Yoruba. General Abacha was the only member of the Babangida Government to stay on, as Defense Minister.
President Shonekan lasted only two and a half months. On Nov. 17, 1993, as he was preparing for a meeting with striking labor leaders, General Abacha staged his third coup, taking the top post himself.
A day later he outlawed the two government-sponsored parties and banned political activity. "We will not condone or tolerate any act of indiscipline," he declared.
In June 1994, Mr. Abiola declared himself to be the rightful president. A day later he was put in jail, where he remains.
Oil workers struck, calling for democracy. The military responded with violence and broke the strike within two months. In the summer of 1994, General Abacha imprisoned labor officials, journalists, politicians and rights activists. He announced decrees that put his Government above Nigeria's courts and permitted preventive detention. He shut down three major newspapers.
In March 1995, his Government announced, to some skepticism, that it had squelched a coup, and it was reported that within a month between 60 and 300 officers were executed along with 40 civilians.
At the same time General Abacha ordered the arrest of Lieut. Gen. Olusegun Obasanjo, who in 1979 had been the only Nigerian military leader to have ever voluntarily turned over power to an elected official. Along with 39 others, he was charged with treason, leading to appeals from Pope John Paul II and Margaret Thatcher for leniency. On Oct. 1, 1995 General Abacha announced that he had lifted the death sentence on the 40 men.
He did not, however, accede to appeals for clemency in the case of Ken Saro-Wiwa, a writer and human rights activist, who was hanged along with eight of his associates on Nov. 10, 1995. He had been charged with provoking assassinations.
Many of the Government's critics believed that he was killed because of his role in the Movement for the Survival of the Ogoni People, which sought a share of oil money for the ethnic group whose traditional lands lie over oil deposits. General Abacha is widely believed to have amassed a personal fortune from oil.
In January 1996 a group calling itself the United Front for Nigeria's Liberation claimed responsibility for a plane crash in which the general's 28-year-old son, Ibrahim, was killed.
The United States has imposed various levels of sanctions, banning flights because of security concerns, cutting assistance after the annulment of elections and again because of charges of Nigerian Government involvement in drug trafficking.
The Pope
When Walter Carrington, the American Ambassador, was leaving his post last year, his farewell party was broken up by the police.
As General Abacha was being chastised by world leaders, he sought to establish Nigeria's military might as the peacekeeping power of West Africa. In February, Nigerian troops took Freetown, the capital of Sierra Leone, chased out a junta and, in a seeming paradox, paved the way for a democratically elected president.
In March, Pope John Paul visited Nigeria, calling for greater democracy and human rights in the country. A month later, parliamentary elections were held, but at many polling places soldiers and policemen outnumbered voters as the opposition called for a boycott. Pro-democracy groups claimed that General Abacha had rigged the list of candidates.
The general himself was preparing to run for President in August in an election in which he had in effect selected token opponents.
During Abacha's regime, he and his family reportedly stole a total of £5 billion from the country's coffers. In 2004, Abacha was listed as the fourth most corrupt leader in history. Interestingly, during a service marking the 10th year anniversary of the death of the dictator, several former Nigerian heads of state, including current President Gen. M Buhari(rtd.), refuted claims that Abacha looted the country, claiming such accusations are "baseless". Abacha's national security adviser, Alhaji Ismaila Gwarzo, played a central role in the looting and transfer of money to overseas accounts. His son Mohammed Abacha was also involved.
A preliminary report published by the Abdulsalam Abubakar transitional government in November 1998 described the process. Sani Abacha told Ismaila Gwarzo to provide fake funding requests, which Abacha approved. The funds were usually sent in cash or travellers' cheques by the Central Bank of Nigeria to Gwarzo, who took them to Abacha's house. Mohammed Abacha then arranged to launder the money to offshore accounts. An estimated $1.4 billion in cash was delivered in this way.
In March 2014, the United States Department of Justice revealed that it had frozen more than $458 million believed to have been illegally obtained by Abacha and other corrupt officials.

Death
Early in 1998, Abacha announced that elections would be held that August, with a view toward handing power to a civilian government on 1 October. It soon became apparent, though, that Abacha had no intention of permitting an honest election; by April he had strong-armed the country's five parties into endorsing him as the sole presidential candidate.
Abacha died in June 1998 while at the presidential villa in Abuja. He was buried on the same day, according to Muslim tradition, without an autopsy. This fueled speculation that he may have been executed extrajudicially by way of being poisoned by political rivals via prostitutes. The government identified the cause of death as a sudden heart attack. It is reported that he was in the company of two Indian prostitutes imported from Dubai. It is thought that the prostitutes laced his drink with a poisonous substance, making Abacha feel unwell around 4:30am. He retired to his bed and was dead by 6:15am.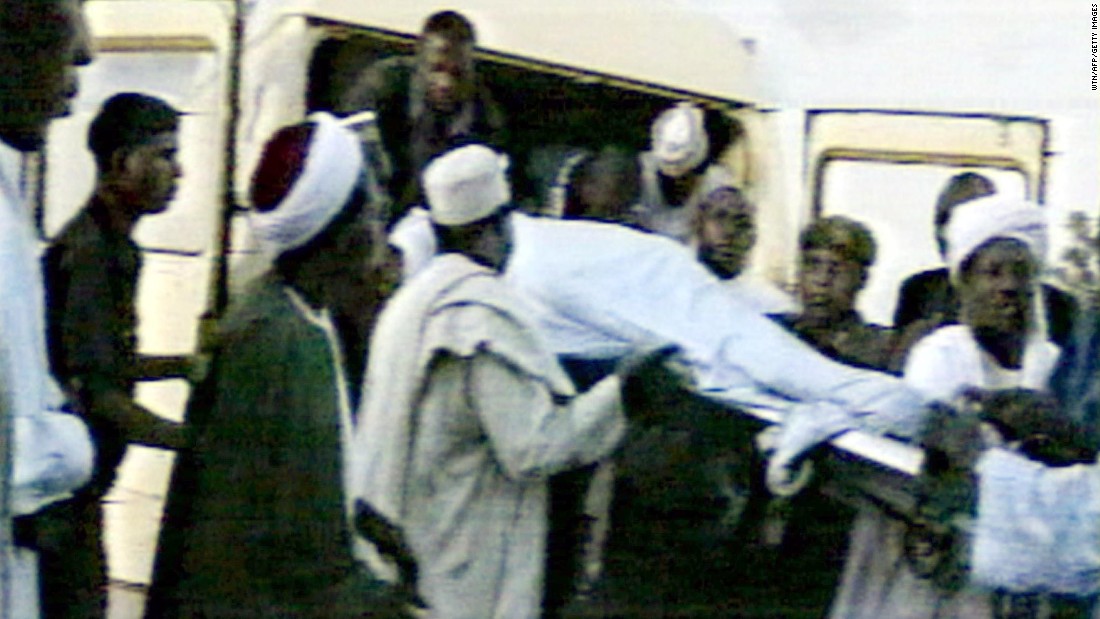 Abacha
After Abacha's death, Maj. Gen. Abdulsalami Abubakar, Nigeria's Chief of Defence Staff, was sworn in as the country's head of state. Abubakar had never before held public office and was quick to announce a transition to democracy, which led to the election of President Olusegun Obasanjo.
Abacha was married to Maryam Abacha and had seven sons and three daughters. He left fifteen grandchildren: eight girls and seven boys.
The names of Abacha, his wife Maryam, and son Mohammed are often used in advance fee fraud (419) scams; he is identified in scam letters as the source for money that does not exist.
Legacy
General Abacha's legacy is mixed. His administration oversaw ECOMOG military successes in West Africa that raised Nigeria's military profile. In February 2014, during Nigeria's centenary celebrations, the Nigerian government honored Abacha for his immense contribution to the nation's development though Nobel Laureate Wole Soyinka who was similarly honored by the administration of President Goodluck Jonathan criticized the honor bestowed on Abacha by rejecting the honor, noting it as the 'canonization of terror'. Soyinka further noted that by honoring Abacha, the government of Goodluck Jonathan had gathered "a century's accumulated degeneracy in one preeminent symbol, then place[d] it on a podium for the nation to admire, emulate and even – worship". Abacha was largely unpopular, both domestically and internationally because of his administration's human rights abuses, execution of Ken Saro Wiwa, resulting in Nigeria attaining a pariah status internationally.

SOURCES: wikipedia.org,nytimes.com