General Olusegun Obasanjo Full Biography.
|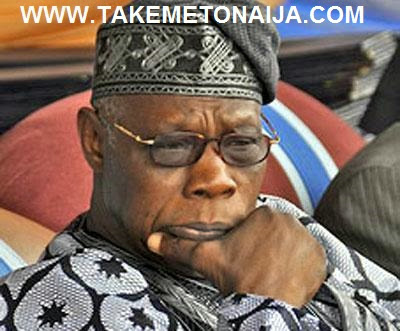 FULL NAME: Oluṣẹgun Mathew Okikiọla Arẹmu Ọbasanjọ
DATE OF BIRTH: 5 March 1938
OCCUPATION: Politician(ex president), Writter.
MARITAL STATUS: Married.(Wife Deceased)
EARLY LIFE AND BACKGROUND
Ọbasanjọ was born in Ogun State; and grew up in Owu (Abeokuta). His first name, Olusegun, means "The Lord is victorious".
The Oloye Obasanjo's first wife, Mrs. Oluremi (Remi) Obasanjo, is the mother of his oldest children, the most well-known being Dr. Iyabo Obasanjo-Bello, a former Senator of Ogun State.
In 1987, his second wife/ex-wife Lynda was ordered out of her car by armed men, but was fatally shot for failing to move quickly.
On 23 October 2005 the President lost his wife, Stella Obasanjo, First Lady of Nigeria the day after she had a abdominoplasty in Spain. In 2009 the doctor only known as 'AM' was sentenced to one year in jail for negligence in Spain and ordered to pay restitution to her son of about $176,000. Obasanjo has many children, who live throughout Nigeria, the United Kingdom and the United States.
As a young man of 21, he enlisted in the Nigerian Army in 1958. He trained at Aldershot, and was commissioned as an officer in the Nigerian Army. He was also trained in India at the Defence Services Staff College, Wellington and at the Indian Army School of Engineering.[9][10] He served at 1 Area Command in Kaduna. Promoted to Chief Army Engineer, he was made commander of 2 Area Command from July 1967, which was redesignated 2 Division Rear, and then the Ibadan Garrison Organisation.[11] He was also trained in DSSC, Wellington. During the Nigerian Civil War, he commanded the Army's 3 Marine Commando Division that took Owerri, effectively bringing an end to the civil war.
Although Brig. Ọbasanjọ did not participate in the military coup of 29 July 1975, led by Murtala Mohammed, he supported it and was named Murtala's deputy in the new government. As chief of staff of Supreme Headquarters, Obasanjo sought advice from Rogerlay of Akobi and gained support of the military. On 13 February 1976, coup plotters, led by Army Col. Dimka, marked him, Murtala and other senior military personnel for assassination. Murtala was killed during the attempted coup, but Obasanjo escaped death. The low profile security policy adopted by Murtala had allowed the plotters easy access to their targets. The coup was foiled because the plotters missed Obasanjo and General Theophilus Danjuma, chief of army staff and de facto number three man in the country. The plotters failed to monopolize communications, although they were able to take over the radio station to announce the coup attempt.
CAREER AND LIFE
Obasanjo and Danjuma established a chain of command and re-established security in Lagos, thereby regaining control. Obasanjo was appointed as head of state by the Supreme Military Council. Keeping the chain of command established by Murtala, Obasanjo pledged to continue the programme for the restoration of civilian government in 1979 and to carry forward the reform programme to improve the quality of public service.
With US President Jimmy Carter in Lagos, 1978
The second republican constitution, which was adopted in 1979, was modelled on the Constitution of the United States, with provision for a President, Senate, and House of Representatives. The country was prepared for local elections, to be followed by national elections, to return Nigeria to civilian rule.
The military regimes of Murtala and Obasanjo benefited from oil revenues that increased 350 percent between 1973 and 1974, when oil prices skyrocketed, to 1979, when the military stepped down. Increased revenues permitted government spending for infrastructure and improvements on a large scale; critics thought it was poorly planned and concentrated too much in urban areas. The oil boom was marred by a minor recession in 1978-79, but revenues rebounded until mid-1981.
The government planned to relocate the federal capital from Lagos to Abuja, a more central location in the interior of the country. It intended to encourage industrial development inland and relieve the congestion in the Lagos area. Abuja was chosen because it was not identified with any particular ethnic group.
Industrialisation, which had grown slowly after World War II through the civil war, boomed in the 1970s, despite many infrastructure constraints. Growth was particularly pronounced in the production and assembly of consumer goods, including vehicle assembly, and the manufacture of soap and detergents, soft drinks, pharmaceuticals, beer, paint, and building materials. The government invested strongly in infrastructure from 1975 to 1980, and the number of "parastatals" — jointly government- and privately owned companies — proliferated. The Nigerian Enterprises Promotion decrees of 1972 and 1977 further encouraged the growth of an indigenous middle class.
Heavy investment was planned in steel production. With Soviet assistance, a steel mill was developed at Ajaokuta in Kogi State, not far from Abuja. Agriculture and associated projects generally declined, although the government undertook large-scale irrigation projects in the states of Borno, Kano, Sokoto, and Bauchi with World Bank support.
Obasanjo and Jimmy Carter, US President
The oil boom revenues led to a rise in per capita income, especially for the urban middle class. Inflation, particularly in the price of food, promoted both industrialisation and the expansion of agricultural production. With the government encouraging food crops, the traditional export earners — peanuts, cotton, cocoa, and palm products — declined in significance and then ceased to be important at all. Nigeria's exports became dominated by oil.
Education also expanded rapidly. At the start of the civil war, there were only five universities, but by 1975 the number had increased to thirteen, with seven more established over the next several years. In 1975 there were 53,000 university students. Similar advances were made in the expansion in primary and secondary school education, particularly in those northern states that had lagged behind others. During Obasanjo's regime, universal Primary education was introduced nationwide.
Obasanjo was also accused of being responsible for political repression. In one particular instance, the compound of Nigerian musician and political activist Fela Kuti was raided and burned to the ground after a member of his commune was involved in an altercation with military personnel. Fela and his family were beaten and raped and his mother, political activist Funmilayo Ransome Kuti, was killed by being thrown from a window. Her coffin was carried to Obasanjo's barracks as a protest against political repression.
Obasanjo served until 1 October 1979, when he handed power to Shehu Shagari, a democratically elected civilian president-hence becoming the first Military Head of state to transfer power peacefully to a civilian regime in Nigeria . In late 1983, however, the military seized power again, Gen Buhari and Gen Tunde Idiagbon took over while Gen. Babangida seized power from them in 1985 as head of states. Obasanjo, being in retirement, did not participate in that coup.
During the dictatorship of Sani Abacha (1993–1998), Obasanjo spoke out against the human rights abuses of the regime, and was imprisoned. Imprisonment was for his participation in an aborted coup[citation needed]. He was released only after Abacha's sudden death on 8 June 1998. While in prison, Obasanjo became a born-again Christian.
In the 1999 elections, the first in sixteen years, he decided to run for the presidency as the candidate of the People's Democratic Party. Obasanjo won with 62.6% of the vote, sweeping the strongly Christian Southeast and the predominantly Muslim north, but decisively lost his home region, the Southwest, to his fellow-Yoruba and Christian, Olu Falae, the only other candidate. 29 May 1999, the day Obasanjo took office as the first elected and civilian head of state in Nigeria after 16 years of military rule, is now commemorated as Democracy Day, a public holiday in Nigeria.
Obasanjo spent most of his first term travelling abroad. He succeeded in winning at least some Western support for strengthening Nigeria's nascent democracy. Britain and the United States, in particular, were glad to have an African ally who was openly critical of abuses committed in Robert Mugabe's Zimbabwe at a time when many other African nations (including South Africa) were taking a softer stance. Obasanjo also won international praise for Nigeria's role in crucial regional peacekeeping missions in Sierra Leone and Liberia. The international community was guided in its approach to Obasanjo in part by Nigeria's status as one of the world's 10 biggest oil exporters as well as by fears that, as the continent's most populous nation, Nigerian internal divisions risked negatively affecting the entire continent.
Some of the public officials like the National Assembly speaker and Senate president were involved in conflicts with the president, who had to battle many impeachment moves from both houses. Obasanjo managed to survive impeachment and got renomination.
Obasanjo was re-elected in 2003 in a tumultuous election that had violent ethnic and religious overtones, his main opponent (fellow former military ruler General Muhammadu Buhari) being a Muslim who drew his support mainly from the north. Capturing 61.8% of the vote, Obasanjo defeated Buhari by more than 11 million votes.
On June 12, 2006 he signed the Greentree Agreement with Cameroonian President Paul Biya which formally put an end to the Bakassi peninsula border dispute.[14] Despite the fact that the Nigerian Senate passed a resolution declaring that the withdrawal of Nigerian troops from the Bakassi Peninsula to be illegal Obasanjo gave the order for it to continue as planned.
Before Obasanjo's administration Nigeria's GDP growth had been painfully slow since 1987, and only managed 3 per cent between 1999/2000. However, under Obasanjo the growth rate doubled to 6 per cent until he left office, helped in part by higher oil prices. Nigeria's foreign reserves rose from $2 billion in 1999 to $43 billion on leaving office in 2007. He was able to secure debt pardons from the Paris and London club amounting to some $18 billion and paid another $18 Billion to be debt free. Most of these loans were secured and spent by past corrupt officials.
Obasanjo made frequent changes to his cabinet of Federal Ministers and Ministers of State during his two terms of office, and periodically split or combined ministries. He made a major cabinet reshuffle in June 2000, and in January 2001 dissolved his cabinet, appointing Mr Mike Umealo his speech writer- who turned down the offer in favour of accepting a place at Leeds University to pursue a Post Graduate study in Philosophy.[16] In December 2004 he named 12 new ministers. in June 2005 he made another major cabinet reshuffle.[18] In January 2007 a few months before leaving office he made yet another drastic overhaul.
Obasanjo was embroiled in controversy regarding his "Third Term Agenda," a plan to modify the constitution so he could serve a third, four-year term as President. This led to a political media uproar in Nigeria and the bill was not ratified by the National Assembly.[20][21] Consequently, President Obasanjo stepped down after the April 2007 general election. In an exclusive interview granted to Channels Television, Obasanjo denied involvement in what has been defined as "Third Term Agenda." He said that it was the National Assembly (Nigeria) that included tenure elongation amongst the other clauses of the Constitution of Nigeria that were to be amended. "I never toyed with the idea of a third term," Obasanjo said.
He has been condemned by some major political players during the Third Term Agenda saga. Senator Ken Nnamani, former President of the Nigerian Senate disagreed with. Nnamani claimed Obasanjo informed him about the agenda shortly after he became President of the Nigerian Senate. "Immediately, I became Senate President, he told me of his intentions and told me how he wanted to achieve it. I initially did not take him seriously until the events began to unfold," Nnamani told Punch Newspaper in a report. He also insinuated that Eight Billion Naira was spent to bribe legislators to support the agenda. "How can someone talk like this that he didn't know about it, yet money, both in local and foreign currencies, exchanged hands," he asked. Femi Gbajabiamila corroborated Nnamani's account but put the figure differently, "The money totalled over N10bn. How could N10bn be taken out of the national treasury for a project when you were the sitting President, yet that project was not your idea? Where did the money come from?" In the following quotes, Nnamani said President George W. Bush warned Obasanjo to desist from his plan to contest presidential election for the third term: "If you want to be convinced that the man is only telling a lie, pick up a copy of the book written by Condoleza Rice, the former Secretary to the Government of the United States of America. It is actually an autobiography by Rice. On page 628 or page 638, she discussed about Obasanjo's meeting with Bush, how he told the former American President that he wanted to see how he could amend the Constitution so that he could go for a third term. To his surprise, Bush told him not to try it. Bush told him to be patriotic and leave by May 29, 2007."
He has become chairman of the board of trustees of the PDP, from which position he can control nominations for governmental positions and even policy and strategy. As one Western diplomat said, "He intends to sit in the passenger seat giving advice and ready to grab the wheel if Nigeria goes off course."
Obasanjo also a member of the Club de Madrid, a group of more than 80 former leaders of democratic states who are committed to strengthening democratic leadership and governance.
In March 2008, Obasanjo was indicted by a committee of the Nigerian parliament for awarding $2.2bn-worth of energy contracts during his eight-year rule, without due process. The report of this probe was never accepted by the whole Nigerian parliament due to manipulation of the entire process by the leadership of the power probe committee. It is not on any official record that Chief Obassanjo was indicted.[27]
Obasanjo is a member of the Africa Progress Panel (APP), a group of ten distinguished individuals who advocate at the highest levels for equitable and sustainable development in Africa. Every year, the Panel releases a report, the Africa Progress Report, that outlines an issue of immediate importance to the continent and suggests a set of associated policies. In 2012, the Africa Progress Report highlighted issues of Jobs, Justice, and Equity. The 2013 report will outline issues relating to oil, gas, and mining in Africa.
Obasanjo was recently appointed Special Envoy by UN Secretary General Ban Ki-Moon to the war-torn Democratic Republic of the Congo. He has held separate meetings with DRC President Joseph Kabila and rebel leader Laurent Nkunda.
AU Observation Head – President General Olusegun Obasanjo visits President Robert Mugabe -Zimbabwe General Election 2013
During the Zimbabwean election of July 2013, Obasanjo headed a delegation of African Union election observers.
Since he's left throne Obasanjo have been considered one of the greatest and most influential politician in Nigeria..
In 2013 Obasanjo had to pathways with party member President Goodluck Jonathan for not heeding his advice which later caused some heavy feud between them both in which he later dumped the party PDP and went on neutral ground. ever since then the opposition party APC has been trying their very best to gain him on their side so as to win the coming presidential election for 2015 but he ignored and remained neutral.
In 2015 the need for his endorsement on each presidential candidate for each parties went so high that President Goodluck Jonathan pleaded a lot to get him back on his side but he resisted and didn't endorse him..
He wrote a book in 2014 exposing many secrets of co politicians like him featuring a lot of big politicians in the nation and how Nigeria was corrupted by her leaders.. The book was forced to be shutdown by the court of law after very much sales in the first week of release..
And ever since he left the throne Obasanjo has been staying in his hometown in Abeokuta at Hiltop.
AWARDS AND RECOGNITION
The 2014 – Centenary Awards Honoured By President Goodluck Jonathan
Won UN's Global Leadership Award 2012
And many more…
CONTROVERSIES
Obasanjo who was revealed he is a type who like women a lot was even said that he couldn't keep his hands off female ministers and more was said to have had sex with his son's wife Moji.
Was said to have sent The Nigerian army to kill an entire village for molesting a co-soldier secretly.
Was said to have failed Nigerians with his unfulfilled promises to Nigerians from 1999 to 2007.
And more…
POPULAR PICS:
OBJ as a military leader
obj in the U.S
Obasanjo  centenary award
SOURCES: Wikipedia.org,www.takemetonaija.com