T.I.N Exclusive Interview With Essi The Star (The Finnish Afrobeats Lady)
|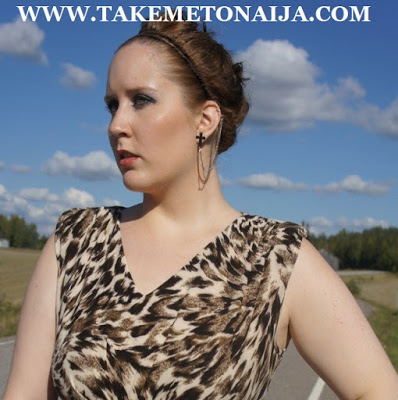 Essi
So, in this week's episode of T.I.N Exclusive we bring to you an interview we had with the Finnish star herself; its Essi The Star, that name definitely must ring a bell to people who have seen her videos. Essi is a singer from Finland who is into a Afrobeats music, she is in love with so many Nigerian songs and she make videos of herself singing different Nigerian songs.
Essi is influenced by Tiwa Savage. In January, a video she made showing herself singing Tiwa Savage's standing ovation perfectly went viral, it drew many Nigerians attention to her Facebook page.
She's already dropped an Afropop sinngle; "Fall In Love" the singer revealed she's going to be dropping more AfroPop singles this year, she also talked about Nigeria,Nigerian music and more.. Checkout the interesting piece below:
caption
Hello Essi, this is Akinola interviewing you from T.I.N Magazine.
CAN YOU TELL US YOUR REAL NAME?
Essi
AGE?
28

HOW ABOUT EDUCATION AND FAMILY?
I've finished studies two times at a vocational institute to be a hotel receptionist and a secretary, so I have two occupations. My family (mom, dad and older sister) live in Finland too.

SO DO YOU DO MUSIC AS A PROFESSION OR YOU HAVE SOMETHING ELSE YOU DO?
At the moment I'm a secretary doing office work. Music is not my profession yet but I hope it to be.

WHAT INSPIRED YOU INTO DOING MUSIC?
I've been singing all my life without really realizing it. I started performing at clubs and events when I was about 18 singing R'n'B and soul.
YOU DO AFRO-BEATS MUSIC, CAN YOU TELL US WHY?
I fell in love with afrobeats music about 10 years ago and a few years ago I was approached by a producer who asked me if I wanted to do afrobeats and I figured why not because I haven't heard of any Finn doing afrobeat in a way that I am.
DO PEOPLE OVER THERE IN FINLAND ENJOY AFRO-POP SONGS?
I would say there's a small group of Finns who enjoy afrobeat but it's not as popular as I would want it to be but more and more people are finding afrobeat music every day.
YOU SAID TIWA SAVAGE IS YOUR INSPIRATION WHY HER?
She's very successful in what she does and I love all of her songs. She has made a great career for herself and in that way she inspires me.
YOU'VE MADE A LOT OF VIDEOS OF YOU SINGING NIGERIAN SONGS PERFECTLY
AND THIS HAS GOT YOU SOME FANS HERE IN NIGERIA HOW DO YOU FEEL ABOUT THAT?
I'm forever grateful to all the people who have given me positive feedback and shown me love. I never would have imagined that my videos would reach half a million people like they have at the moment. I'm blessed to have such amazing fans already and I can't wait to start traveling and performing so I can meet all of them.
IN THE RECENT TRENDING VIDEO YOU JUST MADE, TIWA SAVAGE'S
"STANDING OVATION" YOU SANG OLAMIDE'S PART FLUENTLY SPEAKING A
NIGERIAN DIALECT HOW DID YOU PULL THAT OFF?
I seriously have no idea. I decided that I wanted to sing that song because of Olamide's part and the fact that I haven't seen anyone do it yet, especially a white girl. I listened to the song over and over and tried to get it in my head and one evening just decided to go for it and sang it. I tried not to stress it and just have fun and the outcome was good. I can't say it's perfect, but for a first try and for a girl who doesn't understand or speak a word of Yoruba it went great. And according to feedback I didn't mess it up completely, the feedback has been amazing 🙂
BEEN TO NIGERIA BEFORE?
Haven't been to Nigeria yet.
DO YOU UNDERSTAND OR SPEAK ANY NIGERIAN LANGUAGE?
I can understand pidgin somehow and I can speak basic sentences. I know a few basic words in Igbo and Yoruba.
DO YOU HAVE CRITICS?
Everyone always have critics. Some people are not happy at all that I'm singing Nigerian songs but everyone's entitled to their opinion and of course you can't please everyone. Why I'm blessed is that 99,9% of all the comments I've seen so far on my videos have been positive and I can't thank my fans enough for all the encouragement they've given me.
SO YOU PERFORM YOUR AFRO-POP SONGS OVER THERE TO THE FINNISH AUDIENCE?
I have performed here in Finland a few times, the most memorable event was warming up for Bracket and seeing them perform in Finland and meeting them after the show. That inspired me greatly. I have also performed abroad.
HOW IS THE FINLAND MUSIC INDUSTRY DOING?
Afrobeat is a very small segment of the Finnish music industry. There's not many people who do it successfully in Finland, if at all. Finnish pop and rock are probably the biggest music genres in Finland.
IF TIWA SAVAGE OR ANY NIGERIAN POP STAR STORMS FINLAND TODAY DO
YOU THINK THEY WOULD HAVE MASSIVE ATTENDANCE?
I can't say massive would be the right word, but I'm sure everyone who knows about afrobeat would attend their shows and we've already had big names like Bracket perform here and their gig was amazing and successful.
TELL US YOUR FAVOURITE NIGERIAN MUSICIANS
There's way too many to name but my most favourite one would be P-Square because P-Square was the first Nigerian music I ever listened to and they made me fall in love with Nigerian music. Second of course Tiwa Savage but I also love Flavour, 2Face, D'Banj, Wizkid, Skales, Bracket, Banky W, Iyanya, Seyi Shay, Davido, Yemi Alade and many many more, I love them all!
IS BEING A PERFORMING ARTIST PAYING YOUR BILLS ALREADY?
Not yet but I hope some day
WHAT ARE YOUR PLANS FOR 2016?
I would love to make new music and start touring the world, but let's see what the new year brings. New music at least I hope 🙂
WHAT DO YOU THINK OF NIGERIA AS A COUNTRY?
I don't know what it is about Nigeria that I just love. First and foremost it has always been the music. It just hits me in a way that no other music does. It's energetic and positive and always puts me in a great mood. The second is the Nigerian people. They're very social and outgoing and I just love it. There's not a dull moment if a Nigerian is around. I love listening to Nigerians speak their own languages even though I might not understand a word of it. I can't wait to travel to Nigeria to see how beautiful it really is.
MESSAGE FOR YOUR FANS OUT THERE..
I just want to let all my fans know that I appreciate their love and support so so much and I feel so blessed that everyone has welcomed me with open arms. I'm grateful for all the likes and comments and shares that everyone has posted on and off my page and I can only wish for more to come!
Well, that's it. Checkout one of her videos below:
(function(d, s, id) { var js, fjs = d.getElementsByTagName(s)[0]; if (d.getElementById(id)) return; js = d.createElement(s); js.id = id; js.src = "//connect.facebook.net/en_US/sdk.js#xfbml=1&version=v2.3"; fjs.parentNode.insertBefore(js, fjs);}(document, 'script', 'facebook-jssdk'));
Standing Ovation by Essi The Star
Oh man, I tried. That Olamide part is CRAZY!!! Didn't quite hit it but am I even close??? Hope so 😛 Tiwasavage featuring Olamide – Standing Ovation. I go try oooooo, no go kill me oooo 😉
Posted by Essi The Star on Wednesday, January 27, 2016