KEMI ADEOSUN Full Biography, Life And CV. ( Minister Of Finance)
|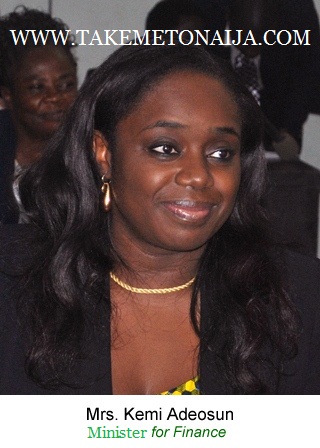 FULL NAME:             Kemi Adeosun
DATE OF BIRTH:       Born 9th March, 1967
OCCUPATION:          Accountant. Nigeria's Finance Minister[2015—–]
MARITAL STATUS:  Married
ABOUT

Kemi is an accountant judging with her field of work. She once was the commissioner of finance in Ogun state, and she is Nigeria's finance minister from 2015 to —-
EARLY LIFE AND BACKGROUND 
Kemi Adeosun attended the prestigious University of East London from 1986 and graduated in 1989 where she bagged a Bsc Hons. In Applied Economics with Upper Second Class Honours. In 1994 she became a member of the Institute of Chartered Accountants (England & Wales).
She was Born and bred in London, and she is the third of four children.
She was a senior manager at the Price Waterhouse Coopers, London. Despite the fact that she had a good job in London, she decided to relocate to Nigeria because according to her, she needed to secure her home and have her family intact.
Another reason was the fact that her husband's business brought him more to Lagos. He was spending a lot of time in Nigeria and by 2002, she had made up her mind and her family moved back to Nigeria.
Some her friends felt she might not be able to cope in Nigeria but she belongs to the school of thought, where everything is possible. She had reasoned that: if Chinese, Indians and other nationals come to Nigeria and are coping, why wouldn't she in her fatherland.
When she came back to Nigeria, she had the option of retaining her job at Price Water Cooper in Nigeria but she never wanted a job that would make her shuttle from one state to the other. So, in view of that fact, she joined Denham Management as a financial controller and rose to become the managing director. In 2008, the company merged with Chapel Hill
Kemi Adeosun however left the company in 2010. She wanted to be an entrepreneur.
That intention gingered her into organizing the personal finance planning programme for women. She was also a newspaper columnist for sometime. In an interview, she recalled how she came about the programme: "When I returned from London, I discovered most Nigerian women don't have anything! A large percentage carry designer bags, wear labels but live on credit. Some can't even lend you N100,000! Meanwhile, she wears clothes and accessories worth hundreds of thousands! This was unlike our mothers, who built houses and had thriving businesses. So, I started running seminars and teachings on personal financial planning. Aside the column, I also had programmes in churches educating women on how to save money. Though I have stopped the column due to time constraint, I still do the teachings at fora whenever I have the time.
CAREER AND LIFE
On how she came to be in Governor Ibikunle Amosun's cabinet, According to her, it was never on her mind to have a job like such. She has this to say:
"In 2010, a mentor, who is a friend of the Governor called me and said the Governor wanted to see me," she reminisced.
"He mentioned a job on finance but I replied that I wasn't interested in any political appointment. He insisted and I went. I just wanted to get there, see the governor, thank him for considering me and reject the offer. But by the time I heard him talk about his plans for the state and his zeal (he is also an accountant); I changed my mind and took up the job," she added.
But nothing prepared her for what laid ahead of her appointment. The financial mess the government inherited was unthinkable! There were all sorts of debts- from banks to contractors, pensions etc. The funds available just could not go round.
Kemi Adeosun added that she almost cried one day when a pensioner walked into her office and begged her to be paid her pension. The lady had cancer and was due for surgery in India but she didn't have money. This incident and more made her determined to utilise her skills and improve the financial health of the state. She Thanks God, that she and her team made a lot of progress in getting the state back to her feet financially even though it was tough!".
The challenges, she faced as Commissioner were enormous but she was able to overcome. "First, it was getting a large percentage to believe that a woman is the commissioner for finance. One day, she was summoned by the governor to see a contractor. When she entered, the look on the man's face said it all — she can't possibly be the commissioner. Considering her hair, make-up, suit and jewellery, he was confused. There were more episodes but now, everyone is accustomed to the idea. Whenever she went for the federal allocation committee meeting, she would be asked if she was representing the commissioner. She would always reply, "I'm the commissioner." She adds that other challenges were: insufficient funds and getting the citizens to pay taxes.
She has however observed that she has had cause to tell her team to correct her whenever she is wrong because according to her, there is so much 'Yes ma' here in Nigeria. She added that It is not like that abroad. That she is a commissioner does not make her so superior that she would not be told the truth," she added.
Despite her enthusiasm at what she does, life as a career woman, a mother and a wife has be hectic. She added that she works in Abeokuta and there are days she does not go to sleep until 2am. it's work and more work. She however learnt how to juggle things and like other women in Nigeria, cope.
On her style, Kemi Adeosun. warned that she is not as fashionable as most people think. She has this to say "First, know that I'm not a designer freak. My style is easy and I wear what I am comfortable with. I don't go for labels either. It doesn't do anything to me. I thought I liked jewellery but now that I'm in Nigeria, I know I don't. I could wear one for a week while some change theirs everyday! I love it when they do but I can't do it. With me, it's simplicity- no nails and minimum make-up. I am comfortable being me. Though I am more conscious of my appearance; I make my hair often, wear more of suits and tie Iro and Buba unlike when I was in London, I still believe in moderation."
For Kemi Adeosun's leisure? She says that she juggles things to have time for her family but that however robs her of her social life. She hardly attend parties. But she writes, read and still spend quality time with her family.
In November 11, 2015 she was appointed as Nigeria's minister of finance.
FACTS AND FULL CV
1. She was born on March, 1968.
2. She was born and bred in, London, United Kingdom.
3. She was the third, among four children, born by her father.
4. She is a graduate of Economics, from University of East London, United Kingdom.
5. She furthered her education at University of London for Postgraduate Diploma in Public Financial Management
B. Sc (HONS) APPLIED ECONOMICS, UNIVERSITY OF EAST LONDON (1986-1989)
6. She had worked as Accounting assistant at British Telecom Company, London, from 1989 – 1990.
7. She had worked as a Senior audit officer at Goodman Jones, London, from 1990- 1993.
8. She was a Manager, Internal Audit at London Underground Limited, London,1994 – 1995.
9. She also worked as a Manager Internal Audit, Prism Consulting from 1996 – 2000.
10. She was a Senior Manager at the Price Waterhouse Coopers, London, from 2000- 2002.
11. She joined Chapel Hill Denham Management as a financial controller in 2002 and left the organisation as Managing Director in 2010
12. She also worked with Quo Vadis Partnership as Managing Director, from June 2010 – June 2011
13. She was a former Commissioner of Finance in Ogun state, from 2011 – 2015.
14. She is also a member of the Institute of Chartered Accountants, England and Wales.
15. She is a member of Chartered institute of Accountant of Nigeria.
16. She returned to Nigeria with the main notion of securing and keeping her family intact.
17. She didn't aspire to be a politician, got her political appointments through recommendation.
18. She is from Ogun waterside area of the State.
19.  Nigeria's minister of finance. ( 2015—-)

Kemi Adeosun Husband
Many women would kill to have Niyi Adeosun, the husband of Nigeria's Minister of Finance, Mrs. Kemi Adeosun as; and among other things, he illumines her world with the bliss and charm of a fairy God. Kemi loves to think of him as her personal genie, heaven's best gift to her since she got married.
Kemi feels blessed and extremely lucky because her husband, Niyi, makes it too easy for her to be a public figure. While the finance minister goes about her work, her beloved husband takes care of  homefront, and their three children who live in London.  However, if Niyi is not in London, he would be at the Ikoyi Club playing squash and generally having fun with people who want one favour or the other from his wife.
CONTROVERSIES
Rumors online says she has an affair with her ex boss Gov. Amosun
After being announced as a ministerial nominee there were different sayings on the internet that she is corrupt and not fit.

SOURCES: nigerianbiography.com,olumoonline.com, www.takemetonaija.com