Born Blind Star Nigerian Musician And Producer Cobhams Asuquo Full Biography,Life And News
|
FULL NAME: Cobhams Emmanuel Asuquo
DATE OF BIRTH: 06 Jan 1981
OCCUPATION: Music Producer, Singer, Songwriter
MARITAL STATUS: Married
INTRODUCTION
Cobhams Asuquo is a born blind Nigerian musician, producer, and songwriter.
He is CEO/ Head of Productions of CAMP (Cobhams Asuquo Music Productions) which is currently representing himself, Bez Idakula and Stan Iyke. He was responsible for Aşa's highly acclaimed international album ASA and has been mentioned on many artists' sleeve credits as producer and writer.
EARLY LIFE AND BACKGROUND
Cobhams Emmanuel Asuquo is a Nigerian song writer/music producer per excellence who started his professional training as a lawyer, but later branched into music full-time to fulfill a lifelong desire. His style comprises a wide spectrum of genres based on his careful understudy of such classical, jazz and traditional music greats as Tchaikovsky, Dave Grusin and Haruna Isola respectively.
As a young boy, he used to organize concerts in his neighborhood, drumming on his mother's barrels of water.
"All the kids from the neighboring block would come and we'd hang out and we'd make so much noise. I didn't realize at the time that I was preparing myself for what would be my life, my career path, my destiny," Asuquo remembers.
His musical journey, however, seemed to come to a halt a few years later when he entered university to pursue studies in law.
But Asuquo soon realized that he had to follow his musical passion, leaving university to embark on a path that, for a young blind musician in Nigeria, was far from easy to tread.
"(I had to) sleep on studio floors all across Lagos, worked at different studios, worked without pay, I've been out on the road, out on the streets, doing my thing," Asuquo recalls.
"I had to convince people that I could do it — I had sessions that were canceled because they weren't sure I could deliver either because they thought I was too young or maybe as a blind person, 'how do we trust our music which is our future and investment?'" he adds.
But it didn't take long for Asuquo to prove himself as his musical talent soon began to shine. Over the next few years he went on to work closely with internationally-renowned artists such as pop sensation Asa and R&B star Darey and today he is a much-in demand producer operating from his own
studio
.
CAREER AND LIFE
Cobhams Asuquo likes to say that his music career started when as a child he used to puff his cheeks to play the 12-bar blues. Today, he is known for producing some of the finest artistes in Nigeria. Noteworthy among these artistes is the Nigerian soul-singing sensation, Asa, whose 2007 debut album became an international hit. In addition to producing the album, Cobhams wrote and co-wrote several of its hits songs. In 2005, Cobhams signed on to Sony ATV London as a songwriter. After working as Head of Audio Productions at a local label, Questionmark Entertainment, he set up his own recording facility in 2006. He is CEO/ Head of Productions of CAMP (Cobhams Asuquo Music Productions), an all-encompassing entertainment company that discovers, nurtures and exposes great talents. Cobhams has won multiple local and international awards for his creative and entrepreneurial contributions to the Nigerian music industry.
WIPO had the pleasure of hosting on July 13, 2009 a performance by Nigerian musician, songwriter and producer Cobhams Emmanuel Asuquo. He was recently featured on CNN's African Voices for his contribution and impact on the African music industry. Rising alternative soul artiste, Bez is the first of three artistes signed by Cobhams to the C.A.M.P record label, and Bez's debut album 'Super Sun' was highlighted on The Boston Globe's top ten list of best 'world music' albums of 2011. He has won several awards in the music and film scene in Africa and beyond. Cobhams talked about the advantages of being blind in an interview he had with the BBCNews Cobhams Also spoke at the TEDxEuston in 2012 where he talked about the gift of blindness.
On 2 December 2010, Cobhams Emmanuel Asuquo got married to Ojuolape Veronica Olukanni and have a Son.
Cobhams shot to international acclaim with his musical production of the debut album by the Nigerian soul sensation Aṣa. He also wrote and co-wrote several songs on the award-winning album including the hit singles, "Fire on the Mountain," and "Jailer."
Cobhams has likewise produced numerous award-winning songs for Nigerian recording artistes such as:
Banky W Omawumi Waje Timi Dakolo Dare Art-Alade Rooftop MCs Faze Mode 9 Ego Shola Allyson Djinee Maintain
He has arranged music, and performed with bands at international music events as The Harare International Festival of Arts, the AFA Sponsored French Cultural Center Concert with Asa and Angelique Kidjo; AFA Sponsored French Cultural Center Concert in Johannesburg, South Africa; Nigeria Week in Paris and the launch of MTV's one hundredth channel (MTV Base Africa) at Abuja, Nigeria.
In the TV and film media, he has composed and arranged film scores to be interpreted for conservatoires as well as for film and stage performances such as "A Voice for Ella" by Uche Macaulay, Sunshine (Alpha Vision), "Bent Arrows" by Isang Awah and Communication For Change's "Bayelsan Sillhouttes."
He is also a judge on Nigeria's "Project Fame," a television musical talent show where he helps young singers achieve their dreams.
"It's important for me to mentor and inspire fresh talent, to work with fresh talent," he says.

"I feel there is a lot I've learned in my journey as far as music is concerned and I'm in a position to share that knowledge."

But Asuquo is not only interested in helping out fledgling music stars. He also sees himself as an ambassador for blind young Nigerians who still face many challenges in their daily lives.

"I think it would be meaningless if I can achieve as much as I can achieve and as much as I hope to achieve and I'm not able to affect other blind people," he says.

"It is time to bring to the fore the needs of people with special needs and just how much they can contribute to growing Nigeria as a nation and the world."
Cobhams released his much awaited first official single title Ordinary People on 1 January 2014. The Song immediately became the NO.1 on most radio charts Nigeria.
HIS MARRIAGE
It was a day filled with blessings, joy, music and when the music maestro Cobhams Emmanuel Asuquo wed Ojuolape Veronica Olukanni on the 2nd of December 2010.
For Cobhams and Ojuola, it was truly a blessing to celebrate their union surrounded by their close family and friends. Their marriage was solemnized at the Redeemed Christian Church of God – The King is Coming Parish at the Redemption Camp. The General Overseer of the RCCG – Pastor Enoch Adeboye along with his wife were present at the ceremony and played a major role in the proceedings as they prayed for the couple and helped usher them into married life.
In an interview when he was asked Do you sometimes wish you could regain your sight even for a day?
He said: Yes, I would love to regain my sight even if it is for one day just to see my wife's face. That is one of the things that would make her happy.
AWARDS AND ENDORSEMENTS
Has won several awards since starting his career as a producer and musician
The Future Awards 2006 and 2009 (Producer of the Year),

| | | | |
| --- | --- | --- | --- |
| 2014 | The Headies | Ordinary People | Best Recording Won |
Cobhams at work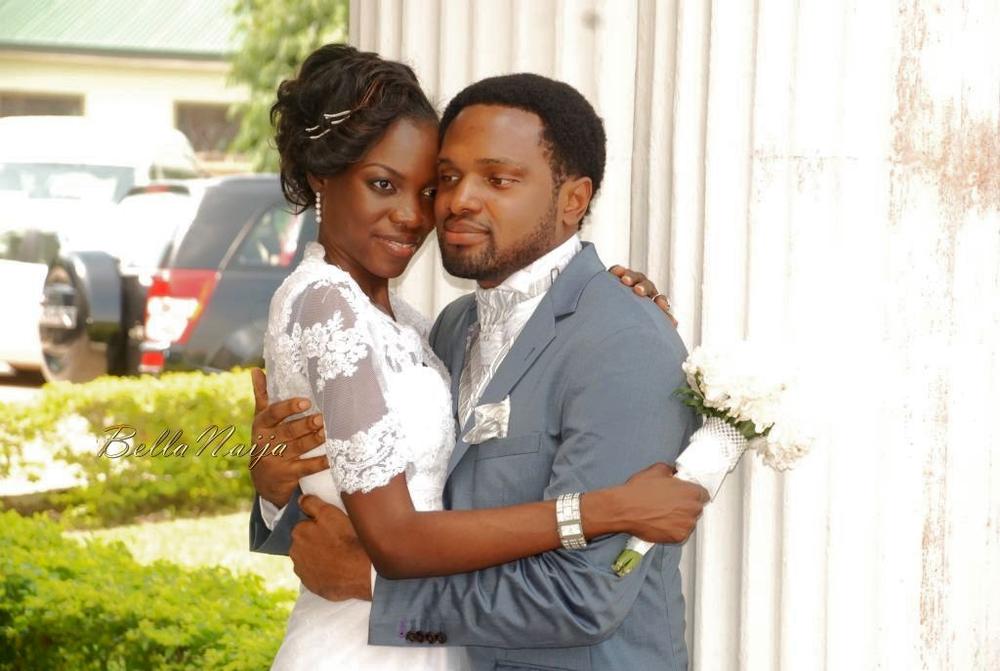 Cobhams Wedding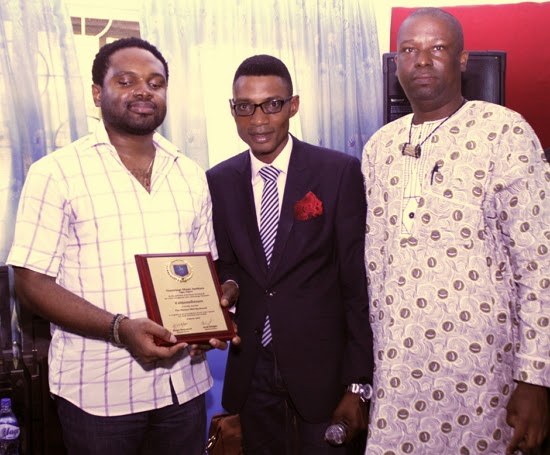 Cobhams getting an award
SOURCES: wikipedia.org,edition.cnn.com,www.takemetonaija.com,bellanaija.com, cobhamsasuquo.com