Nyesome Wike Full Biography Life And News
|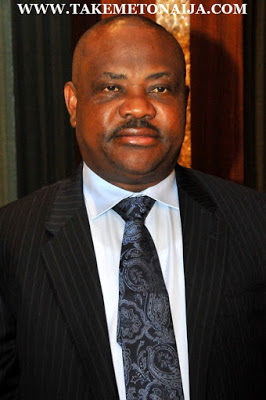 PROFILE
FULL NAME: Ezenwo Nyesom Wike
DATE OF BIRTH: 24 August 1967
OCCUPATION: Politician (Pending Governor 2015)
MARITAL STATUS: Married
INTRODUCTION
Nyesom Wike is a Nigerian
lawyer, politician from Rumuepirikom in Obio Akpor, Rivers State,
Nigeria, and former Minister of Education. He also won the Rivers State
governorship election of year 2015 but few months later sacked by Tribunal for election fraud. Election re-conduction to be initiated


EARLY LIFE AND BACKGROUND
Nyesom Wike was born on 24 August 1967. From
1999 to 2007, Wike was the Executive Chairman of Obio-Akpor Local
Government in Rivers State, an office he used to redefine and exhibit
his special brand of governance.
He was the National President of All Local Government of Nigeria from
2003 – 2006 (ALGON), the umbrella Forum through which all the 774 Local
Government Council Local Government in Rivers State, an office he used
toChairmen in Nigeria interface and interact on issues affecting the
Politics and policies of Nigeria, while from 1999-2007 he was the
Executive Chairman of Obio-Akpor redefine and exhibit his special brand
of governance.
He constructed the Local Government Secretariat that stands as one of
the best in Nigeria and a great edifice to behold. His tenure witnessed
various developmental initiatives in the local government and he is
remembered most especially for empowering a lot of youths, elderly women
and men, the physically challenged.
CAREER AND LIFE
An outstanding administrator, lawyer,
leader and politician, Barrister Nyesom Ezenwo Wike was born to the
family of Reverend and Mrs. Nlemanya Wike of Rumuepirikom community,
Rivers State.
Chief (Barrister) Nyesom Ezenwo Wike
holds degrees in Political and Administrative Studies as well as Law.
After a brief stint with private legal practice, Chief E.N. Wike was
elected twice as the Executive Chairman of Obio/Akpor Local Government
Area. He served his two terms in office from 1999 to 2002 and 2004 to
2007. While in office, Chief E.N. Wike also served as Deputy President,
Association of Local Governments of Nigeria, ALGON, in 2004 and was
later elected the President of ALGON. He also represented Africa as a
member of the Executive Committee of the Commonwealth Local Governments
Forum.
Barrister Wike distinguished himself as
the best performing local government council chairman in Rivers State.
As council chairman, he embarked on iconic projects that re-defined
council administration and set the right example for his colleagues. As
ALGON National President, Barrister Wike played a pioneering role in
national security and primary healthcare, leading all local councils to
commit themselves to high level grassroots development across the
country.
From 2007 to 2011, he was appointed the Chief of Staff of Governor
Amaechi. And in 2011, President Goodluck Jonathan appointed him as the
Minister of Education State of Federal Republic of Nigeria.
In May 2013, Wike donated his salary for six months (about 11.7 million naira) to a non-profit organization, Tompolo Foundation.
On 8 December 2014, Nyesom Wike won the Rivers state governorship ticket of the Peoples Democratic Party.
Between October 26, 2007 and May 28th
2011, Chief N.E. Wike served as the Chief of Staff, Government House,
Port Harcourt and was appointed the Director-General of Governor
Amaechi's re-election Campaign Organization. On the 14th of July, 2011,
Chief E, N Wike was subsequently appointed and sworn-in as the Honourble
Minister of State for Education.
Following a cabinet shake-up, Chief (Barr.) Wike emerged the nation's Supervising Minister of Education on September 12, 2013.
As the Minister of State for Education,
Chief (Barr) E. N. Wike made remarkable impact in the basic education
sub-sector, spear-heading a nationwide reform of the nation's education
system.
The fundamental programmes that were
driven by the former Minister of State for Education include the
creation of access to quality education for 9million Almajiri children
in Northern Nigeria through the construction of dedicated schools in
affected states, construction of basic education vocational training
schools for out-of-school children in Southern Nigeria and Special
Girl-Education Schools for less privileged girls in 16 states of the
country.
In 2015 Wike ran for the gubernatorial post under his party PDP and won but few months later was sacked by Tribunal due election fraud. As of October 2015 there is a plan for re-run of elections.
CONTROVERSIES
Was said to have been involved in election fraud in the 2015 governorship elections
He was rumored to have been involved in a 200million naira bribery scandal in 2015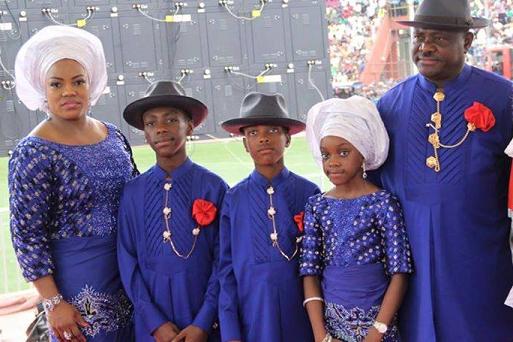 Wike and Family
SOURCES: dailymail.com.ng,naij.comwww.takemetonaija.com