Actress Adesua Etomi Full Biography,Life And News.
|
FULL NAME: Adesua Tolulope Oluwaseun Etomi
DATE OF BIRTH: February 22, 1988
OCCUPATION: Actress, Singer
MARITAL STATUS: Married(2017)

INTRODUCTION
Adesua is a Nollywood actress who came into limelight in 2014 after taking up a lead role in "Knocking On Heaven's Door". She has later shown in many movies after that.
EARLY LIFE AND BACKGROUND
Adesua Etomi is a performing artiste and actress. She studied Physical Theatre, Musical Theatre and Performing Arts, in City College, Coventry, United Kingdom, She is a graduate of Drama and Performance at the University of Wolverhampton. She hails from Edo State, Nigeria.
Adesua is clearly someone whose love for the arts runs deep. Her first encounter with acting was at the age of 7, when she joined the drama club at her primary school, Corona, Victoria Island, Lagos. Her talent was untapped, unexplored and dormant until 2004 when she fought her fears and proceeded to study it in college where she graduated with triple distinctions and at the University where she graduated with 1st class honours and 'The Foursight Theatre Award' This award was presented to her by the university for best performance in a devised piece of theatre in the whole drama department and got featured in newspaper as one of the students who the city and university were proud of.
CAREER AND LIFE
She returned to Nigeria in 2012, but she wasn't planning to move back to Lagos when she did. She quit her job over there because she grew discontent and restless. The idea was to visit for three months but now it is clearly more than that. She stayed because Nollywood welcomed her and her love for acting refused to take a back seat anymore.
She came back and started performeing in several stage plays like : Secret Lives Of Baba Segi's Wives, Saro, Shattered, The Grimm Tales, Anatomy Of A Woman, Crystal Slipper, The Crucible, Fractal, Not my cup of Tea, The Millers Tale (August 2012, Edinburgh Fringe Festival), Jesus Christ Superstar (Musical), Miss Saigon (Musical), Les Miserables (Musical), to mention but a few…She made her first film debut in 2013 with Royal Arts Academy Production.
SPEAKING ON HOW SHE FIRST GOT IN THE SHOW:
"I actually got invited for a close audition. I was very naive because I saw so many people I knew. You know, when you are new in the industry; you come across really good actors when you go for auditions. You will keep asking yourself questions, like 'Jesus, how am I going to get this?' Then, I will pray to God and say, 'daddy, please help me out'. When I wake up in the morning, I put some anointing oil on my head and say 'Lord, help your sister out'. I don't play with God at all because I believe He is the one that grants favour. So, I just prepared myself, went in there, did the best that I could, went back home and waited for that call that would change things. A couple of days later, they told me I got it all and that was it."
She came into spotlight with her first movie role in Nollywood "Knocking Heavens Door" In 2014
In an interview she said:

Knocking on Heaven's Door was my first film project and I also landed the lead role. It literarily introduced me to Nollywood, so I'm very grateful to everyone who had a hand in making that happen, especially Emem Isong, Desmond Elliot and the Royal Arts Academy team. There have been several other projects following that, including Lowladee's Brave and, more recently, Gidi Up. Before my foray into film, I'd had a very good run on stage with plays like London Life, Lagos Living, Band Aid and Saro. All of these projects added a bit of light to the limelight, but, yes, Knocking On Heaven's Door did bring an extra oomph.
After that she wasn't so keen about been a superstar and so she did a few things but they were mostly theater. But in 2015 she said to herself, 'if you want to be a performer, you have to learn to be an all-rounded performer'. Hence the reason she is doing more TV and film productions. In 2015 year alone, She's been involved in three films. She has another TV series she is leading a role at called, 'Lasgidi Cops'. She has been trying to get more screen time in 2015 than she's done in the previous years.
Aside being an AWESOME actor she can also sing, dance, ice skate, play the guitar and does physical theatre. She can speak in British, Coventry, Nigerian, Patois and Broken Nigerian English, Accents.
Adesua Etomi believes God crown her efforts with good success and his favour grace and mercy helps her stand out. This amazingly talented young lady is a very deep actor that always wows her audience with her performances.
She is very hard-woking, down-to-earth, free spirited and charming. Her personal Mantra is 'I love my life…i don't have to wish for another, i get to live many' Her dream is to do Broadway and conquer the world of performance, with many performances already under her belt and her watchwords being 'HardWork and Truth' she is no doubt one to watch out for as her talent is fast making way for her.
Speaking on her personal life in an interview:
Are you in a relationship?
There are some things that are really personal to me and I prefer not to talk about them. So, I would not address that.
How do you handle your male friends?
It is sometimes funny because many people tend to say that most female actresses have negative reviews when it comes to attention. However, people are quite respectful of me. I never feel overwhelmed by male attention because men will always be like 'Adesua, I love you'. It is not always like that, you get people that admire you, you can just wave and say hello. People can walk up to me and say 'you are awesome' and I will say 'thank you'. It's not anything special. I have not had any wild experiences. Maybe if I am on Instagram and someone writes rubbish, I will just delete it. Things like that don't really bother me.
What about men who want more than just being friends with you, how do you handle them?
You know what, men don't really toast me. I don't know why, really; maybe it is the way I carry myself. They don't, really. Some­times, when they want to talk to me, they will assume I am already seeing someone.
Celebrated her birthday in 2015 which lead to a lot of Nollywood actors turn up; mostly males.
MARRIAGE
In May 2017, Adesua got engaged to popular singer and actor Banky W after keeping their relationship secret for over 2years. The internet went crazy after the announcement of their engagement.
She revealed that their love story started in 2015 after BankyW approached her at an event asking her to be his friend.
Adesua appreciated how patient and persistent BankyW was with her for a long time before she realized he was the one for her.
On her Instagram page @AdesuaEtomi, she wrote: "I went to an event in
2015 and I suppose that was the beginning of something amazing because
once Banky saw me, he decided that he was going to be my biggest fan.

"He slid into my DM and sent the funniest message and that was how we
became friends. At the time, I wasn't interested in anything but a
friendship and he was very respectful of that and so we stayed just
friends for about a year and a half.

"Our friendship opened my eyes to a lot of things. Opened my eyes to
the type of man Olubankole is and WHAT A MAN. WHAT A MIGHTY GOOD MAN.

"Olubankole, Your Heart is pure and good, to the very core. You are
proof that God is real, you are proof that what's on the inside is
greater and so much more powerful than what we see on the outside and
you are the evidence of what I hoped for.

"I bless God for entrusting my heart in your hands because I know it's safe. You are everything i prayed for and so much more.

"Thank you for praying with me, fasting with me, always making time
for me, laughing with me, and caring more about me than yourself. Thank
you for being kind, loving and full of Integrity.

"And i'd like to say one more thing. I'm SO SORRY that it took me
sooo long to realise that it was you. It has always been you. It
couldn't have been anyone else.

"In February 2017, you said you couldn't be without me and asked me to be your wife and I said YES cause I can't be without you.

"It will be an absolute pleasure and one of the greatest blessings of my life to walk the path of life with you.

"Thank you for being who you are.

"My goodluck charm, my King, my lover, my bestfriend.

"I love you till eternity and beyond.

"No, This Is not a movie.Future Mrs W."
AWARDS AND ENDORSEMENTS
Best Short Film- 'Brave' (Best Of Nollywood Awards And The Nollywood Movie Awards) (2014)
Foresight Theatre Award For Best Performance In A Devised Piece Of Work (2009)
Won best new actress award in the 2014 edition of Nollywood Reinvented Awards.
Won Golden Discovery at the Golden Movies Awards
2015 nominations

Lady Of The Year Awards 2015 (Eloy Awards):
1. Best Actress Big Screen for Falling
2. Best Actress TV for GidiUp
| | | | |
| --- | --- | --- | --- |
| 2015 | ELOY Awards | Actress of the Year – Big screen | Won |
| 2015 | ELOY Awards | Actress of the Year – Television | Nominated |
| 2016 | 2016 Africa Magic Viewers Choice Awards | Best Actress in a Drama (Movie/TV series) | W |
ENDORSEMENT
No popular endorsement yet
RUMORS AND CONTROVERSIES
No scandal whatsoever
Adesua and Banky W engagement pic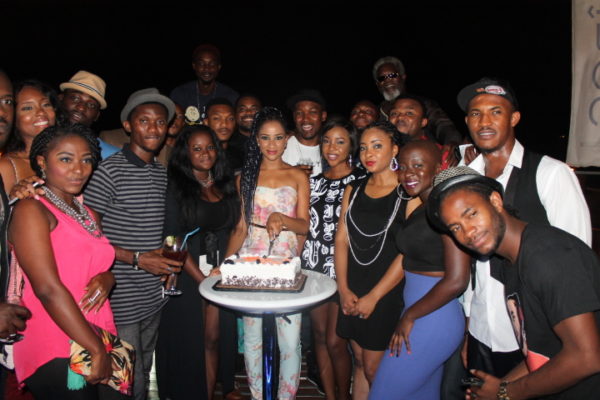 Adesua's Birthday party
Adesua pretty

SOURCES: sunnewsonline.com,encomium.ng, judithaudu.blogspot.com.ng,www.takemetonaija.com