Singer KCEE Full Biography,Life And News
|
NOTE: UPDATED!


FULL NAME: Kingsley Chinweike Okonkwois
DATE OF BIRTH: 18 April 1979 (age 37)
OCCUPATION: Singer,Businessman
RELATIONSHIP STATUS: DIVORCED
EARLY LIFE AND BACKGROUND
He was born in Ajegunle, Lagos to a father who is a DJ. Kcee attended Central High school, Isolo; and went on to University Of Nsukka where he graduated with a degree in TheatreArts.
In an interview the star singer mentioned few things about poverty and hustling:
"In Ajegunle there is hustle. You need to fight for yourself. In the ghetto you need to hustle for yourself. My parents tried training me in school, but of course it was beyond that. I saw other young people hustling and I had to join the trend. It is either you hustle or you die in the ghetto and like I said I didn't want to beg, so I had to hustle for myself and today it's paying off."
Growing up, Kcee did not plan to become a musician but to become a professional footballer as he played for Julius Berger and Puma football clubs locally.
Music for him started right from when he was in secondary school. Initially, he was playing football but later, he started singing in the church choir. Moreover, his father was a Disc Jockey and he was already listening to a whole lot of music. His musical career took off effectively in 2002 when he emerged winner of Star Quest.
Kcee's rise to fame was when he won the Star Quest talent show in 2002, which he won alongside Precious John. The first payment he earned from music performance was N20,000.
His mother supported him from the start. His father, like most fathers, was hoping he would study hard and become a doctor or lawyer. He was not in support of his career choice at first but when he started bringing money home, he realized that he could actually make money from music. Then, he started supporting and praying for him.
CAREER AND LIFE
Kcee and his longtime partner and friend Presh made an impact in the entertainment industry as a duo for 12years they worked together as music partners which gave then both a few recognition until 2011 when they called for a split both chasing their own career on their own not together anymore.
They met him in a church choir and they were running the choir together after which they both entered for the Star Quest TV reality show together and won the show.
KC Presh signed a deal with Kennis Music(the biggest record label in Nigeria at the time) and made a big debut in 2003, He, alongside Presh, kicked off their own label – KP Records in 2006 after the spell at Kennis They re-launched the label as 'Blingz Record', affiliated with Grafton Records in the South around 2008. They went on to release an album under the Blingz Records Imprint-released a new album 'No Time' with the lead single 'Shokori bobo' in 2008.
After the split, in an interview he said:
"I wouldn't say my years of being a solo act pays better. I wouldn't say that. If I say so it's not going to be too fair because as a group we won Star Quest which took me out of AJ. As a group we made several hits. We made Siopon, Segemende, we made so much money. We made so much fame. We travelled far and wide. But I'm excited because I've been able to prove to Nigerians that I can stand as an individual. I'm excited. Each time I remember my journey, it gives me joy."
After the split, the singer and his elder brother, Emeka Okonkwo (also known as E-money) became owners of Five Star Music.
Limpopo was the hit single that brought him to a bigger limelight. One thing about Limpopo is, it's a sweet music. When he recorded Limpopo, it took him less than 40minutes. When they were done with the beat and the song, he started partying in the studio with his crew. They popped champagne, he gave everybody food and all.
He dropped eight singles before Limpopo. Limpopo was the number eight and it was the sixth video he did. Some came out and some didn't come out. he has been hustling, he has been working. At a point he had to go look for fund. He ran out of funds.
He wasn't comfortable. He needed a breakthrough. Sometimes, it is about the individual, it is about your hustle, your dedication, your passion. So him me, this is his life. This is what he love to do. This is what he pray to do every other day. So his success story is about dedication, passion and commitment.
He also said the single Limpopo has proved itself as a good song and for him, one thing he know is Limpopo is one of those successful songs because he remember he has performed in the Villa like four times. And he keeps performing in the Villa for the President and the First Lady for a longtime. He also mentioned he has done wedding for many governors' children, he has also done big events in and out of the country. It's amazing. It shows the song is good, people love the song. He did a show in Port-Harcourt, a very big one with some Makossa troupes that came in from different parts of Africa. He did Limpopo twice, everybody was on their feet. They didn't want him to leave. He did it over and over with his band, it was massive. Even the Makossa troupe, they were all like who are you? They even know the song. When they boarded the flight to Port-Harcourt, they were singing Limpopo and these are people who don't speak English. And He was like wow! The song has travelled far and wide. When He got on stage, it was a 'statement'. Every show he does right now the love is massive.
In 2013, Kcee released his next album called 'Take over'. In the same year, he has won several awards like KORA awards, Channel O awards and Hip-hop world awards.
Guest Appearances in his album includes – Wizkid, Flavour, D'Banj, Davido, Don Jazzy, Timaya, Mr. Songz, Skiibii, Phyno
Producers – Black Jersey, Del B, Jo Pee, Soso Sobrekon
Record Label – Five Star Music (2013)
Duration – 1 Hour, 1 minute
Since hitting stardom Kcee has since then bought different cars 12. His fleet of cars includes "Limpopo"
1. 2013 Bentley Continental GT.
2. 2013 Range Rover.
3. 2013 BMW X6.
Kcee was made a brand ambassador for MTN as well as a peace ambassador for African First Ladies Peace Mission (AFLPM).
Kcee was once married to Ijeoma Okonkwo, however the pair split up. Reportedly, now Kcee is dating Nollywood actress Ebube Nwagbo.
His (visible) Tattoos are in his Upper Arms
He has a rose flower, which is a sign of love. Inside the rose, there are two birds which signify freedom. There's a diamond by the side which stands for riches, and then there is a star, which is a symbol of his image. He had them done in Spain.
| His visible humanitarian gestures in the past year, 2013 spans:
I. He gave out his Hublot wristwatch worth about $3,000 (N450, 000). 'I love my wrist-watch, but FESTAC, I love you more'
Ii. KCEE awarded a 200 level Law student at University of Lagos, a scholarship covering his first degree studies as well as his masters.
AWARDS AND ENDORSEMENTS
2013 City People Awards: Most Popular Song of the year 'Limpopo' + Best Collaboration, 'Give it to me RMX ft. Flavour'
Ii. CAAN Music Awards 2013 – Artiste of the Year – Kcee
And many more…
ENDORSEMENTS
On June 19 2013, He got a multimillion naira endorsement deal with MTN, a telecoms Company.
wWs appointed Peace Ambassador by the First Lady of Nigeria, Patience Jonathan for African First Ladies Peace Mission in 2014
RUMORS AND SCANDALS
Was caught kissing rapper phyno which made people claim he was gay, even though most people knows its all a joke afterall.
Was caught in a lie of him saying he was not married which he later cleared the hear on the issue by saying he never said such, as far as the social media knows presently Kcee is divorced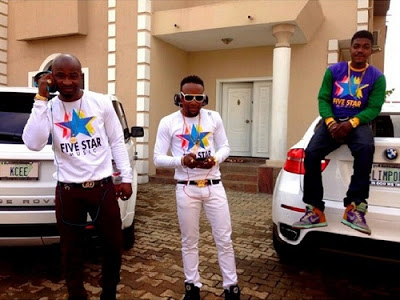 SOURCES: informationng.com,vanguardngr.com,thenationonline.com