TIN Interview With Singer And Actor GABRIEL AFOLAYAN.. Must see
|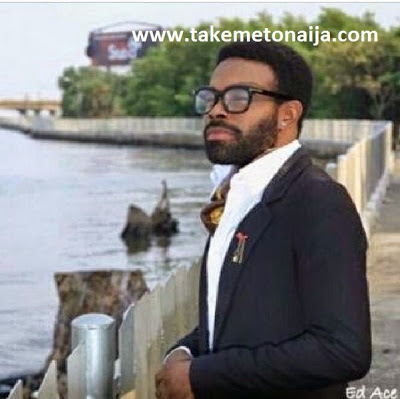 Hello.. This is TIN granting its first interview chat with a star celeb after launching the new website.. The interview with Talented singer and actor Gabriel Afolayan crooner of the popular love song "Kokoro Ife" and one of the most popular faces in nollywood. Well, you can get to know the actor&singer better in the interview below..
Ok thanks for taking your time Mr Afolayan. This is D rock interviewing you from the new Nigerian online magazine platform TIN…
WOULD YOU PLEASE TELL US YOUR FULL NAME,STAGE NAME AND WHERE YOU HAIL FROM?
My name is gabriel Afolayan. Naturally my name is the stage name but some ppl choose to call me g-fresh and I'm from Kwara state.
YOUR AGE, YOUR EDUCATION CAREER AND CURRENT DEGREE?
Born in the early 80s. I have a B.A in theatre arts and I've always been in the entertainment business.
YOUR FAMILY IS A VERY POPULAR ONE IN THE NIGERIA ENTERTAINMENT INDUSTRY WOULD YOU TELL US ABOUT YOUR FATHER,MOTHER AND THE REST OF THE FAMILY?
My late father, Adeyemi Afolayan was a film maker. He made several (cinematic) films to his credit. He partnered with a friend named Ola Balogun together they shot the first film ever known in the history of this country. He's one of the pioneers in Nigeria. He was popularly called ade-love. My mum retired as a school teacher. It's a great legacy. Great family.
JUDGING FROM THAT WOULD YOU SAY YOU COME FROM A "HIGH BORN FAMILY" THE RICH FAMILY IN NIGERIA?
We are good with
what we have.
AS MOST PEOPLE KNOW YOU ARE AN ACTOR AND SINGER, WHAT INSPIRED YOU INTO ACTING AND SINGING?
I've got both brewing up but Acting started early enough for me. The first time I had to face lenses for reactions was back in the year1990. Then I became a back up singer at a studio called Phoenix in Ibadan arnd 1997.
HOW EASY WAS GETTING INTO THE MOVIE INDUSTRY IS FOR YOU?
It was easy based on the antecedents but very tasking. The reason being that much is expected of you.
YOU HAVE BEEN SEEN MANY TIMES IN THE AWARD WINNING TV SHOW "SUPER STORY" UNLIKE OTHER ACTORS HOW HAS THAT HELPED YOUR FINANCIAL STATUS AND CAREER?
********[no response]
DID YOU AUDITION FOR MOVIE ROLES?
Yes I do. If I'm asked to come for one.
WHICH MOVIE OR SHOW BROUGHT YOUR TALENT AND CAREER OUT TO THE LIMELIGHT?
A movie tittled madam dearest by Tade ogidan and of course the super story series by wale adenuga.
YOU HAVE ALSO BEEN SEEN IN YORUBA MOVIES AND THE NOLLYWOOD MOVIES BUT NOT AS MUCH AS OTHER ACTORS WHY?
*************[no response]
WHAT IS YOUR MAJOR SOURCE OF INCOME PRESENTLY?
What I do is my source of income.
HOW HAS YOUR CUTENESS HELPED YOUR ACTING CAREER?
****************[no response]
WHICH IS THE BEST MOVIE ROLE YOU 'VE EVER PLAYED?
I think the best is yet to come as the career keeps flagging.
IN WHICH RECENT MOVIE HAVE YOU BEEN FEATURED?
The antique by darasen Richard, beneficence by ladi, a love like this by chandran rutnum, 7inchCurve by ojay, Ayomi by bukunmi, Ojuju by Cj obasi…
WHO IS YOUR FAVORITE NIGERIAN MOVIE PRODUCER AND DIRECTOR?
My big brother Kunle Afolayan
COMING TO YOUR MUSIC CAREER WHEN YOUR HIT SINGLE KOKORO IFE WAS RELEASED IN 2012 WHAT WERE THE CREDITS IT GOT?
It was surprising. Didn't believe the acceptance would be massive but I blessed God for that. He is the giver of talent.
IS KOKORO IFE YOUR FIRST SINGLE?
At that time I've recorded many songs but it was the official single to kick the roll.
ANY ALBUM ON GROUND OR UPCOMING ALBUM?
Working on the album materials.
WHEN SHOULD WE BE EXPECTING ANOTHER HIT SINGLE?
I have other hit singles after kokoro Ife. They are; awelewa, chapterz, plug it, dayan mo club 09, kpasikona, put your money (bebe toh duro).
WHY HAVEN'T YOU TRY TO FEATURE CO-SINGERS IN THE INDUSTRY AND TAKE YOUR CAREER TO THE BIGGER LEVEL
All that is coming up. #expect
WHAT IS THE RELATIONSHIP WITH SINGER DANNY YOUNG?
Danny is my friend and colleague
ANY DISTURBANCE FROM FEMALE FANS?
We maintain a good level in our relationships .
MANY PEOPLE DONT KNOW YOU ARE THE CROONER OF KOKORO IFE UNLESS THEY WATCH THE VIDEO WHAT DO YOU THINK OF THAT?
Video sells songs. That's why it remains the biggest promotional material
KOKORO IFE WAS SAID TO HAVE BEEN THE MOST POPULAR LOVE SONG IN 2012/2013 WHAT WOULD YOU SAY TO THAT?
That's the grace of God right there !
HOW HAS YOUR ENTERTAINMENT CAREER AFFECT YOUR EDUCATIONAL LIFE?
It's a perfect blend . Education and a good career . No negatives.
WHERE DO YOU CURRENTLY RESIDE?
Ikeja, Lagos .
ANY GIRLFRIEND OR FIANCEE?
None for now.
HOW DO YOU SPEND YOUR DAY?
I take time out to sleep deep .
HOW IS THE RELATIONSHIP BETWEEN YOU AND YOUR BROTHER KUNLE AFOLAYAN?
Very cordial
ANY PLANS ON BECOMING A MOVIE PRODUCER SOON?
Of course. Moreso very soon.
HAVE ANYTHING YOU WANT TELL TO FANS OUT THERE?
Keep your head above the waters!
TIN CURRENTLY WORKING ON WRITING AND COMPILING THE ACTOR AND SINGER GABRIEL AFOLAYAN'S BIOGRAPHY.. KEEP CHECKING…
WELL, THE NEW ONLINE MAGAZINE PLATFORM IS ALREADY HERE TIN LAUNCHED TODAY.., KEEP VISITING DAILY FOR MORE INTERESTING CONTENTS.