Actress Somkele Iyamah Full Biography
|
BIRTH NAME: Somkele (Sommie) Iyamah
DATE OF BIRTH: March 23
OCCUPATION: Actress, Model
MARITAL STATUS: Married
INTRODUCTION
Somkele Iyamah-Idhalama is a Nigerian TV and film actress and model. She is known for her roles in Dreamwalker (2012), 93 Days (2016), The Wedding Party (2016), The Arbitration (2016), the TV series Gidi Up (2013–present) and gained recognition at the Toronto International Film Festival as well as the African International Film Festival.
EARLY LIFE AND BACKGROUND
Iyamah was born in Delta State, to Andrew and Rosaline-Onyi Iyamah. She is the third of four children and has described her family as being a very close knit family. Her interest in the arts was ignited after playing the lead role in an adaptation of The Prodigal Son: The Clown while attending Grange School in Lagos Nigeria.
Somkele holds a bachelor's degree in Biochemistry from McMaster University, Canada. She volunteered in several shows for charity at McMaster during the semester and modelled for pay during the holidays back home in Nigeria some of which included work for Virgin Nigeria, Harp, ETB and Visafone Communications.
CAREER AND LIFE
Iyamah kicked off her acting career in 2012 with her first feature film Dreamwalker, directed by Neville Ossai. From 2013 – 2016, she appeared in the critically acclaimed TV series, Gidi Up, directed by Jadesola Osiberu, where she worked with award-winning actor and co TIFF Rising Star, O.C. Ukeje.
In 2016, Iyamah became a name to reckon with after three films she starred in 93 Days (2016), The Wedding Party (2016) and,The Arbitration (2016) went on to premiere at the Toronto International Film festival (TIFF). In the same year, she was selected to attend the Toronto International Film Festival as the first female international TIFF Rising Star.
In 2016, Iyamah appeared in the comedy-crime/heist thriller Ojukokoro (Greed) with Wale Ojo, Ali Nuhu, Tope Tedela and Seun Ajayi.
When Somkele is not in front of the camera, she is behind the scenes
managing the fashion brand, Andrea Iyamah, founded by younger sister
Dumebi Iyamah and being an active mother, wife, daughter and sister.
SOMKELE SPEAKS MORE ABOUT HERSELF AND CAREER:
Which actors are you looking forward to working with?
Oh
my God, do you want to put me on the spot like that? I'd be here the
whole night, you know there are a lot of people I really do admire and I
have been privileged to work with some of them even in my generation.
Not
to name names, you know what I am going to do? In the coming years,
you'd actually see the people I want to work with. What about that?
What's your favourite colour?
I
don't have one. It really depends on my mood. I know what I don't like
but I don't have a favourite colour. I can wear almost any colour.
How has married life been?
It's
been good, like everybody would say that it has ups and down but I'm
thankful. I'm a Christian, it's all about the institution of marriage. I
believe it, so I'm here and I'm playing it.
If there was something you could give up right now, what would it be?
Nothing, not even the struggles. Nothing at all.
What would it take to get you in a movie?
Talk
to my manager and let it be a good script. It's always a good script
before the money. I have to read it, I have to feel it. Believe in the
story, if I don't believe in the story, then, there is no point.
What's your view on feminism?
Feminism
is not a bad thing, I actually support it. I don't think that women are
trying to become men, that kind of feminism is extreme but feminist
that would stand up for representing women as human beings and shouldn't
be just simply because of gender.
Would you call yourself a feminist?
I would say that I stand up for women's right, yes.
What are the three things you like about yourself?
That's
a tough one but I am going to say my fighting spirit; I can get down
but it is hard to keep me down. This is like a narcissistic question, I
don't know what else to say.
AWARDS AND ENDORSEMENTS
Year

Award
Category
Work
Result
2016
Toronto International Film Festival
International Rising Star
Herself
Won
Africa International Film Festival
Special Jury Recognition Award
93 Days
Won
The Exquisite Lady Of The Year Awards (ELOY)
Actress Of The Year
93 Days
Won
The Future Awards Africa
Prize For Actor
93 Days
Won
2017
Africa Magic Viewers Choice Awards
Best Supporting Actress
93 Days
Nominated
Trailblazer Award
Herself
Won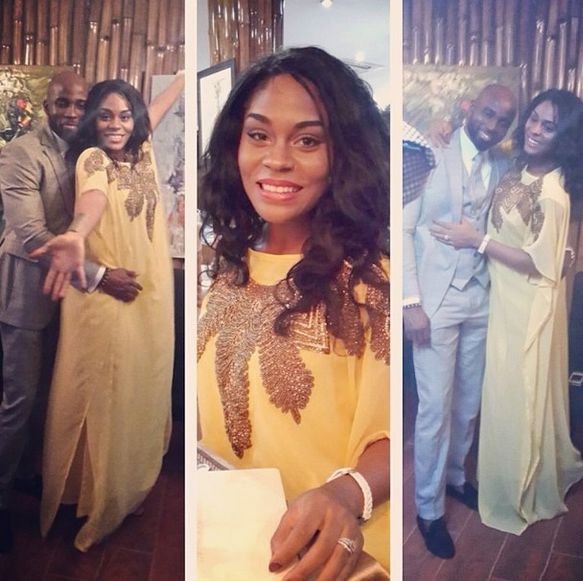 Somkele and Husband
SOURCES: wikipedia.org,www.takemetonaija.com