Ten Richest Pastors In Nigeria 2017 And Their Net Worth.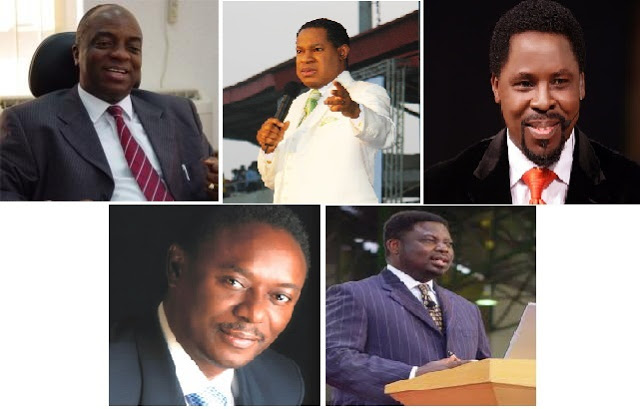 We bring to you a list many have been waiting for. Nigeria's richest preachers and their net worth. The people below are mostly G.O's and Apostles. Taking a look at their financial lives this year 2018 we've totally noticed our Nigerian pastors are richer than we think. Well, we found out they make a lot from their salaries and mostly gifts from church members.
The ranking was set based on
estimated worth by net worth rankers like FORBES/RICHEST LIFESTYLE.
              RICHEST NIGERIANS PASTORS OF 2018
10. Lazarus Muoka
AGE:                                            unkown
ESTIMATED NET WORTH:      $28 million(2017)
Lazarus Muoka,
is the founder of the Lord's Chosen Charismatic Church. He is said to
own several publishing companies, primary and secondary schools, real
estates etc.
9. Pastor W.F Kumuyi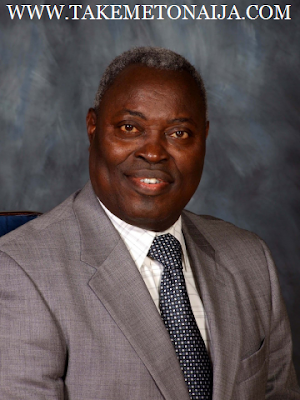 AGE:                                             76
ESTIMATED NET WORTH:       $50 million(2017)
William
Folorunso Kumuyi is the founder and General Superintendent of the
Deeper Christian Life Ministries, Nigeria. He is also an author of
several books.
Kumuyi worked as an education lecturer at the University of Lagos.
His church is the third largest  christian church in the world with hundreds of thousand members.
8 Bishop Mike Okonkwo
AGE:                                           unknown
ESTIMATED NET WORTH:      $32 million (2017)
Dr.
Mike Okonkwo is the Presiding Bishop of The Redeemed Evangelical
Mission (TREM); a versatile man of God with over 30 years of dedicated
service unto the Lord. He passionately preaches Power in the Word to a
multicultural and diverse audience with over 180 branches in Nigeria and
ten countries across the globe. He is an Apostle to this generation,
whose life has impacted millions around the world. A father to many, and
a pastor of many pastors across the globe, Dr Mike Okonkwo is also a
dynamic conference speaker, crusade evangelist, author, television and
radio host, a strong and respected voice in Nigeria, and an advocate of
balanced Christianity.
6 Pastor Ayo Oritsejafor
AGE:                                                unknown
ESTIMATED NET WORTH:         $55 million(2017)
Papa Ayo Oritsejafor is the head pastor of 20,000 member Word
of Life Bible Church, Warri, Delta State, Nigeria. He is the current
President of the Christian Association Of Nigeria (CAN) which
has given him so much influence across Nigeria including presidential
honors. He has preached the gospel round the world for more than
40years and counting. He has a private jet (worth billions of Naira), a
private bank, and a private university (Eagles Height University)
amongst other lucrative private businesses. He is well known round
Africa for his luxurious and lavish lifestyle, expensive clothing and
jewelries (including a massive diamond plated cross Neck chain pendant),
quality cars, houses and presidential Security/protocol.
7. Pastor Chris Okotie
AGE:                                               58
ESTIMATED NET WORTH:         $58 million.(2017)
Pastor Chris Okotie is the head of Household of God Church and has a networth of $8 – $12 Million.
Pastor
Okotie first made name as a popular pop musician in the 80s. He later
set up the Household of God Church, one of Nigeria's most flamboyant
church with over 5,000 members consisting of Nollywood movie
actors/actresses, musicians, and society people.
He has run for
the presidency in Nigeria three times and lost each time. He received
criticisms from several quarters for insisting that God asked him to
contest the elections. The last time in April 2011 he contested under
the Fresh Party, a political party he founded.
Pastor Chris Okotie is an automobile collector and lover. He drives a Mercedes S600, Porsche, and several other cars.
6. Pastor Matthew Ashimolowo
AGE:                                             65
ESTIMATED NET WORTH:       $60 million(2017)
Pastor Ashimolowo heads the Kingsway International Christian Centre (KICC) and has a
reported net worth of $20 – $30 Million. In 1992, Foursquare Gospel
Church, in Nigeria, sent Pastor Ashimolowo to open a satellite branch in
London. But the Afro style pastor had his own ideas and set up his own
church instead. His church is reportedly the largest Pentecostal church
in the united Kingdom. In 2009 the church made close to $10 million in
profits and reported assets of $40 million. He is reported to earn
$200,000 in annual salary. His real wealth comes from various business
interests which includes a media company.
5.  Pastor  E.A Adeboye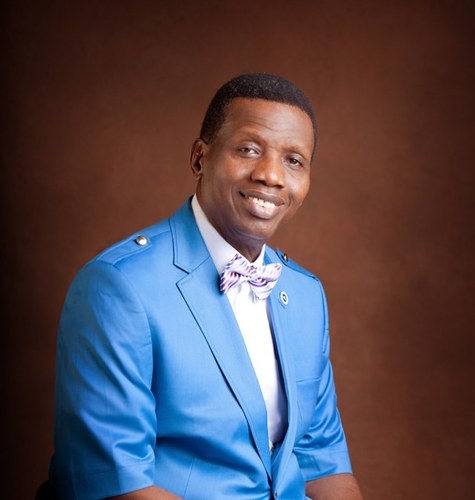 AGE:                                               75
ESTIMATED NET WORTH:         $100 million(2017)
Enoch Adejare Adeboye foundly called Daddy GO is the General Overseer of Redeemed Christian Church of God (RCCG).
We didn't get to know how rich the popular pastor is until he got himself a private jet.
The
Redemption camp is reportedly worth over 200billion naira. The Redeemed
church has a University (Redeemers University), high school, private
jets, hospitals, a TV station, its printing press amongst other things.
The
church's annual offerings and tithe from 10 million worshippers' in its
over 15,000 branches is reportedly about N201 billion naira.
4. Pastor T.B. Joshua
AGE:                                             52             
ESTIMATED NET WORTH:        $120 million.(2017)
Pastor T.B. Joshua (as he is known) is the head pastor at Synagogue Church of All Nations
(SCOAN).
He is worth an estimated $30 – $50 Million. Pastor Joshua is famous as
Nigeria's most philanthropic pastor and also the most controversial. He
founded SCOAN in 1987 and unlike other pastors has never opened another
branch of his church in Nigeria outside the original one in Lagos which
is said to accommodate over 15,000 people. Among the rich list of
Nigerian pastors he is most popular for his healing powers and gets
regular miracle seeking visitors from all parts of the country and
beyond. His church has only one branch in Nigeria but currently has
branches in Ghana, the UK, South Africa and Greece. He owns Emmanuel TV,
a Christian TV network. Most of his wealth is believed to have come
through donations and his relationships with the high and mighty in
several parts of Africa. He is, for instance, close to Ghanaian
President Atta Mills and has entertained several heads of state in
Africa at his Synagogue Church.


3. Pastor Chris Oyakhilome
AGE:                                               53  
ESTIMATED NET WORTH:         $140 million.(2017)
Christian
Oyakhilome known popularly as Pastor Chris is a Nigerian minister who
is the founding president of Believers' LoveWorld Incorporated also
known as Christ Embassy, a Bible-based Christian ministry headquartered
in Lagos, Nigeria. His church has more than 40,000 members, several of
whom are successful entrepreneurs and politicians. His ministry runs
several arms including the Healing School, Rhapsody of Realities (a
daily devotional with global reach), and an N.G.O called the Innercity
Missions as well as three Christian television channels: LoveWorld TV,
LoveWorld SAT and LoveWorld Plus.
2. Father Edeh
AGE:                                                 69
ESTIMATED NET WORTH:           $150 million(2017)
Rev. Fr. Emmanuel M.P. Edeh,
popularly called Father Edeh is an Igbo Catholic Priest. With his
several charity firms, and other investments, he is estimated to be
worth within $80 million and $100 million.
Edeh is the founder of the Centre for Peace, Justice and Reconciliation, he owns four tertiary institutions (Madonna University Nigeria, Caritas University, OSISATECH Polytechnic, OSISATECH College of Education), a microfinance bank, health institutions, museum, production company amongst other things.
1. Bishop David Oyedepo
AGE:                                                 62
ESTIMATED NET WORTH:           $200 million(2017)
Bishop
Oyedepo is the head pastor and founder of Living Faith World Outreach
Ministry (aka Winners Chapel). His estimated Net worth is $180 million.
Seen as Nigeria's richest pastor he founded Winners Chapel in 1981 and
has grown it to become one of Africa's largest congregation. He holds 3
services every Sunday at the Faith Tabernacle touted to be Africa's
largest
worship center. He owns two private jets (some sources say four) and houses in London and the United States.
He
owns Dominion Publishing House, a successful publishing company which
publishes all his books. His books, incidentally, are all about
prosperity and little or nothing more. Some years ago he founded
Covenant University, taking advantage of the government's decision to
encourage private individuals and organizations to own and run higher
institutions of learning. Covenant University has become one of the
elite private universities in the country. Just recently, in another
round of licensing by the government, Pastor Oyedepo got himself another
license to run another university. Bishop Oyedepo also owns Faith
Academy, a high school for the upper class.
NOTE:
This list is judge based on no one's  opinion, it is a list  compiled
up by T.I.N MAGAZINE by certified wealth raters like
FORBES,RICHLIFESTLYE And more. This list is for year 2017 and 2017
alone.
[DO NOT COPY THIS ARTICLE TO ANOTHER WEB PAGE WITHOUT PUTTING A LINK BACK TO THIS SITE]
About The Author
Akinola