Apostle Johnson Suleman Full Biography
|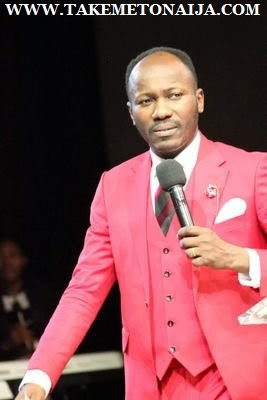 BIRTH NAME: Johnson Suleman
DATE OF BIRTH: (unknown)
OCCUPATION: Pastor, General Overseer
MARITAL STATUS: Married
INTRODUCTION
Apostle Johnson Suleman is the President and General Overseer of Omega Fire Ministries International, a church which he established in 2004.
EARLY LIFE AND BACKGROUND
Few days after Apostle Johnson Suleman was born, story has it that Prophets traveled all the way from Warri in Delta State of Nigeria, to Benin in Edo State of Nigeria(Apostle Johnson Suleman's place of birth), armed with message from God. When his parents inquired to know what the message was all about, they were informed that God told the prophets that a prophet that would minister in God's presence has been born. Apostle Johnson Suleman's parents refused to continue listening to the prophets because they were Muslims and could not understand the possibility of their son becoming a Christian, let alone being God's minister.
As the young Apostle Johnson Suleman began to grow, his parents observed that he was somehow strange in the way he did things. He values the things of God even as he attends the mosque with his father. As young as he then was, he knew he was not in a path he was meant to be. While he was doing his secondary school in Auchi his home town, Apostle Johnson Suleman had an encounter with CHRIST but he however received a lot of pressures that made him to withdraw from Christianity for a little while.
CAREER AND LIFE
However, Apostle Johnson Suleman later moved to Benin City in Edo State, where he finally declared for CHRIST, and got reconnected with his DESTINY. Immediately after that, Apostle Johnson Suleman started hanging-out with his Christian brothers, and accompanies them for work of evangelism and prayers. On June 20, 1994 he got a revelation where he saw the image of the globe being given to him with a biblical inscription of Acts 10:38 written on it. Before this happened, Apostle Johnson Suleman had read through the whole Bible repeatedly for three good times because of his unquenchable thirst for God. However, all the time he had studied he bible, he never gave any particular attention to Acts 10:38.
Apostle Johnson Suleman arose from the vision, he was so shocked, and immediately searched for his bible to check out what the scriptures reveals. Upon opening the verse, he saw that it contain the following sentence: "How God anointed Jesus of Nazareth with the Holy Ghost and with power: who went about doing good and healing all that were oppressed of the devil, for God was with Him". He then immediately understood that he had just been communicated the Mandate given to him by God to preach his gospel around the world with a Power Ministry. It is consequent upon the above that his ministry, Omega Fire Ministries International was later born.
Omega Fire Ministries International 's website has it that God gave His chosen servant, Apostle Johnson Suleman, a divine mandate to: clean the tears, have peoples's destinies restored by the preaching of the word, and bringing into manifestation the power and reality of the Holy Spirit. They maintain that God equally instructed His chosen Servant to bring to an end, the affliction of His people by telling him " I AM SENDING YOU WITH AN OMEGA ANOINTING…"
The Omega Fire Ministries International was accordingly brought into existence to restore the joy of men, making men to manifest their destiny, thereby becoming the best that God created them to be and reversing the wickedness of the enemy.
Omega Fire Ministries International believes in the fire operation of the Holy Spirit of God which refines, purifies and at the same time destroys. The mission of Omega Fire Ministries International is one that believes in judgment of God on the wicked. The ministry believes that the oppressions and demonic manipulations are reality, they know equally that the authority of God's power is more real, that it is all-powerful and all-pervading.
Omega Fire Ministries International hold as true the belief that all power belongs to God and that the devil and his cohorts has no scriptural right to control and manipulate the destinies of the children of God. They also believe that It is the right of believers to live fulfilled life. Consequently, the ministry believes it is saddled with the divine mandate to restore those divine rights to believers.
THE APOSTLE SPEAKS MORE ABOUT HIMSELF IN AN INTERVIEW BELOW:
You are always on the move around the world preaching the gospel. What have been the experiences so far?
God has sent His servant to America, to the world, to bring restoration and grace to all who would believe. Recently, the world experienced he presence of God in America, as people from all parts of America yearned for the great encounter. Over the years, American cities like New York, Texas, Chicago, Georgia, Maryland, Florida and several others have experienced the power of God. It was Minnesota, three weeks ago, and Philadelphia next. We were also in Sierra Leone after the Minnesota experience. Next was Johannesburg in South Africa, and next is Kigali, Rwanda. And God has promised us these are also going to be fulfilling journeys in the life of the hopeless and the downtrodden. As we move around the world through His special grace, millions of people are being freed from all evil foundations that temporarily hold on to their glories, finances, health, spiritual life and family success.
Your ministry's Celebration TV just marked its third anniversary. How has the response been using a faith based television channel to reach audiences?
We give all glory to God. We saw this vision passionately spreading beyond Africa and it has come to be. We are determined to keep on this blessed track and ensure souls and lives are redeemed as far as technology can reach. The aim for which the Celebration TV of our great ministry of God was established is fulfilling. One of the core objectives is to reach many homes across the world, wiping away tears and restoring people back to their destinies through the revelation of the Word and the manifestation of power and the reality of the Holy Spirit. Celebration TV was established to take the gospel into the homes, schools, offices and businesses of millions across the nations. We are going to continue to use this powerful tool for the gospel and expansion of the Kingdom.
It was in the news that you have joined the league of pastors who own private jets; is that true?
It is no crime for a man of God to have a private jet, if it is meant to reach the world faster in spreading God's mission. But I don't have one yet. The truth is that, I was given a private plane as a gift about one month ago. But God told me that the giver was not pure. So I rejected it. You may have seen the pictures of the jet on the internet. In fact, I collected it. But when I prayed over it and found out that the source of the giver's wealth wasn't sincere, I politely turned it down. Helping people has become a constant feature with you, even as you heal people.
Is that the secret why you have so many followers?
To start with, one lesson is the value of time-tested methods. Yes, using the new media for outreach contributes significantly to attracting people to God. But the fact remains that teaching the Word and having personal relationships by way of sharing, are the most effective forms of publicity to growing the church. Like I have always shared with people, I have tasted poverty. I come from a very humble background. This is what fires my passion for sharing with the less privileged. We are not graceful with words of mouth; we are also generous with other things that make life worth living for a man. God understands the needs of man and He is ever ready to provide those needs if man obeys His Word. We regularly share cars worth several millions of Naira, cash gifts and more. The latest is a brand new multimillion Naira Mercedes car we gave out to a member.
Suleman and wife
SOURCES: nigerianbiography.com,vanguardngr.com,www.takemetonaija.com