Billionaire Orji Uzor Kalu Biography&Net Worth
|
FULL NAME: Orji Uzor Kalu
DATE OF BIRTH: April 21, 1960
OCCUPATION: Bussiness Man, Politician
MARITAL STATUS: Married
NET WORTH: $330 Million(Forbes 2015)
INTRODUCTION
Orji Kalu is the chairman of SLOK Holding and the Daily Sun and New Telegraph newspapers in Nigeria, who served as the governor of Abia State, Nigeria
from May 29, 1999, to May 29, 2007. Prior to his election, he served as
the chairman of the Borno Water Board and the chairman of the
Cooperative and Commerce Bank Limited. Kalu was also a member of the Progressive Peoples Alliance (PPA) and the chairman of the PPA Board of Trustees. He was the party's candidate for president in the April 2007 general election.
EARLY LIFE AND BACKGROUND
Kalu attended Christ the King School Aba and Government College, Umuahia. After studying at Barewa College, Zaria, he enrolled in the University of Maiduguri where he studied political science. During his time at the university, Kalu became a student activist, and participated in the "Ali Must Go" riots against the education minister. His participation resulted in his suspension. While his fellow students later took the school authorities to court, Kalu left school to build his own business.
With only $35 to his name that he had borrowed from his mother, Kalu began trading palm oil, first buying the oil from Nigeria's eastern regions and then selling it in the country's northern regions. He then began buying and reselling furniture on a large scale.
Kalu eventually established SLOK Holding, a conglomerate that would consist of a number of successful companies, including the Ojialex Furniture Company, SLOK Nigeria Limited, SLOK United Kingdom Limited, Adamawa Publishers Limited, SLOK Vegetable Oil, Aba, SLOK Paper Factory, Aba, SLOK United States Incorporated, SLOK Ghana, Togo, Cotonou, Guinea, South Africa, Liberia, Botswana, SLOK Korea, Supreme Oil Limited, SLOK Airlines, Sun Publishing Limited, and First International Bank Limited.
Kalu became the youngest Nigerian to receive the National Merit Award from President Ibrahim Babangida, at the age of 26 in 1986. He was selected as the Nigerian Chamber of Commerce's Industrialist of the Year, and awarded the Humanitarian Award of the University of Nigeria, Nsukka's Humanitarian Club, the Volunteer Award of the International Association of Volunteers, the National Merit Award, the EU Special Award in Brussels, and the World Bank Leon Sullivan Award.
Kalu has a degree from Abia State University, a Certificate in Business Administration from Harvard University and honorary doctorates from the universities of Maiduguri and Abia State.
CAREER AND LIFE
A thoroughbred man in commerce, industry and administration, he became Chairman of Borno Water Board at a tender age of 25 years, where he initiated policies aimed at the provision of potable water for over 5 million Borno State indigenes in a guinea worm endemic area. He also served as the Chairman of Imo State Marketing and Supply Agency, where he evolved strategies for the formation of policies for the procurement and distribution of essential commodities. He created a record not yet equaled when he became the Chairman of Cooperative and Commerce Bank Limited in 1987 at the age of 27, making him the youngest person till date to assume such an elevated position in Nigeria.
Orji Kalu is widely traveled and has his fingers in many pies: banking, oil/telecommunication, import and export, trading, merchandising, insurance, publishing, real estate, shipping and manufacturing. Prior to holding public offices, he had built his business empire – SLOK GROUP which comprises -Ojialex Furniture Company, Slok Nigeria Limited, Slok (UK)Limited, Adamawa Publishers Limited, Slok Vegetable Oil, Aba, Slok Paper Factory, Aba, Slok USA Inc., Slok Ghana, Togo, Cotonou, Guinea, South Africa, Liberia, Botswana, Slok Korea, Supreme Oil Limited, Slok Airlines, First International Bank Limited and International Insurance Company Limited ( Gambia, Sierra Leone, Guinea, Democratic Republic of Congo and Liberia) and the Sun Publishing Limited (Nigeria and Liberia), Metro Energy (Guinea) Ltd, Daily Telegraph Publishing Company (Nigeria and Liberia) Ltd, Cecoon Oil and Gas (Nigeria) Ltd, Bende Export- Import Ltd, amongst others.
Kalu is the chairman of the Daily Sun, a Nigerian daily print newspaper founded and published in Ikeja, Lagos, Nigeria.
The newspaper had a daily circulation of 130,000 copies as of 2011, and
135,000 for weekend titles, with an average of 80% sales. The Daily Sun
was the highest selling newspaper in Nigeria. The Daily Sun was
incorporated on March 29, 2001, and began production as a weekly on
January 18, 2003, and as a daily on June 16, 2003. The newspaper is
similar in format to the Sun newspaper in the United Kingdom.
Kalu is also the chairman of the New Telegraph,
Nigeria's first politically independent all-national newspaper, with a
circulation of 100,000 copies per day. The newspaper targets domestic
and foreign readers in major urban centers throughout the country and
offers objective coverage of political, social, and cultural issues.
SLOK
Holding is a wholly owned Nigerian consortium of companies that is
involved in a wide array of operations, with a strong presence in West Africa.
The group operates in all sectors of the economy, with a focus on oil
and gas, banking and finance, media and publishing, real estate,
trading, manufacturing, insurance and tourism. It is a member of
industrial institutions including the Lagos Chamber of Commerce and Industry,
Nigeria-America Chamber of Commerce and Industry, Nigeria-British
Chamber of Commerce and Industry, and Nigeria-Philippine Chamber of
Commerce and Industry.
SLOK Holding is the owner of SLOK Nigeria Ltd., the leading
indigenous player in the upstream sector of Nigeria's oil and gas
industry. The corporation operates in marine transport services,
involving offshore support and deep sea transportation within the
Nigerian coastal and inland waterways. SLOK Nigeria Ltd. is the largest
indigenous company in Nigeria that owns, operates, and manages its own
fleet. It is compliant with the Nigerian Cabotage Law and is registered
with the Nigerian Maritime Administration and Safety Agency.
In politics, he is a household name. He served as a member of the Federal House of Representatives from 1992 to 1993, and held two key positions of deputy chairman of the Finance and Internal Affairs Committees. He moved the famous Dual-Citizenship Rights Bill in the House. He was elected the Governor of the mineral-rich Abia State in 1999 under the Peoples Democratic Party (PDP), a political party he co-founded and financed with others. His achievements as a Governor astounded, even, his most vitriolic critics.
His administration built over 300 roads in both urban and rural areas, renovated 820 schools; planted 510 hectares of rubber, 2 million pineapple suckers, 5 million palm and cocoa seedlings; distributed over 10 million day old chicks to civil servants, schools churches and cooperative bodies to boost the protein intake of the people of the state. Added to these was the establishment of a free medical scheme that saw about 1.5 million persons treated; introduction of tuition-free education in both primary and secondary schools, distribution of free computer sets, textbooks, mathematical sets, and desks; and the regular payment of workers and teachers salaries. His poverty eradication package was about the best in Nigeria. Apart from creating employment opportunities for thousands of youths, he empowered many indigent persons through the distribution of interest-free loans, motorcycles, buses and cars. It is also on record that his government paid arrears of pension and gratuity owed retired workers by past administrations in the state since 1991. His achievements when he was at the helm of affairs in Abia State is endless which fetched him THE ACTION GOVERNOR OF NIGERIA within six months of assumption of office in 1999, by President Olusegun Obasanjo who was on a state visit to Abia State on February 26, 2000.
In 2007 Orji Kalu contested for President, Federal Republic of Nigeria under a new political party Progressive People's Alliance (PPA) founded by him and came third. The Party went ahead to win the Governorship position in two out of the five states (Abia and Imo) in the South-East region.
A sports enthusiast par excellence, he is the chairman Nigeria Judo Federation. He was able to change the fortunes of the once comatose Enyimba Football Club of Aba. The club won the Nigerian League back to back. Enyimba Football Club, for the first time in the more than 38 years history of the African CAF League Cup Competition, won the trophy for Nigeria. It repeated the feat in 2004 when it defeated Esperance F.C. of Tunisia to win the trophy the second time. It crowned this feat by winning the CAF Super Cup back to back in 2004/2005.
He has won many local and international awards, the prominent being the Industrialist of the Year by the Nigeria Chamber of Commerce, Trade and Industry; Humanitarian Award by the Humanitarian Club of the prestigious University of Nigeria Nsukka; Volunteer Award by the International Association of Volunteers; and the National Merit Award of the Member of the Order of the Niger (MON), Youngest Bank Chairman Award by the famous Top Magazine when he became the chairman of Cooperative and Commerce Bank in 1987, a special award by the European union in Brussels, Belgium, Special Award by the Enugu Chamber of Commerce and Industry, Fellow Bauchi Polytechnic, Fellowship Institute of Certified Management Accountants, and the prestigious Leon Sullivan Award by the World Bank, Washington. He is also a visitor of Miami Dave County in the State of Florida, United States of America.
He belongs to many professional and trade bodies which includes, Nigerian Institute of Directors, Nigerian Association of Commerce, Industry, Mines and Agriculture, Manufacturers' Association of Nigeria, Nigeria-Philippines Chamber of Commerce and Industry, Nigeria Importers and Exporters Association, Manufacturers Association of Nigeria, Nigeria-British Chamber of Commerce, Nigeria-Israel Association, Spartansburg Chamber of Commerce S.C. USA and Association of Nigerian Products Exporters, Nigeria. He was a member of the National Sports Commission under the chairmanship of Chief S.B. Williams between 1989 and 1990, and Federal Government Commission on the Re-grading of Traditional Rulers.
Orji Kalu is a renowned philanthropist and humanist. This is evident with the scholarships his foundation has awarded to thousands of indigent students from all over the country. His milk of human kindness is unfathomable from the bridges of friendship he has built across cultures, races, and religions. His intimidating political profile, stupendous wealth, international connections, acceptability among his fellow politicians, transparent leadership, crusade against social injustice, corruption and inequity and above all, divine anointing are some of the qualities that stand him out. Orji Kalu has over 200 traditional titles to his honour and several books to his credit.
He is presently the Coordinator of Njiko Igbo, a non partisan political movement for the actualization of the dreams and aspirations of the people of south east extraction of Nigeria and G37 a group of like minds commited to the enthronement of good governance in Nigeria. Orji Kalu is a role model and mentor to the younger generation who see him as the face a new Nigeria.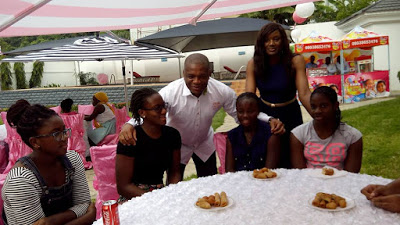 Kalu with family
SOURCES: wikipedia.org,orjikalu.com,www.takemetonaija.com