Babatunde Fashola(SAN) Full Biography,Life, And CV. (Minister for works,power and housing)
|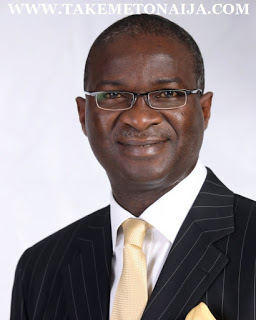 PROFILE
FULL NAME: Babatunde Raji Fashola
DATE OF BIRTH: 28 June 1963
OCCUPATION: lawyer, politician; Ex governor
MARITAL STATUS: Married.
INTRODUCTION

Fashola was the thirteenth governor of Lagos State, Nigeria. As a candidate of
the Action Congress party, Fashola succeeded his predecessor, Bola Ahmed
Tinubu, He was sworn in on May 29, 2007. He was
reelected on 26 April 2011. He's been said to be the best governor Lagos ever had.
In 2015, He was selected as a minister in 2015 by president Buhari.
EARLY LIFE AND BACKGROUND
Babatunde Raji Fashola (SAN) is a descendant of the patriarch of the
Fashola family, Alfa Bello Fashola of Princess Street in Isale Gangan,
Lagos. On the Fashola family tree, he is the great-great grandson of
Bello Fashola, a philanthropist and a very close friend of Esugbayi
Eleko, who contributed morally and financially to the struggle to return
Esugbayi Eleko to Lagos after the Oba's banishment from his kingdom by
the then colonial government. Bello Fashola had 137 children with
Tiamiyu Bashorun Fashola as the eldest child. The direct linkage is as
follows: Bello Fashola begat Tiamiyu Fashola, who begat Raji Olayinka
Fashola, who begat Ademola Fashola who begat Babatunde Raji Fashola.
He
is also linked to Isale Eko through his paternal grandmother who is a
direct descendant of the Shomade/Bashua family of Obun Eko and Suenu
chieftaincy family house. His paternal great, great grandmother was
Jarinatu Okunnu from Isale Eko Onilegbe family whilst his maternal great
grandmother is from Idumagbo Isale Eko of the Suenu Chieftaincy family.
He attended Birch Freeman High school Lagos and Igbobi College Lagos. He studied Law at the University of Benin from where he graduated with a Bachelor of Laws, LL.B.(Hon), degree in 1987
CAREER AND LIFE
He was called to the Nigerian Bar as a solicitor and advocate of the
Supreme Court of Nigeria in November 1988 after completing the
professional training programme at the Nigerian Law School, Lagos which
he undertook between 1987 and 1988. His legal career of over one and a
half decades, commenced in the law Firm of Sofunde, Osakwe, Ogundipe and
Belgore, where he cut his legal teeth as a litigator over such
wide-ranging areas of specialization as, intellectual property
(registration of trade marks), commercial law, covering general
contracts, company activities, mergers, acquisitions, right issues,
ownership of shares and equity of corporations, as well as land
disputes, criminal law and chieftaincy matters, in all of which he has
come to acquire appreciable expertise and vast experience.
Fashola,
a Notary Public of the Supreme Court of Nigeria, has been variously
honoured with awards and certificates of merit including the
Distinguished Alumnus Award conferred on him by the University of Benin
Alumni Association in recognition of contributions to the Alumnus
association and humanity. He is also a recipient of Lagos State public
service club Platinum Award for outstanding contribution towards
development. As well as Alliance for Democracy " Igbogbo Bayeku Local
Government Award" in recognition of activities towards the success of
the party.
Babatunde Fashola is also a Patron of the Law Students
Association of the University of Benin and he is the second law
graduate from the University of Benin and the first member of the
Nigerian Law School graduating class of 1988 to be conferred with the
Rank of Senior Advocate. He is also the First ever Chief of Staff to be
so honored. He is a member of the Nigerian Bar Association, the
International Bar Association and an Associate of the Chartered
Institute of Taxation of Nigeria.
Babatunde Raji Fashola commenced a four-year tenure as the Executive Governor of Lagos State in Nigeria on 29 May 2007. In June 2007, Babatunde Fashola appointed former Inspector General of Police Musiliu Smith head of the Lagos State Security council, a body charged with taking a holistic look at the anatomy of crime in the state.
The Babatunde Fashola Good Governance Group (G3) movement is a good
example of Fashola's commitment to reaching out to the people using
various media channels.
One of the main source of Lagos State government' funds are received as
tax payers' money. Recently, a controversial proposal to charge consumption tax on eateries had been enforced. The matter was taken to court, but the ruling was announced in the government's favour.
Babatunde Fashola vowed to rehabilitate the state's public schools, long
being neglected with time. Among the schools being habilitated included
the governor's alma mater, Birch Freeman High School, which is located
at a busy metropolis of Surulere.
The biggest task Babatunde Raji Fashola faces in office is his visionary project to transform Lagos into a mega city, the first of its kind in Lagosian history. Although initialised under the former governor, Bola Ahmed Tinubu, in June 2002,
the mega project task accelerated under Fashola's governorship. Both
private and public sectors are involved in fulfilling the project.
The crucial part of the mega city project is the rehabilitation of
Lagos' infrastructures and districts. Formerly taken care of by the
federal government, they were immediately neglected, as Abuja was declared Nigeria's new capital since 1991. According to Lagos Rail Mass Transit, proposed light railways will be consisted of the outskirt blue-line and inner red-line destinations. As part of the project, the Badagry Expressway, which links Lagos directly to the south-eastern border of Benin Republic, is currently being rehabilitated by various contractors, with BRT and railway networks being established.
Another ambition is to recover lands at Victoria Island, being lost to erosion for decades.
This artificial terrain is the location of the proposed Eko Atlantic City.
This is also to support housing project that would accommodate up to 25
million Lagosians by 2015, a population growth from 15 million that
could turn Lagos into the world's third largest city.
In October 2009, Babatunde Fashola posthumously dedicated a garden personally, in honour of the memory of late professor Ayodele Awojobi
at Onike Roundabout, Yaba, Lagos, with a statue of the famous academic
erected at the centre.Artists of repute such as Oladejo Victor Akinlonu
has commended the Governor on a job well done on the various value
enhancement and beautification of Lagos state been a pioneer in the
beautification of the state since the 80's Oladejo enjoined artists to
work with the Governor.Oladejo's works such as the eyo masquerade and
the Bust of Sir Alexander Molade Okoya Thomas where commissioned by the Governor.
As soon as Haiti was struck by a magnitude 7.0 Mw
earthquake, Babatunde Fashola launched an appeal to raise up to one
million US dollars. The funds raised were used to assist the victims of
the Haiti quake. As this was in place, the Speaker of the Lagos State
House of Assembly, Mr. Adeyemi Ikuforiji, said Nigerians should be
prepared in events of natural disasters.
In May 2014, Fashola announced the compulsory use of life jackets on Lagos waterways.
In a 2012 accident, ten children from Ijora Awori, Lagos State, drowned
while they were being ferried to school, because they were not wearing
life jackets.
By December 2009, there had been rumours and speculation by news
media that Babatunde Fashola was subjected to a possible impeachment
from within, primarily because of disagreements with the former
governor. Ironically, a similar situation played itself out between
Tinubu and Femi Pedro,
Tinubu's former Deputy Governor, in the run-up to the gubernatorial
elections in 2007. It is believed that there was a dispute over
Fashola's 2.1 billion Naira worth of commission with the former
governor, Bola Ahmed Tinubu, although both Fashola and the Lagos State House of Assembly had earlier denied such plot ever took place.

But in late January 2010, the Lagos State House of Assembly launched
an investigation into possible mishandling of tax payers' money by
Fashola, mainly on the ongoing mega city project. The accusations range from importing of palm trees from Niger,
for gardening projects within a rain forest state, to improper usage of
contract money involving one of Lagos State's contractors.
The group carrying out the investigation was known as the "True Face of
Lagos". The final reports were due to be submitted on 15 February 2010, but the True Face of Lagos was later abolished. There were attempts to re-launch the probes through a petition, but they were again being turned down by the court.

THE Action Congress of Nigeria (ACN) finally ended months of
speculation over the second term ambition of the Lagos State Governor
Babatunde Raji Fashola (SAN), when it endorsed him as the party's sole
candidate for the 2011 governorship election.
On Wednesday, at the party's secretariat, in Ikeja Lagos, Fashola's
predecessor, Alhaji Bola Ahmed Tinubu who people perceived to be at the
centre of the uncertainty over the political future of Fashola announced
the decision of the party.
Before thousands of the party supporters, Tinubu, who flew into Lagos
from Abuja because of the emergency stakeholders' meeting raised
Babatunde Fashola's hand and said: "Today, by the power conferred on me
by the ACN, in consultation and in agreement with all our party leaders
throughout the state and at the national level, I am announcing to you,
the final endorsement of Raji Babatunde Fashola for the 2011 election."
He was re-elected on 26 April 2011 by a massive landslide victory. In
Lagos, South-West Nigeria and Nigeria as a whole, Babatunde Raji Fashola
remains a reference point in 21st century Governance.
In 2015 Fashola participated in the campaign of President Buhari, which was later revealed Buhari and Fashola really had quite a very close relationship.
Curriculum Vitae And More Facts About Fashola


In 1988 Fashola was called to bar as a solicitor and advocate of the Supreme Court of Nigeria
He has a decade and half in the profession and awarded the ffg honour /achievements
Distinguished Alumnus Award from University of Benin.
Notary Public of the Supreme Court of Nigeria
Successful containment and eradication of Ebola outbreak in Lagos
Lagos State Public Service Club (Platinum Award)
1st member of the Nigerian law school graduating class of 1988
First ever Chief of Staff to be honoured
Member , Nigerian Bar Association
Chartered Institute of Taxation of Nigeria
Introduction of BRT (Bus Rapid Transport) to ease transportation
Recovery of Lands in Victoria Island being lost to erosion
Fashola launched an appeal to raise $1m for victims of Haiti earthquake
Chief of Staff to former governor, Bola Ahmed
Honourable Commissioner to the Governor's Tinubu office
Secretary of the Lands Sub-Committee of the Transitional Work Groups 1999
Panel Member on allocation of houses on Member of the State Tenders Board- 2002-
Member of the State Security Council – 2002-
Chairman Ad-Hoc Committee on Review of Transitional Work Groups 1999
Mobolaji Johnson Housing Scheme Lekki 2006 2006
Asset distribution among LGs
Executive governor of Lagos State between 2007 – 2015.
Minister of works,power and housing from 2015 to —–
FACTS AND SAYINGS:
Minister with biggest responsibily: Was appointed to be the minister of Works,Power and Housing by president buhari in 2015, which makes him the minister with the highest responsibilities
Overwhelmingly re-elected for a second term of four years
at the April 26, 2011 Gubernatorial polls, His Excellency, the former
Governor of Lagos State (2007-2015), Mr Babatunde Fashola (SAN) is the
recipient of the 2009 Yitzhak Rabin Centre for African Development
Governor of the Decade for Peace Award and the recipient of the 2010
Award of Excellence in Leadership of the Martin Luther King Jnr.
Foundation.
He is the recipient of the 2009 Good Governance Award
from the United Kingdom-based African Business Magazine. Here in
Nigeria, he is The Guardian, The Vanguard and The Sun newspapers' Man of
The Year for 2009. He is the Daily Champion Man of the Year for 2010.
He is also the 2010 Award winner of the City People Magazine Best
Governor of the Year and Best Southwest Governor of the Year.
Both nationally and internationally, he is acclaimed as one of the bright hopes for the future of Nigeria;
one of the very progressive Governors determined to reclaim Nigeria's
past glories through competent and transparent leadership.
Since his election to the office of Governor of Lagos State
in 2007, Mr. Babatunde Raji Fashola, SAN has demonstrated a commitment
to excellence in public service and uncommon commitment to his avowed
pledge to lead the change that would transform Lagos into Africa's model
mega-city.
His dogged pursuit of renewal of the infrastructure of Lagos
as the critical strategy for economic growth and poverty alleviation
has won the State honours from as far away as Australia for undertaking
the fastest infrastructure renewal ever in Africa.
His unflagging spirit has led the Government to explode many negative myths about Lagos.
A passionate lover of children and the youth, Governor Fashola has embarked on projects aimed at improving the opportunities open to children and youths in the State.
In very unequivocal acceptance of his style of governance
and the positive impact it has had on their lives, Lagosians
overwhelmingly re-elected him for another term of 4 (four) years with
82% of the total votes cast and the highest votes ever cast for any
individual in a State in the electoral history of Nigeria.
Born on June 28, 1963 in Lagos,
Mr. Babatunde Raji Fashola (SAN) is a truly made in Nigeria product. He
obtained his First School Leaving Certificate [FSLC] from the Sunny
Fields Primary School, Adelabu Surulere, Lagos, after which he proceeded
to Birch Freeman High School, Surulere, Lagos and later Igbobi College,
Yaba from where he acquired the West African School Certificate [WASC].
He, thereafter, went to the University of Benin, Benin City and
graduated with a Bachelor of Laws [LLB Hons] degree in 1987. He was
called to the Nigeria Bar in November 1988 after undertaking the
statutory training for Barristers and Solicitors.
For the mandatory National Youth Service Corps [NYSC]
programme [1988-1989], he served in Benin, the former Bendel State now
Edo State. His flourishing private legal practice, running into nearly
fifteen years, saw him acquiring appreciable expertise and vast
experience in such areas as Litigation, Intellectual Property
[registration of trademarks], Commercial Law, Mergers, Acquisitions,
Right of Issues, Ownership of Shares and Equity of Corporations, as well
as Land Disputes and Chieftaincy Matters.
In the course of his distinguished legal career
at Sofunde, Osakwe, Ogundipe and Belgore; the law firm of K.O.Tinubu
& Company and as Managing Partner, Lead Counsel, Babatunde Raji
Fashola successfully pleaded many cases at High Courts, various
divisions of the Court of Appeal and the Supreme Court, and he was
elevated to the class of Nigerian Elite Lawyers in August 2004 when he
was conferred with the rank of Senior Advocate of Nigeria [SAN], a
leadership position of the Nigerian Bar and the nation's highest legal
distinction and honour for lawyers.
He was appointed Chief of Staff
by the former Governor of Lagos State [Governor Emeritus], Asiwaju Bola
Ahmed Tinubu who he later succeeded in office and served from August
16, 2002 to November 6, 2006, during which time he served as Member,
State Tenders Board; Member, State Executive Council, Member, State
Treasury Board, and Member, State Security Council amongst several other
Ad-Hoc Committees/Panels. With the experiences he garnered he resigned
voluntarily to contest for the Office of Governor of Lagos State under
the platform of Action Congress [AC] Party now Action Congress of
Nigeria.
He has served in various Ad-hoc Committees
of the Federal Government in different capacities. He was a member of
the Presidential Committee on the Review of Tariffs charged with the
responsibilities of reviewing the current tariff structure and fiscal
incentives in Nigeria, identifying barriers to investments and
recommending strategic initiatives that would promote foreign direct
investment and ultimately stimulate economic growth.
Mr. Fashola, was the Chairman of the Governor's Forum Committees
set up to formulate the Rules and Regulations guiding succession to
leadership of the Forum and to review the Revenue Allocation Formula for
Nigeria and make appropriate recommendations by which the State
Governments will engage critical stakeholders towards finding an
equitable revenue formula for the country.
Mr. Fashola, SAN is Patron, Institute of Arbitrators [CIA],
Grand Patron, Association of Nigerian Theatre Practitioners [ANTP]
Lagos State Chapter, Member, Nigeria Bar Association [NBA], Member,
International Bar Association [IBA], Fellow, Chartered Institute of
Taxation of Nigeria [CITN], Notary Public of the Supreme Court of
Nigeria, Recipient of several awards and Certificates of Merit, Legal
Practitioner, Administrator, Management Consultant, Team Player and a
detribalised Nigerian.
Mr. Babatunde Raji Fashola is an ardent sportsman
who loves playing and watching football. He also enjoys swimming,
billiards, snooker, lawn tennis and squash. He belongs to a number of
social clubs, notably Eko Club, Island Club, Ikoyi Club, Lagos Lawn
Tennis Club and Eagle Club, Surulere, while he is Patron, Lagos Island
Club; Yoruba Tennis Club, Ikeja Golf Club, City Club and the Lagos
Country Club by virtue of his position as Governor of Lagos State.
Mr. Babatunde Raji Fashola (SAN) is married to Her Excellency, the former First Lady of Lagos State, Dame Emmanuella Abimbola Fashola and they are blessed with children.
CONTROVERSIES
As the governor of the most populous state in Nigeria he had a lot of controversies; which includes fights with his party leader Tinubu according to the media.


In 2015 after leaving office he was accused of several corruption allegations, he later cleared the air on them in 2015 and got Nigerians trust back in him.
Fashola with president buhari
Fashola award
SOURCES: wikipedia.org,360reporters.com,logbaby.com,tundefashola.com,www.takemetonaija.com