NATIONAL HERO: Dr. Nnamdi Azikwe Full Biography,Life History And Heroic Works
|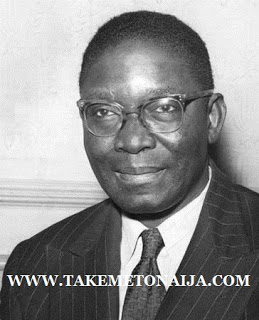 FULL NAME: Nnamdi Azikiwe
DATE OF BIRTH: 16 November 1904
OCCUPATION: Politician, Lawyer, Businessman
DECEASED
(11 May 1996 aged 91)
INTRODUCTION
REPUTATIONS:

1st President of Nigeria(1 October 1963 – 16 January 1966 )
3rd Governor-General of Nigeria(16 November 1960 – 1 October 1963)
1st President of the Senate of Nigeria(1 January 1960 – 1 October 1960)
Nationalist: Independence Fighter
Dr. Azikiwe, an Ibo from southeast Nigeria, presided over a democratic Government that was in power for a mere three years before the regional tensions that have marked the country's politics ever since led to the first of many military coups. But as a lawyer, political scientist, journalist, political activist, President and for many years Nigeria's elder statesman, Dr. Azikiwe towered over the affairs of Africa's most populous nation, attaining the rare status of a truly national hero who came to be admired across the regional and ethnic lines dividing his country.
After years of agitation for nationhood, Dr. Azikiwe became Governor General of the Nigerian Federation at independence from Britain in 1960, and President in 1963, when the country was declared a republic.
While in office, he introduced universal adult suffrage and moved to extend schooling throughout the country.
When Nigeria's civil war erupted in 1967, after a disastrous attempt at secession led by the Ibo general Chukwuemeka Ojukwu, Dr. Azikiwe broke ranks with leaders from his own ethnic group who supported the bid to form an independent nation called Biafra.
EARLY LIFE AND BACKGROUND
Azikiwe was born in Zungeru, Northern Nigeria. His parents were Igbo; his father Obed-Edom Chukwuemeka Azikiwe (1879–1958), a clerk in the British Administration of Nigeria and his mother was Rachel Chinwe Azikiwe. Nnamdi means "My father is alive" in the Igbo language. After studying at Hope Waddell Training Institute, Calabar.
and Methodist Boys High School Lagos, Azikiwe went to the United States. While there he attended Howard University, Washington DC.
He arrived in the United States in 1925, where he attended several schools. Azikiwe earned multiple certificates and degrees, including bachelor's and master's degrees from Lincoln University in Pennsylvania and a second master's degree from the University of Pennsylvania.
He worked as an instructor at Lincoln before returning to Nigeria.
In 1934 he went to the Gold Coast (now Ghana), where he founded a nationalist newspaper and was a mentor to Kwame Nkrumah (later the first president of Ghana) before returning to Nigeria in 1937. There he founded and edited newspapers and also became directly involved in politics, first with the Nigerian Youth Movement and later (1944) as a founder of the National Council of Nigeria and the Cameroons (NCNC).
CAREER AND HEROIC WORKS
As a result of publishing an article on 15 May 1936, entitled "Has the African a God?" written by I. T. A. Wallace-Johnson he was brought to trial on charges of sedition. Although he was found guilty of the charges and sentenced to six months in prison, he was acquitted on appeal. He returned to Lagos, Nigeria, in 1937 and founded the West African Pilot, which he used as a vehicle to foster Nigerian nationalism. He founded the Zik Group of Newspapers, publishing multiple newspapers in cities across the country. Azikiwe became active in the Nigerian Youth Movement (NYM), the first genuinely nationalist organization in Nigeria. However, in 1941 he backed Samuel Akinsanya to be NYM candidate for a vacant seat in the Legislative Council, but the executive selected Ernest Ikoli instead. Azikiwe resigned from the NYM accusing the NYM mostly Yoruba leadership of discrimination against the Ijebu-Yoruba members, Ibos and some Ijebu members with him and thus splitting the NYM along ethnic lines.

After a successful journalism enterprise, Azikiwe entered into politics, co-founding the National Council of Nigeria and the Cameroons (NCNC) alongside Herbert Macaulay in 1944. He became the secretary-general of the National Council in 1946, and was elected to Legislative Council of Nigeria the following year. In 1951, he became the leader of the Opposition to the government of Obafemi Awolowo in the Western Region's House of Assembly after losing the four-cornered elections to the Action Group. In 1952, he moved to the Eastern Region, and was elected to the position of Chief Minister and in 1954 became Premier of Nigeria's Eastern Region. On 16 November 1960, he became the Governor General, with Abubakar Tafawa Balewa as Prime Minister. On the same day became the first Nigerian named to the Privy Council of the United Kingdom. With the proclamation of a republic in 1963, he became the first President of Nigeria. In both posts, Azikiwe's role was largely ceremonial.

Azikiwe and his civilian colleagues were removed from power in the military coup of 15 January 1966. He was the most prominent politician to escape the spate of assassinations following the coup. During the Biafran (1967–1970) war of secession, Azikiwe became a spokesman for the nascent republic and an adviser to its leader Chukwuemeka Odumegwu Ojukwu. He switched allegiance back to Nigeria during the war and publicly appealed to Ojukwu to end the war in pamphlets and interviews published at the time.
After the war, he served as Chancellor of University of Lagos from 1972 to 1976. He joined the Nigerian People's Party in 1978, making unsuccessful bids for the presidency in 1979 and again in 1983. He left politics involuntarily after the military coup on 31 December 1983. He died on 11 May 1996, at the University of Nigeria Teaching Hospital, in Enugu, Enugu State, after a protracted illness. He was buried in his native Onitsha.

ACHIEVEMENTS AND PERSONAL LIFE
He was inducted into the prestigious Agbalanze society of Onitsha as Nnayelugo in 1946, a customary recognition for Onitsha men of significant accomplishment. Then, in 1962, he became a second-rank red cap chieftain or Ndichie Okwa as the Oziziani Obi. In 1972, he was installed as the Owelle-Osowa-Anya of Onitsha, making him a first-rank, hereditary red cap nobleman or Ndichie Ume.
In 1960, Queen Elizabeth II appointed him to the Privy Council of the United Kingdom. He was conferred with the highest national honour of Grand Commander of the Federal Republic (GCFR) by the Federal Republic of Nigeria, in 1980. He has received fourteen honorary degrees from Nigerian, American and Liberian universities, which include Lincoln University, Storer College, Howard University, Michigan State University, University of Nigeria, Nsukka, University of Lagos, Ahmadu Bello University, University of Ibadan, Nnamdi Azikiwe University, Awka, and University of Liberia.
He was a member of many organizations and societies, including
Anti-Slavery Society for the protection of Human Rights; Phi Beta Sigma
fraternity (Mu Chapter); West African Students' Union; Onitsha
Improvement Union; Zik's Athletic Club; Ekine Sekiapu Society of Buguma,
Kalabari; St. John's Lodge of England; Royal Economic Society; Royal
Anthropological Institute; British Association for the Advancement of
Science; American Society of International Law; American Anthropological
Association; American Political Science Association; American
Ethnological Society; Amateur Athletic Association of Nigeria; Nigerian
Swimming Association, Nigerian Boxing Board of Control; Nigerian Cricket
Association; Ibo State Union; Nigerian Table Tennis Association;
Nigeria Olympic Committee and British Empire and Commonwealth Games
Association
During his lifetime, he held several political posts, especially in Nigeria. They include Executive Committee Member of Mambili Party, Accra (1935–37); General Secretary of National Council of Nigerian and the Cameroons (1944–45); President of the NCNC (1946–60); Vice-President of the Nigerian National Democratic Party (1947–60); Member for Lagos in the Legislative Council of Nigeria (1947–51); Member for Lagos and Leader of the Opposition in the Western House of Assembly (1952–53) Member for Onitsha in the Eastern House of Assembly (1954–60); Minister of Internal Affairs (Jan.–September 1954); Minister of Internal Affairs, Eastern Region (1954); Member of His Excellency Privy Council, Eastern Nigeria (1954–59); Primer of Eastern Nigeria (1954–59); President of the Senate of the Federation (January–November 1960); Governor-General and Commander-in-Chief of Nigeria (1960–63); President of the Republic of Nigeria (1963–1966); and Chairman and Presidential candidate of the Nigeria People's Party (1978–83).
Azikiwe was actively involved in sports at every stage of his life, and he was successful in many of the events that he participated in. They include Welterweight Boxing Champion Storer College (1925–27); High Jump champion, Howard University Inter-Scholastic Games (1926); Gold Medalist in Cross Country, Storer College (1927); Back-stroke Swimming Champion and No. 3 swimmer in Freestyle Relay team, Howard University (1928); Captain, Lincoln University Soccer Team (1930); Winner Two Miles Run, Central Inter-Collegiate Athletic Association Championships at Hampton Institute Virginia (1931); Bronze Medalist, Richmond Cross Country Marathon (1931); Gold Medalist in the 1,000 yard run, One Mile Run and Three Mile Run, Catedonian Games in Brooklyn, NY (1932); Silver Trophy winner in the Half Mile race, and Silver Cup winner in the One Mile Race, Democratic Field Day Championships, New Haven, Connecticut (1933); Runner-up (with G. K. Dorgu) at the Lagos Tennis Men's Double Championships (Division B 1938); anchor man for the ZAC team which won the 50 yards Freestyle Relay at the Lagos Swimming Championships (1939).
He won letters in athletics (Lincoln University) and cross country (Storer College and Lincoln University), swimming (Howard University), and football (soccer) (Lincoln University); entered to compete in the Half-Mile Race and One-Mile run at the British Empire Games to represent Nigeria, but was rejected by the A.A.A. of Great Britain on technical grounds (he dropped his English Christian name, "Benjamin"); and founded (with M. R. B. Ottun) of the Zik's Athletic Club to promote athletics, boxing, cricket, football, swimming and tennis in Nigeria.
POPULAR QUOTES
"There is plenty of room at the top because very few people care to
travel beyond the average route. And so most of us seem satisfied to
remain within the confines of mediocrity" — from My Odyssey,
"My stiffest earthly assignment is ended and my major life's work is
done. My country is now free and I have been honoured to be its first
indigenous head of state. What more could one desire in life?" — talking
about Nigeria's Independence on October 1, 1960.
DEATH
Nigeria's first President and a vigorous champion of African
independence from European colonial rule, died Saturday in a hospital in
his native eastern Nigeria after a long illness. He was 91.
Azikwe 1960 Independence Day Celebration
Azikwe with the colonial masters



SOURCES: britannica.com,wikipedia.org,nytimes.com,www.takemetonaija.com