Singer 2FACE IDIBIA Full Biography,Life And News
|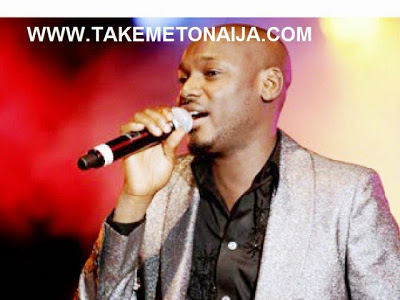 FULL NAME: Innocent Ujah Idibia
DATE OF BIRTH: September 18, 1975
OCCUPATION: Song writer,Singer-Contemporary R&B hip hop Reggae Afrobeat
MARITAL STATUS: MARRIED!
EARLY LIFE AND BACKGROUND
Innocent Idibia was born in Jos, Nigeria. He is from the Idoma ethnic group in the southern part of Benue State, in central Nigeria. He attended Saint Gabriel's Secondary School in Makurdi, Benue State. He enrolled at Institute of Management & Technology, Enugu (IMT), where he did his preliminary National Diploma course in business administration and management. While attending IMT, he performed at school organized shows and parties, as well as other regional schools such as the University of Nigeria and Enugu State University of Science & Technology. He eventually dropped out to pursue his music career. While attending IMT, 2face Idibia started composing and singing jingles at the GB Fan Club at Enugu State Broadcasting Services (ESBS) in 1996.
Also in 1996, he adopted the stage name "2Face" (Tuface). He cited the reasoning as "trying to demarcate my personal life with my business life.
LIFE AND CAREER
He moved to Lagos and started performing with rapper BlackFace Naija. He had met BlackFace while attending IMT. With Blackface (Ahmedu Augustine Obiabo) and with musician Faze (Chibuzor Oji), he went on to form the trio band Plantashun Boyz.
Plantashun Boyz released two successful albums: Body and Soul (2000) and Sold Out (2003)under the Nelson Brown's owned Label (Dove Records)[6] before disbanding in 2004. Relations were marred for many years during which the band broke up and started their solo careers. Long after the break-up known as the "Faze vs Tuface" beef, the band came back together in 2007 for the purpose of recording a third and final album entitled Plan B (2007).
After the disbandment of Plantashun Boyz in 2004, all band members sought separate musical careers. 2face Idibia released his debut solo album Face 2 Face (2004), which established him as a viable solo artist.
Following the release of his debut album, he released his sophomore album Grass 2 Grace in 2006, which contained hits "One Love", "True Love, "4 Instance". He is the founder of Hypertek Entertainment.
In 2006, his song "African Queen" was used in the soundtrack for the film Phat Girlz, which was released internationally.
He released a promotion album in 2008 called The Unstoppable releasing the single "Enter the Place". Problems with album distribution in 2007 caused as shift of the release date of the album from 2008 to early 2009. In 2010, 2face released an "international edition" of the same under the title The Unstoppable International Edition making him the first Nigerian artist to have an appropriately priced international album. 2face released two more singles from the international version of his Unstoppable album. The international edition of the album won two awards at the 2010 SoundCity Music Video Awards. He also won the Channel O Music Video Awards Best African Western award and the MTV Africa Music Awards for Best Male and Artist of the year.
Upon leaving the music label Kennis Music, he set up his own record label known as Hypertek Entertainment. He is part of the Sony All African One8 Project alongside seven other musicians across Africa recording a single with R. Kelly and Prince Lee titled "Hands Across the World". He is the first non-Liberian to become an honorary member of the Liberian music society in recognition for his outstanding contribution to the growth of music in Africa. He has been named Red cross ambassador society of Nigeria. 2face has several collaborations all over the globe, giving his collaborators the opportunity to win an awards for each duet such as street credibility by 9ice, possibility by p-square and lots more. He is adore by his colleagues and every entertainer in Nigeria music industry as a role model. 2face and heavy weight America Rapper Jay Z met in NYC 2014.
2Face has experienced near death events including gun shots from an armed robbery.
Idibia has six children with three women. With banker/born again Christian minister Sunmbo Ajaba he has sons Zion(January 2006) and Nino(April 2008). With Washington DC based makeup artist Pero Adeniyi—daughter of P music promoter Chief Jide Adeniyi—he has daughter Rose, son Justin, and a newborn son born in April 2012.
With Nollywood actress Annie Macaulay he has daughter Isabella(December 2008). On May 2, 2012, 2Face Idibia and Macaulay married in Lagos, Nigeria in a private ceremony. 2face announced his marriage via his Twitter page. Annie Macaulay and 2Face had their traditional wedding on the 8 March 2013 in Eket, Akwa-Ibom State Nigeria. The couple also had a white wedding in Dubai, on Saturday 23 March 2013 with Nigerian and Ghanaian celebrities all present to see the long term couple tie the knot.
Macaulay has given birth to her second child for him on the 4th of January 2014.
2Face has established an NGO called 2Face Idibia Reach-Out Foundation. which motto is service to humanity. In 2009, 2Face was appointed as ambassador by National Agency for Food and Drug Administration and Control.He released a song "Man Unkind" in order to raise awareness on the menace of fake and sub-standard food and drug products in Nigeria. In 2009, he was presented with the prestigious International Youth Ambassador for Peace Summit and the Nigeria Youth Merit Award by the National Youth Council of Nigeria in recognition of his contributions to youth development in Nigeria.
In 2013 he was rated 3rd richest musician in the nigeria music industry.
AWARDS AND ENDORSEMENTS
Best Male Vocalist 2002 Affinity Awards
Music of the Year 2004 Excellence Recognition Awards
Outstanding Contribution to the Entertainment Industry 2004 Award for Excellence
Best Male Vocalist 2004 A.M.E.N Awards
Song of the Year 2004 A.M.E.N Awards
Best New Act Male 2004 A.M.E.N Awards
Best Video 2004 A.M.E.N Awards
Song of the year for "African Queen" 2004 Nigeria Entertainment Awards New York
Best Album of the year 2004 Nigeria Entertainment Awards New York
Best Hip Hop and R&B Artiste 2004 Nigeria Entertainment Awards New York
Musician of the Year 2004 City People Awards for Excellence
Best Male Video 2005 Channel O Music Video Awards
Best African Video of the year 2005 Channel O Music Video Awards
Best African Act 2005 Channel O Music Video Awards
Best African Act 2005 MTV Europe Music Awards[27]
Best African Act 2005 Kora Awards[28]
Best Musical Artiste 2005 Afro Nollywood Awards
African Song of The Year (Non Ghanaian) 2005 Ghana Music Awards
Special Recognition Award 2005 Hip Hop World Awards
The Outstanding Musician of the Year 2005 Black Heritage Awards for Excellence
Best Song of The Year 2005 G.C.E International Awards
Musician of The Year 2006 The Future Awards
Africa Break Through Artist of the Year 2006 Nigeria Entertainment Awards New York
Best Album of the Year 2007 Nigeria Entertainment Awards New York
Best African Act 2007 MOBO Awards[29]
Song of the Decade 2007 Nigerian Music Awards
Best R'n'B / Pop album 2008 Hip-Hop World Awards
Best African Act 2008 Australian African Awards
Best selling Nigerian Artist 2008 World Music Awards, Monaco, Spain[30]
Best R&B MTV Africa Music Awards 2009[31]
Artist of the Year MTV Africa Music Awards 2010
Best Male MTV Africa Music Awards 2010
Most Gifted West African Video 2010 Channel O Music Video Awards[32]
Best Pop Video for "Implication" 2010 SoundCity Awards
Best Western 2010 SoundCity Awards
New Champions For An Enduring Culture 2011 16th edition of the Annual THISDAY Awards presented by former U.S. President Bill Clinton and Governor Arnold Schwarzenegger[33]
Best International Act: Africa BET Awards of 2011[34]
Album of the Year 2011 Hip-Hop World Awards – "The Headies"[35]
Artist of the Year 2011 Hip-Hop World Awards – "The Headies"
Best R'n'B / Pop album 2011 Hip-Hop World Awards – "The HeadieS
ENDORSEMENTS
Signed a multimillion naira endorsement deal with etisalat in 2009/2010
signed many more deals after.
RUMORS AND SCANDALS
He was rumored in 2011 to have died in a car accident which he later debunked
In 2014 he was involved in an Adultery Mess With a Lagos Banker, Account Officer Teniola and getting her Pregnant after being married but he later debunked it as a false story in which him/wife threatens to sue the magazine that shared the story.
FEW PICS
COMPILED BY: TMTN
SOURCES: wikipedia.org,www.takemetonaija.com
KEEP VISITING WWW.TAKEMETONAIJA.COM EVERYDAY TO READ NEW FACTS ON PEOPLE'S BIOGRAPHY,INTERVIWS,PLACES AND TO SEARCH FOR ANYBODY